There's a first time for everything. Luckily, my virgin viewing of velodrome cycle racing was a friendly competition with the top cyclists in the world. It was my first time inside a velodrome. And I probably wouldn't have been there except for the fact my husband is an avid cyclist who talks to me about velodrome cycling with most of the information going over my head. Frankly, I'm not a typical sports fan who wants to watch sports. I'd rather be doing it but I see cycling as a hobby that will take me from point A to point B on most days. Still, when you've got a hardcore fan in your midst, it's hard not to pay attention. And for all the hobbies I've made him take up (like scuba diving on our honeymoon), I sort of owe him a mild interest in cycling. And I was surprisingly hooked!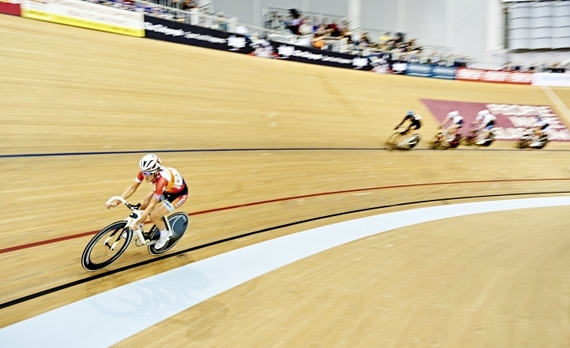 Cycling Revolution brought world-class cyclists to the Sir Chris Hoy Velodrome at the Emirates Arena in Glasgow this winter. The Revolution Series also takes place in London and Manchester. Surprisingly, I have to say it was much more gripping than I thought it would be. With world-class athletes, like Commonwealth Game gold medalist Lizzie Armitstead and Bobby Lea, the competition was fierce and gripping.
I had no idea there were so many different races you could do on a sloping wooden oval track. There were sprint races between two riders over three laps, which involve strategic standstills to outsmart your opponent rather than all-out racing. There's the 1-kilometer Madison time trial, or "kilo," involving teamwork and paired sprinting.
The Longest Lap is a new Cycling Revolution race inspired by the Marymoor Crawl, inspired by a race concocted in the United States at the Marymoor Grand Prix. Cyclists balance their bikes around a slow initial lap and can't touch the ground with their shoes so you see cyclists practicing their balancing skills crowded around the start line virtually at a standstill. You never know when the starting gun will fire so it pays to be close to the start line but not quite there. If you're rolling slowly on your bike, you don't want to cross the line, thereby getting you disqualified. The tension is intense. Beginning with a good-natured crowd of competitors, the ones left at the start who don't fall off their bikes or roll across the start line by accident are only a handful. When the starting gun goes off, cyclists sprint one lap around with everything they've got. Meant as a relaxed, goofy race, it breaks up the seriousness of the other competitions.
Popular in Japan, another fun race is the Keirin which involves a motorbike on the velodrome track, setting the pace for the cyclists to reach 50 kilometers/hour. Once they get to the right speed, the motorcyclist leaves the track for the riders to take off and finish the race at breathtaking speeds. The helpful announcer geared his spiels from spectator novices like me to obsessed fans.
For endurance, the Points race takes the cyclists around the velodrome track 120 times, keeping up a pace for the winner to finish in 35 minutes and 10 seconds. Some cyclists lap the group to score bonus 10 points.
Sir Chris Hoy, now retired, even showed up to talk about how much fun the Cycling Revolution races have been for him during this career. The Revolution series is meant as friendly games, breaking up the winter camp training the cyclists participate in between racing seasons.
Inspiring all spectators, Paralympic heroine Sarah Storey competed with vroom in the competition against able-bodied cyclists. She's an amazing athlete born without the use of her left hand. Winning Paralympic medals in swimming in Barcelona, Sydney, Atlanta and Athens, she's switched sports to cycling where she went on to win golds at Beijing and London. Next step for her is to break the Hour record in London, becoming the first British woman to attempt the record in 20 years. The Hour is a solo race for the longest distance in one hour from a stationary start.
The Scottish racing sessions were sold out so perhaps, I've been missing out on what thousands of fans have already known. Velodrome cycling isn't just watching bicycles go around and around. The races are varied. The racers are incredibly admirable, exhibiting stamina and fortitude from whom I could take a lesson, even if it's not in the cycling realm. I might be back for some more!
Related
Popular in the Community