As a 26-year Army veteran and a former Pentagon official who oversaw the military community and worked closely with the U.S. Department of Veterans Affairs, I'm delighted to share some facts that convey the important role that veterans and their families play during election time. For instance, 73.8 percent of veterans always or sometimes vote in local elections, versus 57.2 percent of non-veterans (source: 2016 Veterans Civic Health Index). As both Election Day and Veterans Day near, it is our veterans who can inspire communities across the nation to get out the vote.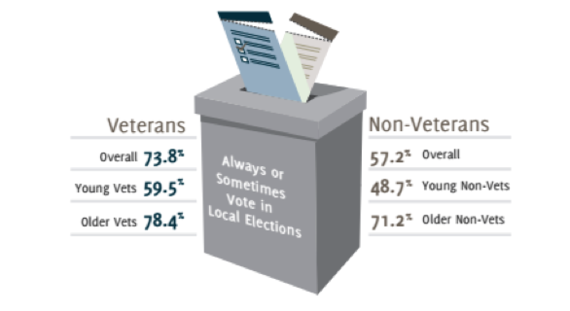 (source: 2016 VCHI)
Got Your 6, the veterans empowerment campaign, believes veterans have the unique potential to lead a resurgence of community across the nation. The campaign's 2016 report - the Veterans Civic Health Index (VCHI), indicates that veterans are key members of their communities. Moreover, the VCHI shows us that:
Veteran volunteers serve an average of 169 hours annually - more than four full workweeks. Non-veteran volunteers serve about 25% fewer hours annually.
Eleven percent of veterans attended a public meeting in the last year, versus 8.2 percent of non-veterans.
Some 10.7 percent of veterans worked with their neighbors to fix community problems, compared to 7.6 percent of non-veterans.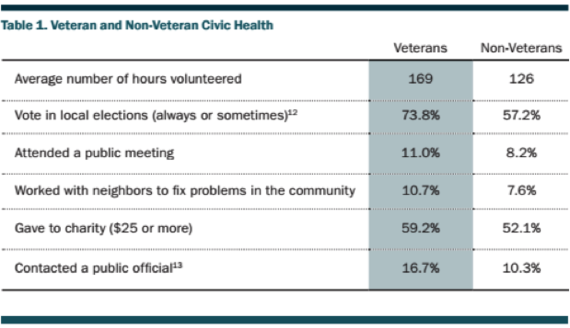 (source: 2016 VCHI)
"This report underscores what so many of us see and experience every day: when our veterans return to civilian life, their mission of service doesn't end. Whether it's running for local office, volunteering in their communities, exercising their right and responsibility to vote, and so much more, our veterans continue to give back and serve our communities long after they leave the military..." said Rep. Tulsi Gabbard, co-chair of the post-9/11 Veterans Caucus.
At a time when it feels like our nation is more divided than ever, veterans and their families can continue to inspire commitment to the great ideals of our country. When we exercise our right to vote, we're really exercising our right to build and shape our neighborhoods. Yet strengthening our communities doesn't start and end with Election Day. It starts when we volunteer, work together to tackle community problems, and vote in our local and statewide elections. Veterans are leading the way on all fronts.
The national conversation around veterans often focuses on their time during active duty and less on how they strengthen our communities when they return home. It is time that we see veterans for who they really are: civic assets to our communities.
Our country needs a reset this November. We can all do our part by recognizing the power that veterans have in helping to restore the civic health of our nation. Show your gratitude to veterans, and join them in serving our country by voting on Election Day. Then, on Veterans Day, commit to joining veterans in community engagement with these simple recommendations:
Challenge your perception of veterans. Work to overcome the "broken hero" veteran stereotype by recognizing that veterans are as diverse as the nation they serve.
Have a conversation with a veteran. There is no right or wrong way to speak to a veteran--they are people just like you. Veterans have stories to tell and experiences to share, so have a conversation that goes beyond "thank you for your service."
Serve alongside veterans. Through shared service, veterans and non-veterans can unite to make their communities stronger. Find volunteer opportunities with veteran empowerment organizations in your area.
There are veterans who include "voter freedom" as one of the many reasons they chose to serve. Like Lt. Colonel, U.S. Marine Corps Rob Riggle says in this Don't
Just Thank, Vote PSA, "You got the freedom. Go Vote!" You will be rewarding yourself, your community, and our nation.
Rob Gordon, a retired Army colonel, is a former Deputy Under Secretary of Defense for Military Community and Family Policy. He is currently president of Be The Change, Inc. and oversees the Got Your 6 campaign.
Calling all HuffPost superfans!
Sign up for membership to become a founding member and help shape HuffPost's next chapter