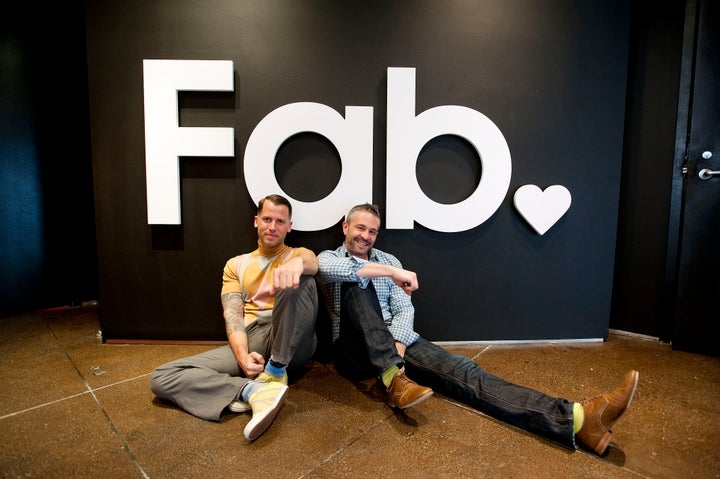 Jeff Bewkes from Time Warner looked into his crystal ball and predicted the future. What he saw was shocking. For most adults, television has been the comforting blue light that glowed in the living rooms of our homes. It was an entertainment medium, a news source and often a companion.
Since the 1950s, television has increasingly been delivered by cable television. A single coaxial cable that replaced over-the-air broadcasting with a private wire.
Much has been written about 'cable-cutters' but Bewkes didn't seem terribly concerned about that. For folks who grew up on cable TV, there would be no real replacement. The trend he uncovered -- with a furrowed brow -- is the emergence of a new generation of "cable-nevers." You know what he means. Chances are you have one in your family. Any child teenage, or below, gets their video in a whole new way. They piece together their personal network with a few YouTube channels, some Hulu, a bit of Netflix, and a few downloads via Bit Torrent.
Video has broken free of its cable confines, and is now running wild across the web. And in doing so, it's no longer simply a 'pastime' entertainment medium.

Video has grown up.
It's no longer just entertainment. It's about information, knowledge, social networks, shared experiences. A whole expanse of uses for video that extend far beyond the behavior formerly known as being a 'couch potato.'
So, why is this so important (some might say game-changing) for marketers?
Because, in the new world of video, there's a big open green field. Who do you 'trust' to watch thoughtful TV programs? PBS? Discovery? Nat Geo? Sure. What about movies? HBO? What about sports? ESPN?
But -- what about medical information for orthopedic surgeons? What about innovations in designer/modern furniture? What about the best in beauty products and style tips? The future of niche media isn't likely to be coming to your cable box. Instead, there's a new hybrid curated content model that will forever change nature of both content and commerce.
Today it's called 'content marketing' for lack of a better term.
But really -- video is going be the driver that merges content and commerce in many currently un-served or underserved niches.
Content curation is driving this trend, providing sites with a treasure trove of high quality content that they can gather, organize, contextualize and share.
Here are three examples of how embracing content can drive engagement, community and ultimately commerce.
In the consumer space, their may be no better example than Hayley Barna and Katia Beauchamp. The two young women were students at Harvard Business School when they determined they wanted find a new way to explore and share fashion. They went looking for a way to connect commerce to content -- and found an old, broken piece of the fashion industry, the free sample. Companies gave away cosmetics, consumers valued them based on what they paid for them (free = not valuable). Fashion brands have always given away sample-sized free products, hoping to turn a trial user into a lifelong fan. But Barna didn't like the experience -- in fact, she says she found trying to sort out her own fashion tastes daunting. The beauty business scares customers -- and they wanted to change that. "People just throw away samples. You have to give them context," says Barna. She found 'context' in content.
Together they founded Birchbox, a subscription where customers PAY for boxes of curated samples, a magazine and educational videos.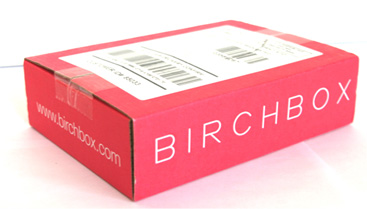 Customers are encouraged to explore new products, and share feedback via surveys that are sent to the beauty brands. Birchbox learns from feedback, and adjusts personal shipments to women's coloring and makeup routines -- at the same time providing online tutorials, videos and interviews with beauty pros to encourage members to experiment with new looks and techniques. The magical connection of content and commerce has turned the moribund beauty sample business from loss leader to a massive profit driver. Birchbox launched with just with 660 members. The company hit its year three goal for subscribers in just 7 months, and now has more than 100,000 regular subscribers paying $10.00 a month for samples that the beauty industry used to give away.
And embracing content isn't limited to the consumer space. Jim Burke is the Vice President of Digital Products at Haymarket Media, a UK based B2B publisher with offices in Australia, Belgium, China, Germany, India, Japan, Singapore and the United States. Burke runs the medical publishing division.
Clinical Advisor is a closed circulation magazine serving the Physician Assistant and Nurse Practitioner market. But Jim knew that Clinical Advisor couldn't be just a print publication any longer. He needed to respond to both advertisers need for video inventory, and visitors increased interest in video as he made the shift to digital.
"We are in the process of really transforming our company from a legacy print business to true media company. Video was part of that progression" said Burke. "We knew we couldn't just send out a journal anymore."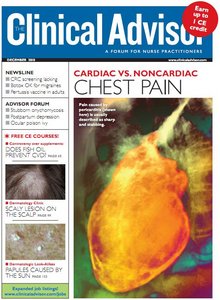 The Challenge for Jim and his team was how to get video content to his readers without expending content creation dollars he didn't have advertising to support.
They originally looked at trying to shoot their own videos and building a studio. But other publications at Haymarket had gone down that road and warned him away -- the cost of original production for B2B sites was simply prohibitive. What Burke and his team determined was that there was, in fact, too much video on the web around his editorial focus -- what his visitors needed was an incisive and profession editor, a 'curator' of web video content.
"Content curation really allowed us to gather a lot of videos, and create a really robust channel very very quickly. If we had created a studio it would have taken us months, if not years, to have that really robust channel with a lot of video on it."
Within three weeks of launching a video content curation platform Clinical Advisor was offering visitors access to a vast, and growing collection of high quality curated content.
"All of our journals are always very timely and relevant. Our editors, who our readers already trusted to bring them good information, now do that for them with video on a regular basis." Now Burke's team is selling advertising that includes video pre-rolls, something he couldn't do before he added curated video content.
Even sites with their roots in social networking and community are finding that a shift to content and commerce can be a game changer. Jason Goldberg was the founder & Chief Executive Officer of a gay social network called Fabulis. The only problem was that gay rights had improved as the site had grown -- which Golberg says had had a positive impact on the gay community but a negative impact on the demand for Fabulis.
Goldberg explains it this way: "With the repeal of Don't Ask Don't Tell, the court victories over California's Proposition 8 gay marriage ban, the Obama administration's tacit rejection of the Defense of Marriage Act, and the anti-bullying It Gets Better Project continuing to integrate gay people into the mainstream, we saw a diminished need for a gay Facebook or a gay Yelp or a gay Foursquare or a gay Groupon."
Goldberg's decision was to 'pivot' -- a fancy startup word for 'change' and shift from a social network to a site focused on high quality designer goods. A new name; Fab.com -- and a new business grew overnight. One year after the company reset, they're on target to $100 million in revenue. How did they do it -- and fast? Visitors know right away, FAB isn't an e-commerce company, it's a content company. The founders are magazine editors, their passion for what they love is steeped in every page and every product. It took commerce site One King's Lane two years to get to 1 million users. Guilt Groupe -- two years. Fab did it in seven months.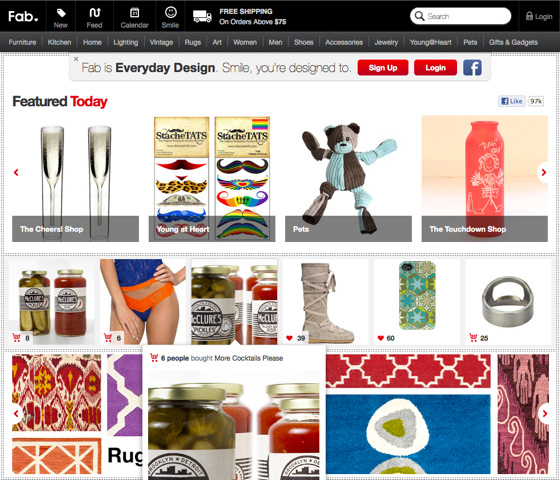 Fab is no longer limited to gay consumers, but rather provides subscribers quality, modern, cool design with a daily does of 'deals' that are priced right and always updated. At FAB, the commerce is the content. And the curation and discovery their smart hip editors make it a must visit for style hungry browsers.
Three business leaders, each looking at the nexus of content, curation and commerce in their own way. But each of them carving away at the one thing that all humans have in limited supply -- time.
As content sites morph into commerce, and commerce sites embrace content, users are finding that they have to make choices about how they spend their time, and who they trust to help them sort out the noisy world. This trust is best earned when content and commerce are curated well, and an engaging and useful mix is achieved.
Simply put, the future of the web won't be about content sites that drive traffic to commerce sites. It won't be about shopping sites or price matching sites that drive consumers to the lowest price sources. The future is about curation, the thoughtful and useful aggregation and organization of content, context and commerce.
And the implementation of those "Three C's" will provide the building blocks for the emerging Cloud Economy for the next generation of entrepreneurs.
Author, curator, and entrepreneur Steven Rosenbaum is a leading think in the world of curated video content. His book Curation Nation, was published by McGrawHill in 2011. He is currently writing Adventures in the Cloud Economy, an exploration of how new technology platforms are providing entrepreneurs with flexible and cost effective building blocks for the new digital economy.
REAL LIFE. REAL NEWS. REAL VOICES.
Help us tell more of the stories that matter from voices that too often remain unheard.