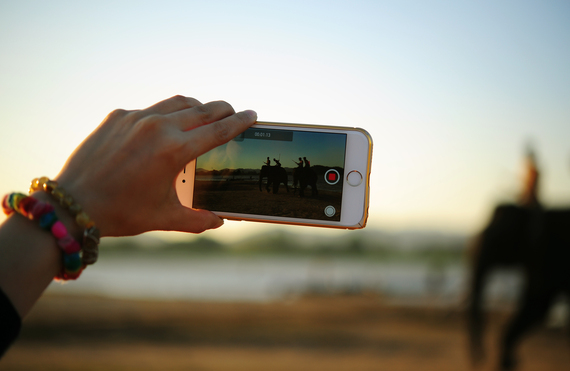 I recently went on a business retreat 500 miles away from home with people I had never met in person. Am I crazy? I can say with FULL confidence: NOPE!
Prior to the in-person experience, we had masterminded 6 different times over video chat. So, even though I couldn't feel, smell, or taste them (ALL OK with me -- they WERE strangers, after all), I could see them, hear their voices, and sense their personalities based on how they interacted with the group.
VIDEO enhanced their know, like, and trust factors. VIDEO made me confident that we were a great fit to spend 5 days retreating together in the mountains. VIDEO made my husband quit asking me if I was paying to get "catfished by people you met on AIM Chat."
If you don't know what AIM Chat is, that's OK, it is obsolete
In order to continue to grow in your business, it is time to build your know, like, and trust factor. It is time to grow connections and relationships with your people and potential clients. You can post posed photos, branded graphics, and words all you want, but people want to see the REAL you.
It's time for you to get visible through video, and here are 3 ways to do that:
1. Creation-Station/Behind-the-Scenes:
Give your peeps a peek behind-the-scenes. Creating a course? Show them what your work space looks like! Advocating for quality of work over quantity? Show them your trip to the zoo with the kids, and how much fun they could be having if they work more efficiently!
They want to know what is going on behind the branding, behind the finished product. SHOW THEM!
2. Share stories:
Humans are attracted to stories. They are what bind the past to the present to the future. They bring people together, and spark imagination and ingenuity in us all. So, YOU have to share your stories! They can be personal, they can be why you do what you do (which could change daily), they can be interactions with clients (with their permission). The SKY is the limit with the stories you share!
TIP: Make sure to tie your story back to your purpose. Always ask yourself: Why am I sharing this with my community?? Knowing this will ensure they will watch and become ENGAGED.
3. Share your Genius:
Have you seen a common question regurgitated amongst your peeps? Answer it. Are you REALLY good at that one thing? Tell us HOW! Was there a HUGE event in your area of expertise? Talk about it! Teach, ask questions, PLAY with your audience!
YOU are a genius. YOU have a light to shine and share. Get out there with VIDEO, and SHOW 'EM WHAT YOU GOT!
Popular in the Community