Today, on International Volunteer Day, we celebrate the contributions of volunteers all over the world to improving our communities, whether those efforts are focused locally, nationally, or globally. 62 million Americans volunteered last year, that's close to 25 percent of the population over the age of 12! But, why do all of these Americans volunteer? Conventional wisdom tells us that volunteering is a selfless act of helping others in need. Yet, studies show that volunteering leads to better physical and mental health - so is it really selfless? And are we actually helping others when we volunteer, or creating shining but fleeting moments with strangers who we've judged to be in need?
There are no one-size fits all answers to these questions. In the first of a five part series, I grapple with these challenges and explore the big question of "Why Volunteer?"
Impact in the Community: Giving Children a Voice ... in Yemen
It is a Wednesday afternoon in July of 2010, and the summer rain which floods Sanaa's streets has yet to begin. At the Safia Community Development Center, Matthew Stackowicz stands before his photography class of 19 students. "Yesterday," he says, "we talked about how pictures tell a story. Every picture we take tells a story about us or maybe the city or maybe a person."
Matthew is a 30-year old teacher from South Bend, Indiana, with glasses, longish hair, and several days of stubble. He came to Yemen to study Arabic for a month and to volunteer as a photography teacher. His students are among the roughly 250,000 refugees (most from the Horn of Africa) in Yemen today. Some of these kids were born in Yemen and others fled with their parents from Somalia or Ethiopia. The youngest of the group is a doe-eyed six-year old boy with long curly hair, and the oldest is an 18-year-old girl with crooked front teeth, a big smile, and a toddler little brother in tow.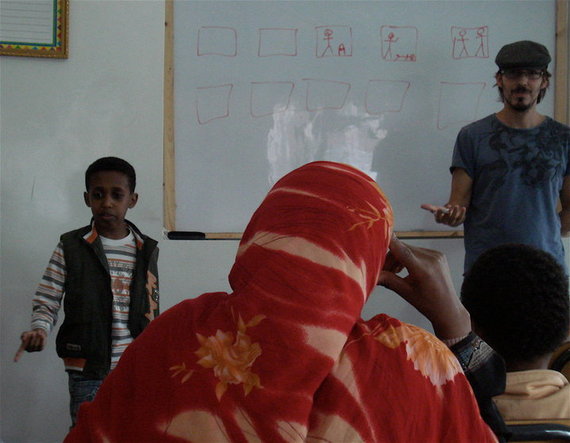 Matthew hits a keystroke on his laptop and a black and white image of two boxers projects on to the white dry erase board behind him. One boxer's glove crashes into the headgear of the grimacing second fighter. The projector rests on an uneven desk, and the picture is tilted, making it seem as if the boxers are starring in one of those old V-8 juice commercials. Matthew asks, "What is this story about?"
Osama, a pre-teen with a tilted brown baseball cap, stands to Matthew's right and translates the question into Arabic for the Somali students. Bivtu, a tall 14-year with a patterned hijab and shining eyes, stands to Matthew's left and translates his words into Oromo, an Ethiopian language.
"I like to volunteer when I travel," Matthew told me. "I've traveled to 30 countries and after about 15 countries I realized that I travel and I take from cultures and don't give back. I decided I need to give more. Giving back, you learn so much more about the people and it enriches your experience in the country."
Matthew's goal for this three-week class is to teach his students to use photography to tell the stories of their lives as refugees. He wants his students to understand that they have a voice and what they say matters. He is using photography to build their self-confidence; taking photographs is something new and previously unimagined for this group. Before meeting Matthew, none of the children had ever taken a picture, been photographed, or owned a photo.
Before giving his students cameras, Matthew covered composition, the "rule of thirds," and had each student diagram their ideas. In this, the second week, the students received disposable cameras from the Center and Matthew instructed them to photograph a self-portrait, their family, and their neighborhood. On their first day with the disposable cameras, many of the students snapped all of their pictures, mostly self-portraits. Fortunately, Matthew came to Sanaa with three digital cameras that were donated by his students back home.
Matthew turns off the projector, draws ten boxes on the dry erase board, and asks the class to tell a 10-frame story with pictures. After some discussion, he breaks the class into groups and sends them off to script their stories.
A few days later, I return to Matthew's class to check on how the group is progressing. This is the last week of the course, and Matthew and his students are reviewing their "homework," projected on to the dry erase board. The first picture is of a boy standing in front of his apartment building, a brown door equally balanced to his left and right. The photographer practiced the "rule of thirds," and Matthew diagrams the thirds on the board with a marker.
"The first thing we see is the boy. Very, very good picture!" Matthew exclaims. "How does this picture feel?" he asks the class.
There is chatter in Oromo and Arabic, and Bivtu translates, "dirty" and "poor."
The next group of pictures on the dry erase board includes the self portrait of a girl in a red hijab who looks like she is 11 or 12-years-old. On Wednesday, she was babysitting her little brother. After class, Matthew tells me that she is 18, and that the toddler is her son. Close to 50 percent of girls in Yemen are married by age 18.
In the self-portrait, the young mother is sitting on a bed. Matthew diagrams the picture, which is weighted to the left and asks, "What could we add?" The class understands the lack of balance and Matthew says, "Not a problem, but that's why we talk about it so that we can take better pictures."
The next set of pictures are by Asya, another thin, head-covered young woman. They are remarkable. The first is of a girl with two little children in an alley strewn with broken glass. The children are framed by brick walls, and there is a large gas cylinder in the background.
Matthew remarks, "These pictures are good; they show us your neighborhood."
The next photo is the kind of picture you would stop and study at a museum. A frowning girl in a blue hijab stands in front of a clothing store. To her left and right, the store's windows display elegant wedding dresses that are spread like royal teepees. The picture raises so many questions about marriage, early marriage, wealth, and poverty. What sort of wedding will the girl have? What sort of wedding does she want? Or maybe, what sort of wedding did she have? It is spellbinding. Matthew comments, with reverence, "This makes us wonder what she wants with the dresses. It tells us a story."
When class ends, Matthew arms his students with the digital cameras and dispatches them to take 20 pictures. The kids are overjoyed. They could only take five pictures before. The cameras have brought something different and wonderful into their lives. They clamor around Matthew, shake his hand, and say, "Goodbye, Teacher." When we are speaking after class, Matthew explains, "You can see from the children that they appreciate that an adult from another country wants to teach them something and spend time with them."
Matthew shows me the photos he developed from the disposable cameras which run the gamut of self-portraits, family members, neighborhoods, and community problems. Some are of the quality that a cynic would expect, but for the most part, the pictures take you there: generations of families sit on worn yellow and brown couches inside poorly lit homes and children swing on the Center's swing set, above stale puddles, and beneath the blue sky. The pictures tell the stories of these refugee children, and not just their struggles, but their daily being and the warmth of their families. Those stories offer a level of detail that is a privilege to an outsider like me or Matthew.
Two weeks ago, these kids had never taken a picture before or even owned a photograph. It is impossible not to look at the talented young women in the class - by far the best students - and to think about what these cameras and photos have done for them, the voice it has offered, the skill-set, and the feeling of accomplishment.
At the end of the week, the Center held a final ceremony for the students to display their photos. For two hours on a Thursday night in Sanaa, 125 people - the students, their families, people from local NGOs, journalists, and other foreigners - came to the Center to see these students' stories. At the exhibition, the students stood next to their photos and explained them to anyone who would listen. They had pictures taken with their families in front of their work. A number of guests asked Matthew who had really taken the photos. At the end of the night, the kids each received their photos, their first pictures.
"The students had the chance to be proud of something they created and to have others honor them for their achievements," Matthew explained. "Too often children, especially refugee children, are told what they can't do and feel like they will never amount to anything in life. This class gave children hope... I also believe that they learned a new language: how to communicate through photographs."
Related
Popular in the Community