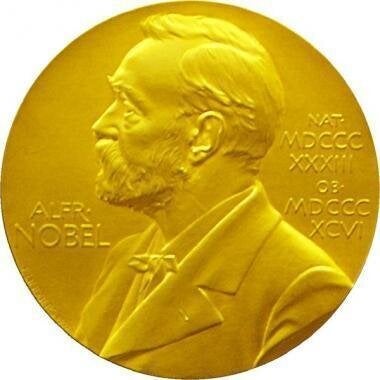 Robert Gibbs had the common reaction: "wow." It is a huge surprise. The White House saying Pres. Obama wasn't even aware he'd been nominated.
In his remarks this morning, Pres. Obama seemed almost embarrassed.
After I received the news, Malia walked in and said, "Daddy, you won the Nobel Peace Prize, and it is Bo's birthday!" And then Sasha added, "Plus, we have a three-day weekend coming up." So it's good to have kids to keep things in perspective.

[...] But I also know that this prize reflects the kind of world that those men and women, and all Americans, want to build -- a world that gives life to the promise of our founding documents. And I know that throughout history, the Nobel Peace Prize has not just been used to honor specific achievement; it's also been used as a means to give momentum to a set of causes. And that is why I will accept this award as a call to action -- a call for all nations to confront the common challenges of the 21st century.
The Nobel Committee awarded the Peace Prize to Obama through an international eye on world events, having nothing to do with U.S. domestic affairs. Good thing, because he's got trouble at home, from health care to Gitmo to Don't Ask Don't Tell, so many promises left on the campaign trail. The Nobel committee looking instead not just to achievements, which clearly was not the measure here because Pres. Obama has just begun, but something more foundational.
Pres. Obama should thank Dick Cheney and his sidekick George W. Bush, because it's obvious after this announcement that never has an international community looked to America for a change in direction more than they did in last year's election. Longing for something beyond fear, the "axis of evil," preemptive foreign policy, smaller yield nuclear weapons, and that all time Bush-Cheney favorite, "war on terror."
This is going to put Rush, Sean, Glenn Beck, Bill O'Reilly and the conservative townhall brawlers right off their weekend, with Joe Scarborough & Co. leading the way this morning; Mark Halperin of ABC and Chuck Todd of NBC making fools of themselves, joining the Mickey Klaus "Obama will refuse it" chorus. Cue up the "Yasser Arafat won it too" brigade, which is exactly what the UK Times did; but considering they're also the outlet that used our soldiers for their own purposes yesterday I'm not surprised. Ignorance is seldom gracious. Michael Steele being, well, Michael Steele: 'What has Pres Obama actually accomplished?'
But beyond stepping away from Bush-Cheney's tailspin, why was Obama awarded the Nobel? For his outreach to the Muslim community, which is nothing less than historic; when you look at his preliminary preparations for Middle East dialogue; when he took the bold step to demand a freeze in Israeli settlements; taking up the charge of nuclear nonproliferation. Barack Obama's beginnings foreshadow what could become manifest if partners come forth. In Afghanistan, his determination to help the Afghans help themselves, but particularly the women of that country rise up.
The Nobel Peace Prize's aims are expressly political. The Nobel committee seeks to change the world through the prize's very conferral, and, unlike its fellow prizes, the peace prize goes well beyond recognizing past accomplishments. As Francis Sejersted, the chairman of the Norwegian Nobel Committee in the 1990s, once proudly admitted, "The prize ... is not only for past achievement. ... The committee also takes the possible positive effects of its choices into account [because] ... Nobel wanted the prize to have political effects. Awarding a peace prize is, to put it bluntly, a political act."
It's a huge honor of promise given to a man who represents the best of America in his rise to the presidency. But with the Nobel Prize for Peace also comes expectations that have not yet been met. I just hope Obama's words that it is a "call to action" pushes him harder and farther, with more energy and focus than he is currently expressing.
But even as the Nobel Committee bestows this honor, representing the international communities full embrace of the new America President and his obvious change from what came before, in America, living with the lack of results so far, the jury remains out.
REAL LIFE. REAL NEWS. REAL VOICES.
Help us tell more of the stories that matter from voices that too often remain unheard.