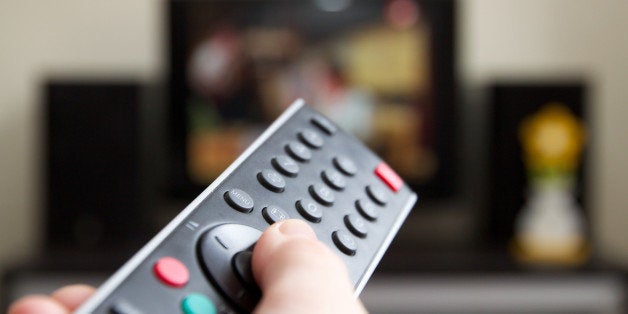 I grew up in the entertainment business here in Los Angeles. Growing up in this business here was like growing up in a company town. Most of my friends and family were, and still are, "in the business." Now, I'm a writer and poet. As a poet, when I hear someone say, "I hate poetry -- there's nothing good out there," my heart breaks a little. When someone says, "I don't watch TV -- I don't want to waste my time," I feel that same pang. I take offense to the snub not because I write for TV, I don't, though I'd love to one day. I take offense for the people in the entertainment business and because the nay-sayers are just not giving TV the respect it has earned.
I have nothing against people who want to go off the grid and live their lives without television. It's a choice and it isn't a bad one in terms of culture. But television has come a long way from Gilligan's Island. This is not to imply there's anything wrong with that show. Even now, if you poll a guy to see if he's Team Ginger or Team Mary Ann, you're bound to get an emphatic answer.
Since then the television ship has sailed to such highly acclaimed ports The Sopranos, Six Feet Under, The Newsroom and Mad Men. These are just a few of the dramas. There are amazing comedies that I would choose to watch instead of an over-produced, badly written movie any day. Consider just a few of many great examples: HBO's new Silicon Valley, NBC's 30 Rock and the iconic Seinfeld all groundbreaking in their own way.
Great creators and writers like David Chase, Alan Ball, Matthew Weiner, Aaron Sorkin, Vince Gilligan, Mike Judge, Tina Fey and Larry David attract actors like Jeff Daniels and Alec Baldwin. And it's the writers that offer actors like James Gandolfini and Bryan Cranston a stage where they can bring complex and deeply flawed characters to life.
Here are a few more reasons to pop some popcorn, curl up and gather around the TV set.
The Writing
I've been a member of Jack Grape's "Writers' Collective" for the last six years. The "Collective" was created about 30 years ago. Since then, thousands of writers and poets have learned how to mine for their genius. Many of these writers are professional screenwriters who work in TV and movies. If you listen to good dialogue, you can hear the poetry. If you pay attention to good character development you'll find it in the actions and the dialogue. A good character is a three-dimensional painting crafted by the writer first, giving the actor something to dive into. Tony Soprano is a perfect example.
The Artistry
My husband and I binged-watched Breaking Bad. Watching a character like Walter White, a chemistry teacher, decide to use his brilliance and gifts to manufacture methamphetamine was an intense journey. The writers drew an interesting and risqué line -- excuse the pun. They asked this question: What would someone do to protect his or her family in the face of terminal cancer? The show was shot in New Mexico, which became a character with its sprawling shots of red dust and fiery sunsets, the heat, the parched landscape, all echoing the unquenchable thirst of Walter White.
TV is emotional and thought provoking
I cried watching the season finale of Six Feet Under. Weeks later, my husband came home one night and saw me on the sofa, curled up, crying. "You're watching that finale again?" He said. This was one of the most brilliant and moving finales I have ever seen. The episode was written and directed by Alan Ball (American Beauty, True Blood). Spoiler Alert: the episode ends with flash-forwards of the milestone events in each of the main character's lives. Ultimately, we see how each of them will die. It's a montage is inter-cut with the daughter, Claire, driving out of Los Angeles and is set to the sound of Sia Furler's "Breathe Me". Whenever I hear that song I think about that brilliant, moving and beautiful scene. I think about my life. I think about my friends and loved ones. I think about those I have left and those who have left me.

TV attracts talent
There is a lot of crossover in TV and movies now, but it hasn't always been like that. Once upon a time, being in a long running television show made it hard to break into movies, and being on television was considered a no-no for film stars. This has all changed. For much of the nineties, Jon Hamm struggled as an actor. After landing the lead role of Don Draper in Mad Men, for which his performance earned him a Golden Globe, he's been in feature films such as Bridesmaids and The Town with Ben Affleck -- who also directed the film and his new film, Disney's Million Dollar Arm. Let's not forget Glenn Close who starred in the Emmy-Award-winning Damages. There's also Don Cheadle (House of Lies), Matthew McConaughey and Woody Harrelson (True Detective) and Kevin Spacey and Robin Wright (House of Cards) -- this isn't even on network or cable TV, but available only on Netflix.
There is so much more to say about good television, which continues to evolve. There are groundbreaking dramas and comedies written by our friends and family. Let's support them. However, if you do choose to stay away from the television set, please remember: it's no longer a boob tube. That ship has sailed.
Popular in the Community