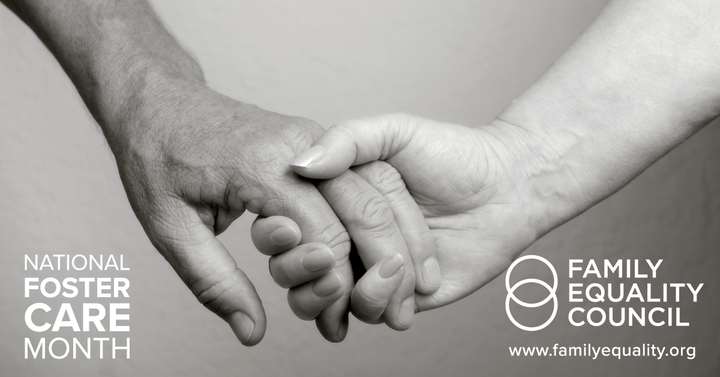 A friend of mine said that aging out of foster care was "the death of a dream" that had occupied her thoughts since she found herself alone in the child welfare system as a seven-year-old. She is now in her thirties, and she still grieves that death. Every birthday. Every Christmas. Every moment of joy or disappointment that she can't share with a parent. In a course that I took on grief in seminary, my professor stressed that grieving a parent involves grieving both what was and what wasn't in the relationship. This month – National Foster Care Month – my heart aches for all those who've aged out of foster care and, like my friend, are only able to grieve what never was.
Across the United States, more than 427,000 children are in foster care, a quarter of whom are eligible to be adopted. Every year over 20,000 of those youth leave care without ever finding an adoptive family.
Think about what this means: each young person who "ages out" with no family or place to call "home," is left to face the realities of adult life without the safety net, support, and security that a family provides. Data demonstrates that outcomes for youth who age out of care, a disproportionate number of whom are LGBTQ, are particularly bleak. I know from experience as an Episcopal priest working with homeless and marginalized LGBTQ communities, that numbers don't adequately convey the crisis this represents for our young people. Youth who age out of care are more susceptible to homelessness, unemployment, incarceration, early parenthood, and sexual exploitation. We should all be deeply troubled by these statistics. When a child ages out of the system with no forever family, we have failed them profoundly.
Why is the number of children who age out so high?
Child welfare systems certainly need improvement, but the underlying answer is simple: a nationwide shortage of qualified homes. Children stay in the system when there are not enough families who want them. As the leader of Family Equality Council, an organization focused on the needs of LGBTQ families, this is particularly heartbreaking given that research shows there are as many as two million LGBTQ people who would considering fostering or adopting but for discriminatory laws and policies that keep them from doing so. We must take steps to remove these barriers and open more qualified homes for all youth in care. The Every Child Deserves a Family Act (ECDF) would do just that, and we are pleased to announce its reintroduction in the House of Representatives yesterday. We anticipate ECDF will also be reintroduced in the Senate soon.
If enacted, ECDF would open more homes by prohibiting child welfare providers receiving federal funding from discriminating in adoption or foster care placements based on the sexual orientation or gender identity of the prospective parents or the child involved. Case workers could no longer turn away otherwise qualified parents simply because they are LGBTQ. This is particularly significant because same-sex couples are six times more likely to serve as foster parents and four times more likely to raise an adopted child as different-sex couples. Yet far too many LGBTQ people have been turned away from the child welfare system due to discrimination, ignoring almost forty years of research confirming that LGBTQ people are excellent parents.
ECDF also prohibits discrimination against LGBTQ youth in foster care. This is a necessary step given that LGBTQ children, who make up 20% of all youth in care, often face discrimination and familial rejection prior to and upon entering the system. The bill requires service providers to ensure that every youth in care is safe and has every opportunity to find their forever home, regardless of their sexual orientation or gender identity.
In today's volatile political climate, it is more critical than ever that Congress set a national standard by which all those engaged in the foster care system must be treated. A patchwork of state laws has resulted in an uneven system which treats children and adults within the child welfare system differently depending on where they live. Only a handful of states have affirmative nondiscrimination protections in place, which means that barriers for those who are LGBTQ still exist in the majority of states. And, we have seen an uptick in efforts to try to enact more laws that allow discrimination based on religious or moral beliefs.
My friend, now in her thirties, still grieves the parents she has never known. Family Equality Council urges Congress to pass the ECDF Act and provide more loving and safe homes for all children. A lifetime of only getting to grieve what never was is a fate that no child should have to face.
Calling all HuffPost superfans!
Sign up for membership to become a founding member and help shape HuffPost's next chapter