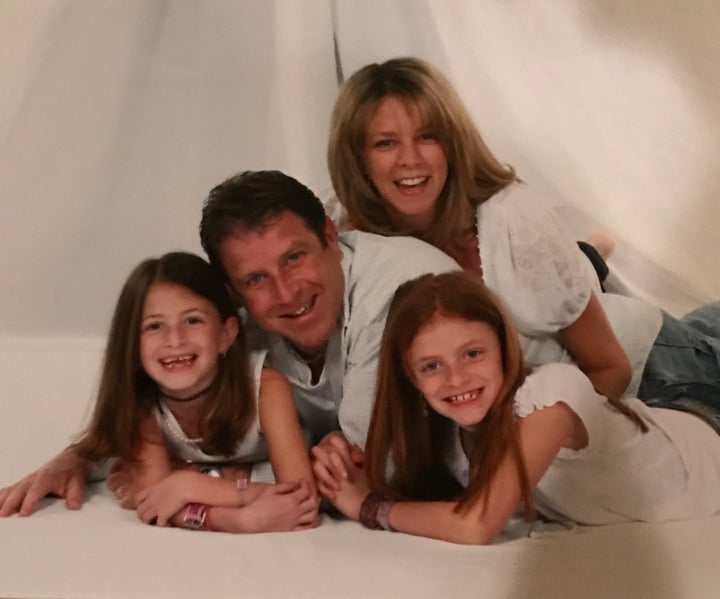 I finally finished the dishes. The kitchen was clean. My extended family had left my house, and my kids had retreated to their rooms. I was exhausted from cooking, serving, and cleaning up, but I wouldn't have it any other way.
I host Mother's Day every year, and I love doing it. It is a lot of work, but my reward is always such an enjoyable day. Nothing makes me happier than celebrating being a mom to my two incredible teenage daughters.
Now that Mother's Day is over, I dread what comes next. Father's Day is in just a few weeks. My husband passed away five years ago, and since then it has become the most hated day of the year for my children and me.
All three of us are doing well now, but there are still many hard days each year – his birthday, the anniversary of his death, my wedding anniversary. These are days that we think about him a little bit more, wishing that he was here with us. Father's Day is the worst one of all.
We know the significance of those other difficult days, but the rest of the world does not. My girls and I, sometimes along with friends and family, recognize those days as we wish: a special dinner, visiting the cemetery, or even just taking the day for ourselves to remember him. It is never easy, but we have learned how to best get through it.
Father's Day is a very different day. It is everywhere, and we cannot get away from it no matter what we do. I put on the television and there it is – never ending ads for Father's Day gifts. Talk shows regularly give advice on how to make Dad's day special ― from the best presents to barbecue and baking ideas ― they talk about it all.
The hardest thing, especially for my daughters, is social media. Whether it be Facebook, Instagram or Snapchat, our newsfeeds become inundated with Father's Day messages and pictures. While it is so nice to celebrate the dad in your life, it can be hard for those who are not as fortunate. That also goes for those who find Mother's Day difficult.
Over the years we have tried many ways to spend this day. We have spent it with family, with friends, or just the three of us at a restaurant. None of these things have been enjoyable. All that we feel is the huge void in our family.
As this dreaded day approaches this year, someone very close to me said that my girls "should be used to it by now." My response was, "It is something you never get used to."
I have a friend who lost her father when she was 12. This friend is now a married mother of two, and she still finds Father's Day difficult. I am sure my girls will always feel the same way.
You cannot possibly get used to losing your father at a young age. It is a devastating loss that my daughters will carry with them through their whole lives. After a lot of trial and error, we have learned that we need to do what feels right and what works for us on Father's Day. It does not matter what we "should" do or what anyone wants us to do.
Each of us handles loss in our own way. We all have good and bad days. Some may choose to spend a day such as Father's Day among family and friends. My girls and I have found doing that too painful.
We will celebrate Father's Day in our house much differently than we celebrated Mother's Day. There will be no big celebration with family. If anyone is looking for my girls or me on Sunday, June 18, you will not find us on social media, or at a barbecue, or in a restaurant. You will probably find the three of us cuddling on the couch while watching Netflix. The only person who might see us is the pizza delivery guy.
We will keep breathing until the day is over and can start the new week on Monday.
Related