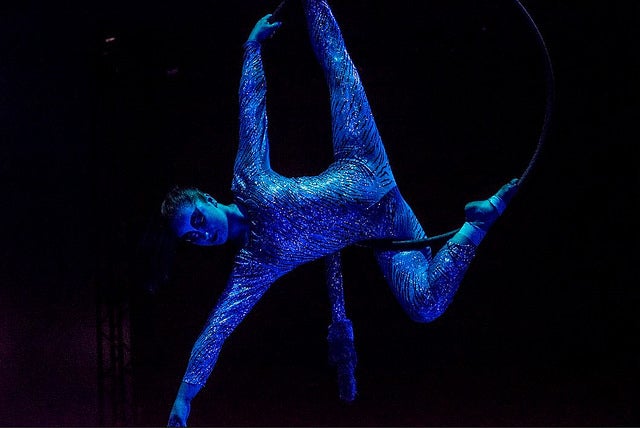 In another lifetime, I was meant to belong to the explosion of magic that is the circus.
Instead of balancing on heels in rush hour, I am barefoot, walking the beams high above. No longer typing behind a screen, I am spinning overhead in the darkness. I count not the hours, but the rotations until I stop. The crowd far below is hushed. The world falls away.
Circus dreams seem to run in my blood. A hundred years ago, my great-grandfather ran away from his small Appalachian Virginia hometown at the age of 18 to join the circus -- or so the story goes, as told to me by my beloved Grandma Ella.
Separated by a century, I can't help but think of him today and wonder what he would have thought of me with my love of acrobatics and artistry. What DNA did he pass down to me that we might share a love for the same dream? What adventures did he have as part of this long tradition? I imagine bright lights and colors, the look on children's faces, as a night under the big top fills the air with a sense of wonder.
The Smithsonian's 2017 Folklife Festival of the Circus Arts is a celebration of this storied art form and the ties that bind us together like aerial silks woven across time and place. Resembling a dream version of Washington D.C., the circus in all of its weird, wonderful, whimsical forms has officially taken over the National Mall from June 30 - July 9, 2017.
Theater is one of our oldest storytelling traditions. The modern circus blends together the best of movement, artistry and spectacle into an art form that has inspired millions. "Circus transcends all time, places and generations," explains Ambassador Maguy Maccario Doyle of Monaco, which is a patron of the Festival with the Royal Family.
Historically influenced by immigrants, families and a global community, the 'Circus Arts' fit in nicely with the Festival's other theme, 'On The Move,' which invites us to explore where we are from, where we are going, and what stories we tell ourselves about our lives.
Circus culture has permeated the very fabric of American society, making its way into music and dance, literature and cinema. Popular culture is rife with examples, explains circus scholar Rodney Huey during a panel. We can see its wide-ranging influence in music, from the album 'Circus' by pop princess Britney Spears to the theatrical makeup and vaudeville flair of emo legends Panic! At The Disco.
One of my favorite books, The Night Circus by author Erin Morgenstern, unravels our enchantment with the circus in all its hypnotic appeal. Iconic television show 'So You Think You Can Dance' has translated the genre into hip-hop and contemporary dance. America's Got Talent has brought circus acts to national audiences, including acrobats, aerialists, tightrope walkers, stunt artists and the mind-bending Academy of Villains.
Why does the circus capture our imaginations ? Perhaps it is because it is an expression of the human experience writ large across the Big Top. "Are we human? Or are we dancer?," ask the lyrics of Las Vegas-based rock band The Killers. The philosophical underpinnings of circus show us that we are in fact both. While we may be animals by nature, at the same time, we are capable of reaching great beauty, great heights.
The circus gives life to our dual natures and allows us to dream together under one tent. While circuses of the past once featured animals, modern circuses have begun to portray human beings as the animals. Cirque du Soleil's 'Ovo,' which will arrive in the nation's capital in August, draws us into the natural world by depicting its artists as insects.
"I think the two types of circuses ask different questions," says Huey. "One [traditional circus] is kind of reflecting society as its mirror. And maybe Cirque du Soleil and some others are asking different kinds of questions: about the state of mankind, of humanity, of people. What are we doing here? Why are bugs bugs and why are humans humans?"
Art always compels us to ask those questions about the human dream. "Circus has always been, and still is, a celebration of humanity," says Dominique Jando, a life-long performer, creative director and historian who is an advisor to the Smithsonian. Perhaps for this reason, we dream of running away to discover a magic and greater truth within our hearts.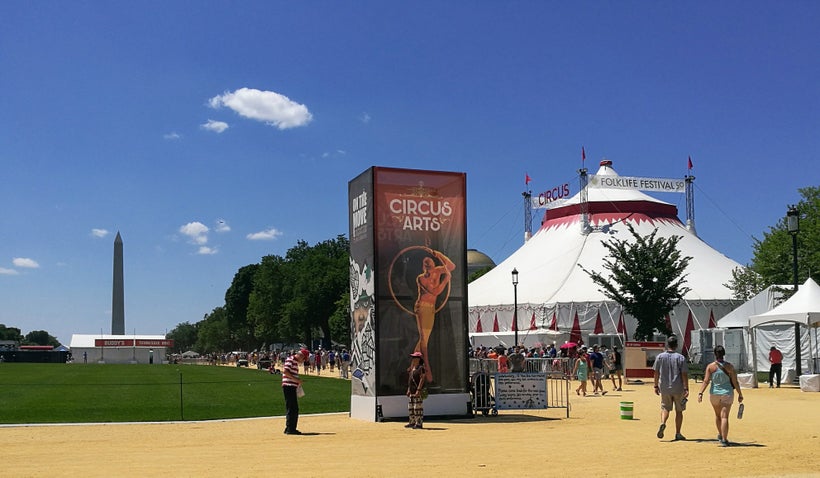 Today, a new generation is innovating and carrying forward the legacy of the circus. In an era in which arts education in public schools is frequently under fire, thriving circus schools are helping students build 21st century skills, like collaboration, empathy and creative expression. The National Mall is full of youth troupes from across the country who are using the performance arts to change the world within themselves and on a grander scale.
Against the backdrop of the U.S. Capitol, these young creators and dreamers are a beautiful reminder of the promise of our country's future. The Smithsonian's Folklife Festival of the Circus Arts is historic in giving the public unprecedented access to interact with artists, catch free performances, learn about its history, and even be part of a Circus School class.
Waiting in the dark, under the glow of the Big Top, I feel the rush as many more imaginations run away -- to the circus of our dreams.
**This celebrates the human artistry of the modern circus arts involving no animals.
Calling all HuffPost superfans!
Sign up for membership to become a founding member and help shape HuffPost's next chapter
This post was published on the now-closed HuffPost Contributor platform. Contributors control their own work and posted freely to our site. If you need to flag this entry as abusive,
send us an email
.