While Hillary is committed to meaningful campaign finance reform, Donald Trump's platform calls for more money and less transparency in our elections
In 2010, the Supreme Court's misguided Citizens United decision opened the door to a flood of corporate and special-interest spending in our elections.  Since then, billions of their dollars have polluted our politics, primarily funneled through Super PACs or nonprofit groups designed to hide the source of their funding. 
This overwhelming deluge of money in (less than) four federal election cycles has had a corrosive influence on our politics.  Congress is gridlocked.  It can't perform its most basic duties like passing a budget or confirming non-controversial judges.  Worse, the dysfunction has now spread to the Supreme Court, which has been short a Justice for 6 months already.  It may be another year before the Senate completes the process to fill the Court. 
The American people are justifiably angry, and they want this to change.  They know that billionaires like the Koch brothers and corporate special interests have rigged the system to work for themselves – and only themselves.  A survey conducted earlier this year on behalf of End Citizens United showed that 75% of voters have an unfavorable opinion of the Citizens United decision. It also showed that the issue of reducing the influence of special interest money in politics was the second priority of independent voters - only behind stopping terrorism.
This election gives us a chance to create necessary changes.  Hillary Clinton has spent a lifetime fighting for working families.  She's taken on and beaten special interests before, and will fight for everyday Americans.  That includes standing up to the billionaires and corporate special interests and reforming our campaign finance system.
Hillary Clinton has put forward an aggressive plan to reform our campaign finance system.  In her first 30 days in office, she will introduce a constitutional amendment to overturn Citizens United.  She's pledged to continue her work to curb the outsized influence of big money in American politics, shine a light on secret spending, and fight to make our democracy work for everyone.
While Hillary is committed to meaningful campaign finance reform, Donald Trump's platform calls for more money and less transparency in our elections, allowing for more gridlock and corruption.  In fact, the Republican platform calls for an end to rules in the landmark bipartisan McCain-Feingold campaign finance law that protect against political parties using unlimited funds to coordinate with and hold influence over candidates.  Senator McCain, who championed the reform effort, was the Republican Presidential nominee just two Presidential cycles ago.  It is astounding how extreme the Trump Republican Party has become since then. 
In the race for the Presidency, the choice is clear. End Citizens United is proud to support Hillary Clinton and will work with her to reform our campaign finance system.
End Citizens United will team with Hillary during her campaign and after she is elected President to pass a constitutional amendment, ensure the country has a full and functioning Supreme Court (which could hear a case to reverse the effects of Citizens United) and pass common-sense legislation to clean up our election laws. 
The status quo isn't working.  With Hillary Clinton as President, we'll have a chance to bring change to a system stacked in favor of the wealthy and the well-connected few, and to reaffirm that the strength of our democracy is derived from the notion that our government represents all of the people and that every American has a voice in our elections.  That's why we're #WithHer.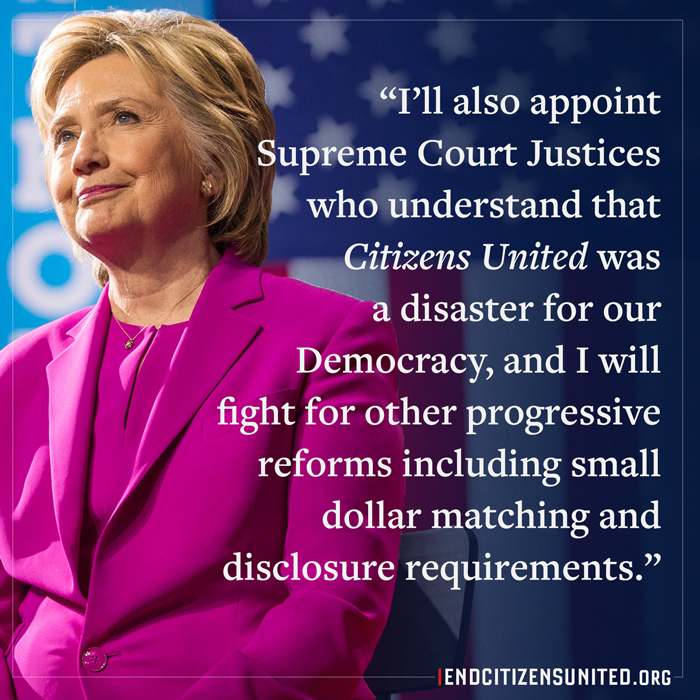 Calling all HuffPost superfans!
Sign up for membership to become a founding member and help shape HuffPost's next chapter