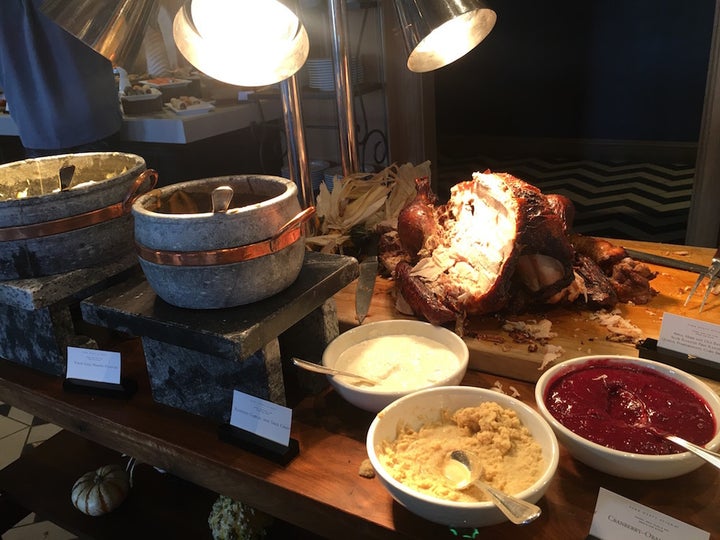 Growing up, we always celebrated Thanksgiving at either our house or my aunt and uncle's apartment in Manhattan. The women did all the cooking, the men carved the turkey and the kids helped set the table and clean up afterwards.
Once I had a family of my own, we spent the holiday at my parents' house, where we were in charge of bringing dessert and flowers.
When we moved across the country almost 20 years ago, we approached our first Thanksgiving with trepidation. As someone who doesn't cook, I wasn't about to start on the most pressure-filled food day of the year.
We did want the kids to have a holiday to remember, though, so, since our families couldn't fly out to join us that year, we decided to try something new and go out to dinner at one of the many Thanksgiving buffets in San Diego.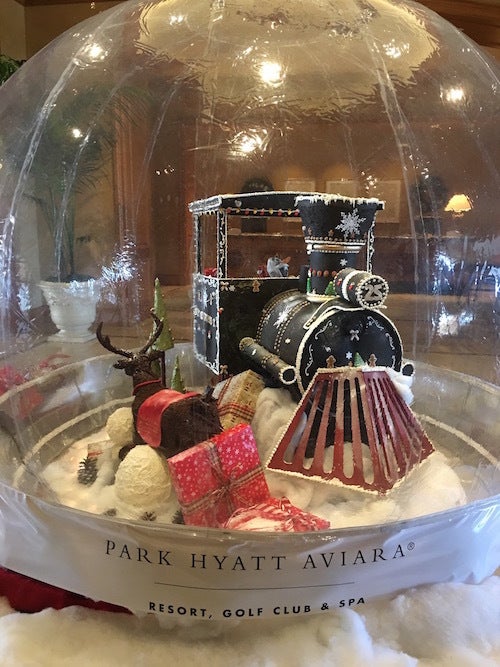 The whole experience was so unexpectedly meaningful, it immediately become our annual tradition. The food is always delicious, and no one has to stress about cooking or cleaning. And one of the other reasons it was so special was that it was also the year we started the gratitude list.
Each of us made a list of 10 things we were thankful for, and we went around the table reciting one item at a time. There were lots of tears and hugs – another tradition we look forward to every Thanksgiving – and I still treasure the handwritten lists from 18 years ago because these days, they're mostly written on iPhones.
I will never forget the older couple at the table next to us who turned to us before they left to say they couldn't help listening because the whole ritual was so beautiful. Over the years, a surprising number of people have done the same. (Okay, maybe we get a little overly emotional.)
Although we have tried a variety of places with a variety of family members since that first Thanksgiving on the West Coast, the place we come back to over and over again is the California Bistro at Park Hyatt Aviara Resort, Golf Club & Spa in Carlsbad. It just feels like home – with way better food.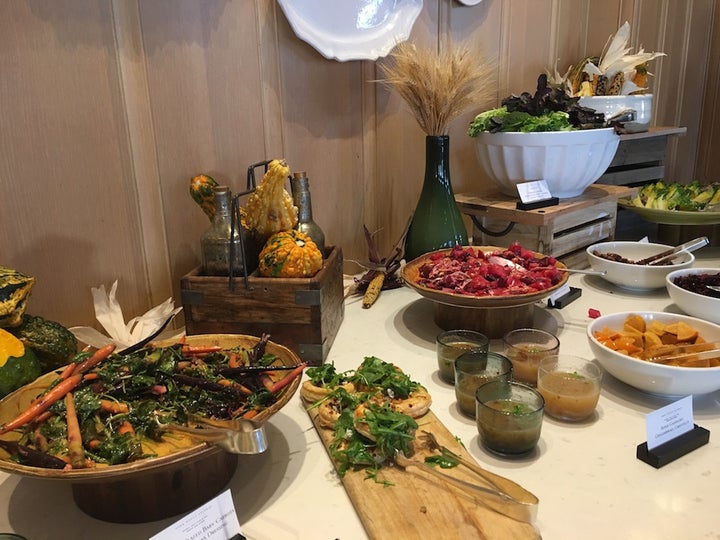 "Thanksgiving is my favorite holiday, not only due to the genuine core meaning of it but for the simple family food tradition that surrounds this holiday," Executive Chef Pierre Albaladejo told me. "Building memories through food is my team's main mission, and Thanksgiving is a perfect opportunity to do that."
Boy, does his team succeed.
This year, the five of us who celebrated together each made our own food memories. My son raved about his traditional Thanksgiving turkey, stuffing and mashed potatoes; my dad got to enjoy his well-done prime rib and a plateful of shrimp; my mom tasted sushi for the first time – and went back for seconds; my vegetarian husband fell hard for a blue cheese tart and sampled every dessert on the table. Me? I loved it all.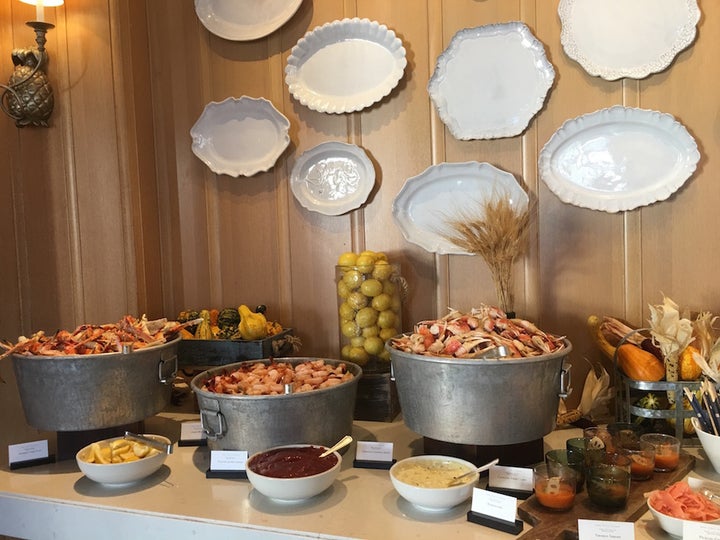 I loved that everyone could eat what they wanted – can you imagine someone preparing all these different meals at home? – and I loved that we could all sit together without someone constantly having to run to the kitchen to take something out of the oven or bring out the next course.
And, apparently, I'm not the only one who loves that.
According to Brian Loughnane, Director of Food & Beverage and one of my new BFFs, Park Hyatt Aviara served more than 850 guests this Thanksgiving, with the numbers growing considerably each year.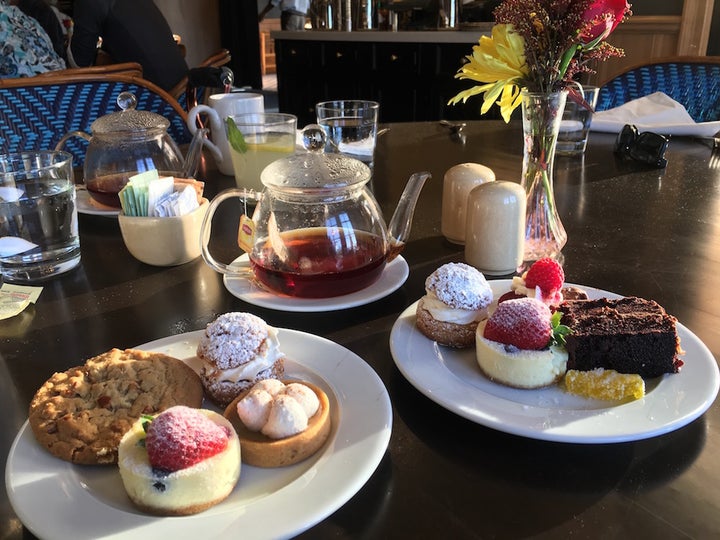 "We are grateful to share the holidays with our guests," he said. "They are able to enjoy the festivities in a luxury environment while dining on delicious food and spirits, and creating lasting memories for their families and loved ones."
We spent over three hours at our Thanksgiving feast, talking, eating and just celebrating being together.
By the time we left, we were as content and roly-poly as this cutie in the lobby.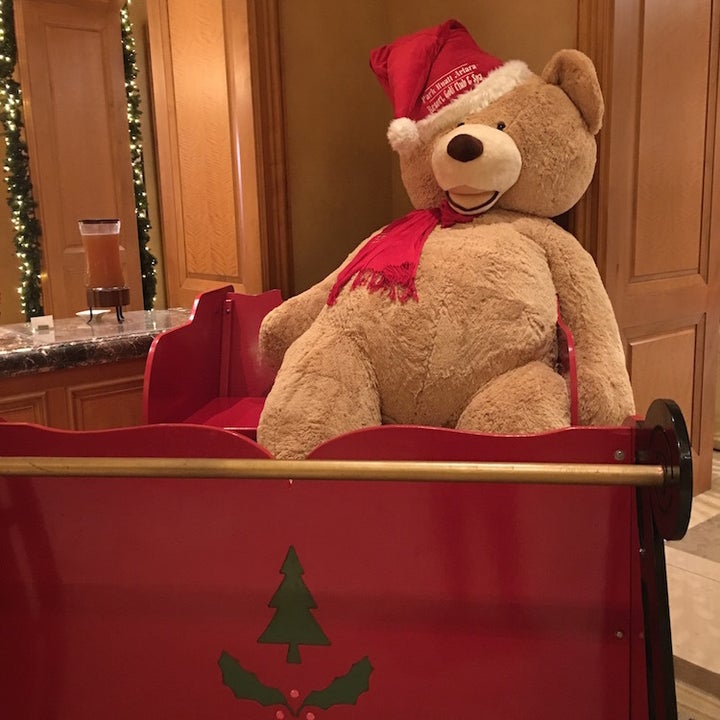 And, not surprisingly, when we read aloud our gratitude lists, this meal was mentioned on every single one.
Meet you there next year?
Popular in the Community