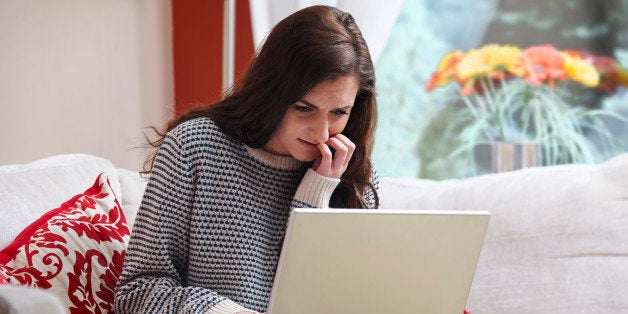 Over the last week, we have read all about the zoo, kids, and moms who have had enough with parenting advice being shoved down their throats. So why are we still reading these pieces? Why are we still seeking them out on the Internet?
We are reading it hoping for some type of secret answer. I seek out advice because I am looking for a perspective. I want help looking at my situation differently. I am looking for that secret to help me be a better parent.
Thirty years ago if you were receiving unsolicited parenting advice you would have to stomach it. It would be your mother, your father, your mother-in-law, your cousin, your neighbor or your friend, or the stranger at the store. And you have to suffer through it until it's over or you get away from them. This still happens today as well. We are at the wrath of others' advice.
But don't we seek it out from them also? I can't tell you how many times I have been solicited FOR advice. Advice about bedtime -- advice about potty training -- advice about feeding and more! Why?
We need help as parents. Being a parent is a difficult thing. We need support, or at the very least information. We are reading it to make ourselves feel better about the job we are doing as parents. It's lonely and tough being a parent. We want to know we are doing something right or even wrong. We not only try to make it better, but we feel better knowing we are better parents than others. We want our struggle to seem less than someone else's. It's human.

We want a little humor. Sometimes snarky, off the cuff pieces make us laugh. And they make us feel less lonely. Even in insane pieces have one component or more you identify with. You know at one point you felt the same exact way as that parent.
We need to feel emotion. Our days become mundane as a parent. Children rarely have a lot of variety in their schedule. Especially toddler and preschool kids. It's like an episode of "Groundhog's Day." It's tough to get out of the same ending every single day. Connecting with other parents via the Internet is a way to feel something again. We feel a connection to other parents and adults. Sure we can have that without reading, but over time haven't we always sought out a good read too?
Years ago it was just a book at the library. But it was a way for all people (and still is now!) to seek advice or leave behind our worries for the day. Reading parenting information is a way to step out of our current life. We can feel something in someone else's life. I have read pieces about being a single mom, a single dad, or about having multiple dads and moms. They are all lovely things to read. They have nothing to do with my life. But those pieces provide me with perspective into other's daily lives. Those are topics I would not understand without reading. It's always been this way over time. You picked up your local newspaper to read about what's going on in other people's lives. That's what the newspaper was. The bad, the ugly and a little good. If you were lucky to have a "good news" section in your paper you were reading about people's good stories.
Let's stop complaining then and just use our heads shall we? Are there too many pieces telling you how to be a better parent? Maybe. Are there too many studies telling us what's healthy and what's not? Maybe.
But the quantity doesn't matter. We are the filter. We are the ones that choose when to turn it off. If we don't want to read about it -- we simply just stop. You just stop clicking, you turn the computer or phone off and you move on with your day. That is the best thing about the additional unsolicited advice today. If you don't like what you are reading or seeing -- stop looking and stop reading! The only way things are shoved down your throat via the Internet is by yourself. Don't get on there looking if you aren't ready for what you will see.