This column originally appeared in Emily Peck's newsletter, a weekly email that looks at the convergence of women, economics, business and politics. Sign up here.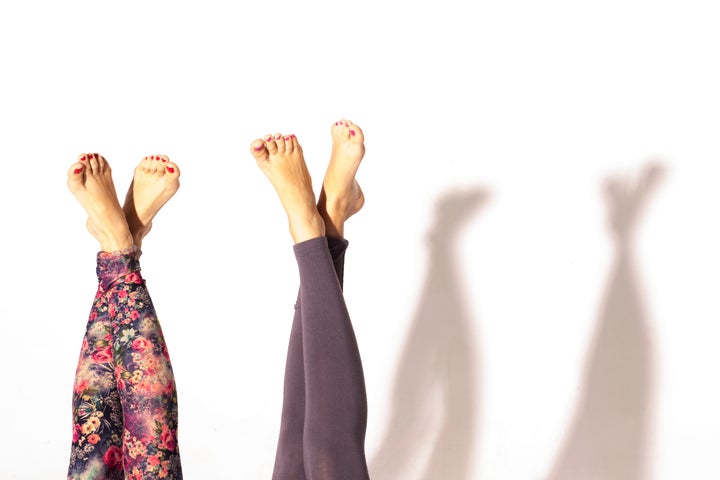 It's a scandal with legs. Over the weekend, United Airlines kept two teenage girls off a plane because they were wearing leggings, which are apparently not appropriate pants for sitting inside a super-cramped cabin, with your knees in your throat, paying $8 for a sandwich and inhaling other people's coughs and farts for many hours. The internet predictably went insane with outrage over the incident, which United tried to justify by explaining that its dress code only applied to passengers who were employees or family or friends of employees and flying for free.
If you are a human American person, you probably know that millions of female persons in our soon-to-made-great-again country wear leggings ― especially young girls. Last year, online legging sales overtook jean sales. My daughter, who is 6, hasn't worn jeans in years because obviously stretchy leggings are 1,000 times more comfortable and you can get them with glitter and butterflies. Many, many adult women also pointed out that United was continuing in an age-old tradition of shaming and sexualizing girls for wearing certain clothes.
We also shame grown-ass women
Yesterday Bill O'Reilly made fun of Rep. Maxine Waters. He later had to apologize. She said she didn't care. Well, actually she said, "I'm a strong black woman, and I cannot be intimidated." Which is just perfect. Also if you need more Maxine Waters, this piece from Elle from back in January is a good time.
Also on Tuesday, the White House press secretary scolded reporter April Ryan, who is black, and told her to stop shaking her head.
Both of these incidents inspired black women on Twitter to share their real-life experiences at work. Many described having to deal with inappropriate comments about their looks, and even more opened up about how they're often accused of being overly aggressive or intimidating when they're just going about their day.
Riding dirty
I feel safe in saying that Uber is not a chill place for women to work. In February, a female engineer who used to work there described being propositioned by her boss on her first day at the office and then having her complaints about that, and subsequent incidents, ignored again and again. That same month a New York Times story revealed more about gropings and anti-gay slurs at Uber. Over the weekend, The Information broke a story about Uber employees at a South Korean escort/karaoke bar. This week I spoke with Uber CEO Travis Kalanick's ex-girlfriend about the company's whole bro-vibe. Gabi Holzwarth talked about how demoralizing it was to attend parties swarming with Silicon Valley men, who'd hire models to socialize with them.
Don't worry though, Uber's on it! This week the ride-sharing company released information about the gender and ethnic makeup of its employees ― after years of refusing to do so. The company is finally acknowledging that perhaps the company culture is a stitch too aggressive. So now what? Oh, it's donating money to charity. So all better then! Congrats, everyone.
Here are Gabi and Travis last spring when they were still dating:
Speaking of all-male cultures
Photos of large groups of white guys meeting at the White House are pretty familiar by now. In this picture, for example, Vice President Mike Pence is discussing health insurance with members of the so-called Freedom Caucus, a bunch of guys from Congress who believe they have the right to make decisions about women's health care because of freedom or something. I feel super free about this, don't you?
In the New York Times Jill Filipovic posits that these photos not only are the product of an administration that absolutely does not give AF about women or political correctness ― but instead serve as a deliberate display of aggressive masculinity.
"Mr. Trump promised he would make America great again, a slogan that included the implicit pledge to return white men to their place of historic supremacy," she writes. "And that is precisely what these photos show."
This column originally appeared in Emily Peck's newsletter, a weekly email that looks at the convergence of women, economics, business and politics. Sign up here.
Popular in the Community