The scientific breakthroughs that have occurred in our lifetimes are stunning, but we are just getting started. Just look at this wishlist of 50 scientific breakthroughs that would transform the lives of the poor. Imagine if we had vaccines for HIV, malaria, tuberculosis, or Ebola. Imagine if we could use solar power to desalinate water or refrigerate crops in sub-Saharan Africa. Innovations like these would change the world.
At USAID, we are working to close these gaps, investing $425 million in scientific research in 2015. Here are the top five reasons why:
1. Scientists Love to Solve Problems
We are building a network of researchers inside and outside USAID-top scientists who get to the bottom of difficult problems. For example, the Feed the Future Initiative works with more than 60 universities through a network of Innovation Labs.
The Feed the Future Innovation Lab for Integrated Pest Management, led by Virginia Tech, discovered an invasive pest - the papaya mealybug - that was destroying papayas, an important cash crop in India. The researchers found a way to deploy a parasitic wasp to eliminate the pest and save the papayas. The economic impact is now estimated at more than $1 billion over five years.
2. Evidence Doesn't Lie
Researchers are obsessed with evidence. That's good news for us, because policy makers who rely on hard evidence make better decisions. USAID's Higher Education Solutions Network supported researchers at UC Berkeley who examined whether Ghana could reduce corruption among its police officers by increasing their salaries. Surprisingly, they found that higher pay for police officers in Ghana actually led to higher levels of extraction and corruption.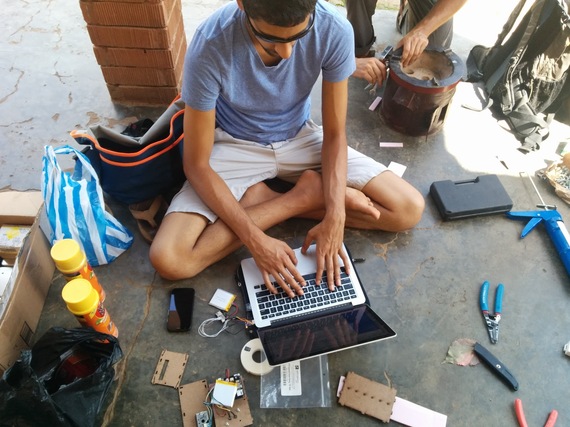 Amit Gandhi of MIT, a partner university in USAID's Higher Education Solutions Network (HESN). Photo: Prithvi Sundar, USAID
3. We Need to Get Good Ideas Out of the Lab
Some of the smartest people in the world are thinking about international development. But we have to make sure their good ideas don't get stuck inside the ivory tower. USAID helps scientists bridge the gap between their research and implementation on the ground.
Recently, a group of researchers funded by USAID's Development Innovation Ventures program studied community health worker recruitment. Through a randomized controlled trial, they found that recruiting messages that focused on career advancement led to stronger applicants and better job performance than messages focused on social incentives. During the first 18 months, workers recruited with career-focused messages made about 30% more household visits than those recruited with social messaging. They also hosted twice as many community meetings. Based on this research, the government of Zambia rolled out career-focused messaging to recruit 5,000 community health workers by 2018.
4. Building Local Capacity is a Win-Win
There's a scientist born every minute, but we have to make sure they reach their full potential. That's why USAID is investing in scientists all over the world. Through the Partnerships for Enhanced Engagement in Research program in the U.S. Global Development Lab, USAID provides grants for scientists in developing countries working in partnership with American researchers.
For example, USAID supported Dr. Donald Grant who was researching Lassa Fever Virus, a hemorrhagic virus similar to Ebola, in Sierra Leone. When the Ebola outbreak hit, his team immediately pivoted to treat the influx of Ebola patients, piloting rehydration techniques that saved lives. As the virus spread, his hospital was the only one in the region equipped to take Ebola gene samples. The hospital's partners at American universities used these samples to track the outbreak and report the evolution of the virus in real time, enabling them to target more effective vaccines. Having scientists on the ground with access to global research networks helped turn the tide on the disease.
5. Partner Countries Are Ready to Do More
Amazing discoveries are waiting to be made, but we need more scientists on the case. So, USAID is priming the pump to get governments in developing countries to invest more in science. For example, we recently established a partnership with South Africa to support science, technology and innovation as tools to advance development.
We know that talent is everywhere but opportunity is not. And we know that research has the potential to transform lives for the better. But we have to accelerate the speed of discovery.
The big question now is whether we can build capacity and empower local researchers and governments to do more. The 50 breakthroughs are waiting to be solved, and we don't have time to waste.
Related
Popular in the Community