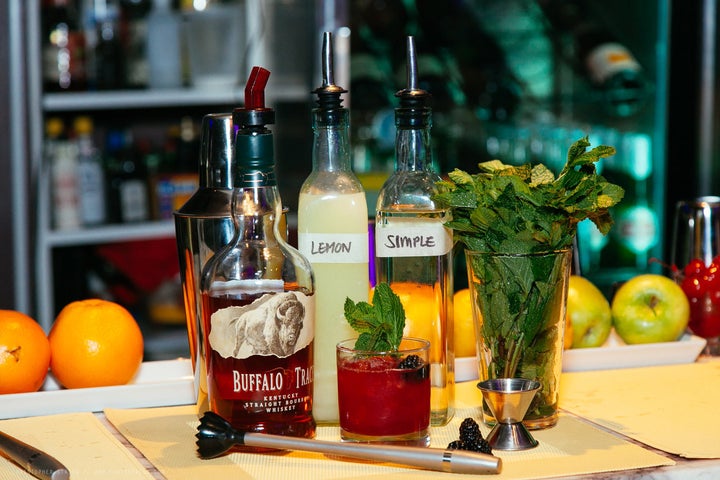 Tomorrow marks the official beginning of summer, and with that comes various customs and routines. And one which is particularly interesting to track is the growing trend each year of the hot summer cocktail must-have. There are videos, television series, print articles all dedicated to the selection and narrative around recipes. Exactly what is it, though, that we are searching for, and how do we mere mortals actually get it right like a professional bartender?
Cultural trends, such as these, are always fascinating to track and sometimes explanation comes from an unlikely place. Jesse Simon who is a writer and cartographer based in Berlin Germany has done some interesting research on our near obsession with the cocktail as an action that is deeply associated with ritual. Naturally, ritual is about unity, connectivity and awe. Thus, in a world where we are often times more connected with technology than real-time humanity, certain rituals become elevated and even more alluring, hence the growing obsession cocktails - particularly when attached to seasons. But there is a twist to the normal thinking around ritual practice. According to Simon, " Ritual has always been an essential component of both preparing and enjoying a well-made drink. However, the individual rituals associated with a given drink are far from canonical—they are continually evolving, and often intensely personal. But the observance of rituals is what distinguishes our own personal recipes from the ones found in books."
He continues in PunchDrunk, "The willingness to share secret knowledge may be little more than an elaborate confidence game designed to make us trust the person making our drink. But it works. It appeals to our sense of tradition and mythology. The unseen is the major ingredient. In fact, we may become so taken with these actions that we later attempt to emulate them in our own preparation. It is precisely at this moment that technique is transformed into ritual. And if we care about a particular drink, we are always looking for new ways to make it better. The incorporation of actions we don't quite understand appeals to some lingering memory of cocktail mixing as a form of alchemy. In fact, Guinness has managed to develop a mythology even around the proper method of pouring a perfect pint."
In fact, this magic around beer and summer cocktails is in fact, on an upward trend. According to Rocco Pisera, Executive Chef and Director of Food & Beverage at ArtBar Restaurant & Gastro Pub which is located in Sonesta Gwinnett Place Atlanta hotel, "People are getting more adventurous and curious about new and different beer producers. We are also moving into more of a contemporary and progressive approach to presentation, even with glasses." His tip for a little summer magic? "Nothing is more refreshing than an ice cold beer on a hot summer day," explains Pisera. "We like to give a typical brew a twist, especially for those who aren't huge beer drinkers, and this is great to keep in mind when you are making cocktails for a party or just a few friends. Beer cocktails are fresh, savory, not too sweet and look good, too!"
Joel Mesa who is a mixologist at Bulla Gastrobar Miami actually suggests starting with emotion as you work your summer cocktails rituals. He says, "Actually, what you have to do is create the summer state of mind. You see, there are two methods of reaching people when it comes to beverages: how something tastes and how something makes them feel. Cocktail enthusiasts are seeking a refreshing taste and there is nothing better than the feeling of being on vacation. Keep your guests on a 'summer state of Mind' with refreshing cocktails by even using a punch bowl to make a 'white sangria' with a great citrusy gin, peaches and strawberries and top it off with some sparkling wine."
But for those who want to get deep into the alchemy and truly replicate the revered bar gods, Jungeun Park of Cocktail Culture in Phliadelphia seems to be the high priestess. Park says, "I spent seven years working at bars. I've literally worked everywhere from restaurants to nightclubs to lounges. And people used to ask me what I'm making all the time! There are a lot of curious people out there!"
She first notes that it's important to have right tools! And mixing tins, rather than the standard shakers, are part of the secret. Also on the altar should be your jiggers, hawthorn strainer, bar spoon and a muddle. But she warns, "Muddle, don't murder herbs like mint. This is where most people make their mistakes with summer cocktails." It's also helpful to shake the tins gently almost parallel to the floor. Why? This helps to aerate a cocktail that calls for a shaker.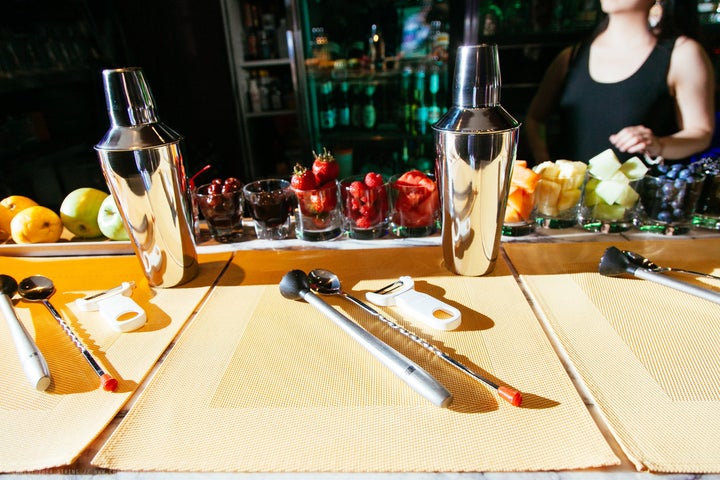 "Ever since Mad Men," Park adds, "People have been into that era's cocktails, but now things are changing and herbs and spices – everything from cilantro to basil to dill to kiwis to blackberries - particularly for summer cocktails is replacing all that." But like magic spell, it all comes down to the elements used. "It should be all about quality," she cautions, "And don't be fooled by the word 'natural.' When in doubt, it's just better to make your own flavors. When creating a 'syrup,' think creatively. One of my fave's is lavender. You make it like a steeped tea. Dont' be afraid to make your own grenadine either. You do this with a pomegrante base. But make sure you put it in an air tight container with just a little vodka in order to preserve it."
Park is so into it that since she started her Cocktail Culture classes at Infusion Lounge owned by Jamie Atlig, a true spirits anthropologist, she's been teaching everyone from executives at Microsoft and Johnson & Johnson to people on dates.
So with insights from some of these top bar professionals, it's all about kicking off the summer. Here are a couple of yummy recipes to get you started on what will be your own, unique rituals. But watch out, you will become that bartender friend that everyone looks to at parties and gatherings!
BASIL, CUCUMBER + GINGER Muddle: 7 to 10 basil leaves, 2 small cucumber slices + 3 slices of ginger Add: 1 1/2 oz green chartreuse, 1/2 oz lime juice, 1/2 oz simple syrup, ice Shake and strain, add fresh ice Garnish with a sprig of basil & 2 cucumber coins
COCONUT MOJITO (AKA Cocojito) Muddle: 10 to 15 mint leaves Add: 2 oz Sugar Island coconut rum, 1/4 oz lime juice, 1/4 oz simple syrup, ice Shake and strain, add fresh ice Top with club soda Garnish with a sprig of mint Optional: Muddle 2 to 3 pineapple chunks to make a fresh Pineapple Cocojito
Related
Popular in the Community