Parades, pickets, demonstrations, marches, rallies, protests. No matter what they are called, perhaps the single most powerful, peaceful way to bring about social change is for people to stand together publicly on behalf of an important cause.
In the current state of affairs, there seems to be a march every week for different causes. From the rallies to protect the ACA, the Women's March on Washington, and other marches, rallies, and events that have been sprouting, as America is grasping to protects its fleeting democracy.
There has been growing support for the marches, while others think the marches do nothing in the long run.
Before I share my experiences and thoughts in the matter, I wanted to bring some historical perspective.
People have been marching in the streets and marching on Washington D.C. and all over the USA, and the world, for well over 100 years.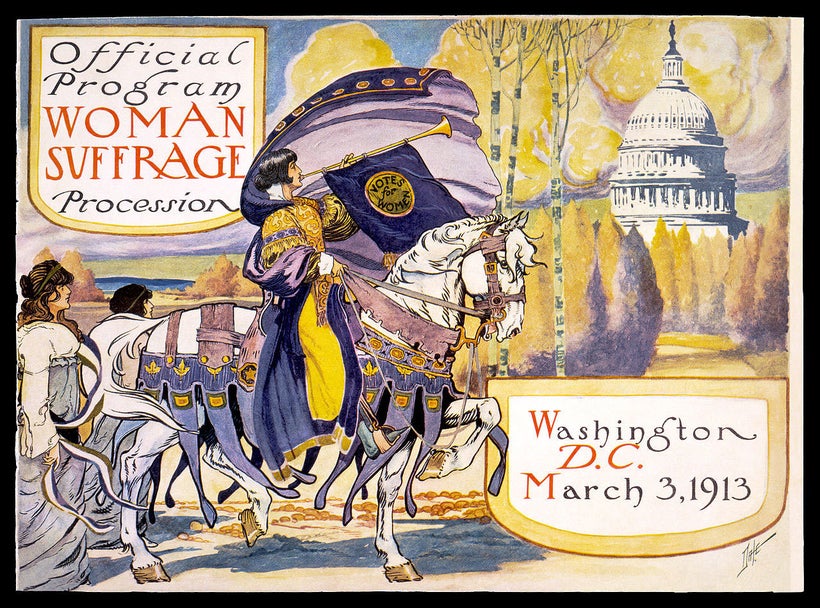 The first sizable protest march was that of the Suffragettes marching a day before the inauguration of President Woodrow Wilson, on March 3 1913.
8000 women marched that day, led by Inez Milholland, adorned in white, mounted on a white horse. The march attracted international supporters. Even though it was supposed to be a peaceful march, there were altercations with men who were opposed to the women's suffrage movement and only a group of boys from Maryland Agricultural College, creating a human shield from the angry crowds, protected the marchers in getting to their destination.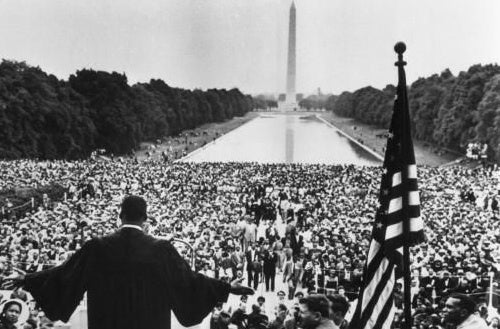 "I have a dream that one day this nation will rise up and live out the true meaning of its creed: "We hold these truths to be self-evident, that all men are created equal."
Marching on D.C., I had the echoes of marches of the past, and in particular, the famous moment in the American consciousness of the civil rights march in 1963, which it's pinnacle moment was, Dr. Martin Luther King's "I have a dream speech."
Approximately 250,000 people marched on D.C. that day.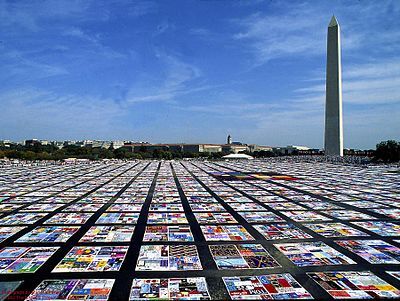 Many other marches followed:
An anti-Vietnam War protest in Washington DC — November 15, 1969 - brought in 500,000-600,000 people. The Million Man March on October 16, 1995, to unite the black community. The March on Washington for Lesbian, Gay, and Bi Equal Rights and Liberation — April 25, 1993, had between 800,000 to a million people.
People have been marching on D.C. and everywhere in the country.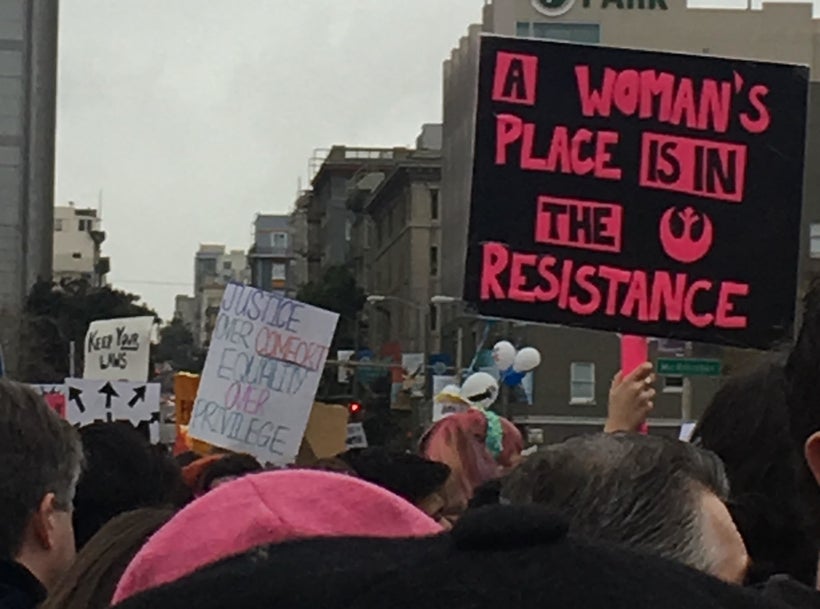 The women's march on D.C. on the 21st of January 2017, had anything from 725,000 to a million people marching. Collectively more than 5 million people marched in the United States alone and around 300,000 people marched globally and in solidarity. To grasp the staggering size of the marches, check out this helpful spreadsheet of the crowd estimates here. Collected diligently by a group of people wanting to have this information for the public good.
I experienced that march in a rainy San Francisco, where the gathering of so many people felt like a collective healing.
The Collective Journey of Resistance
From January 2017, I've been observing a new narrative for democracy emerging through all of the marches, rallies, picketing, activism and spectacular "showing up" of the American People.
These marches, in most cases, brought in the best of people. The organizers saw to it that there was an ethical code-of-conduct written down on their website, to adhere to the peaceful make of these marches.
There were also a network of networks gathering - where different organizations joined together to march and create pinnacle moments in time of solidarity - observing a superpositioning - of being their own self agent groups and part of the bigger collective at the same time. Hundreds of organizations joined every one of these marches, making them a spectacular fit in solidarity.
A few powerful points in time, due to their sheer size and media recognition, helped me form a kind of Collective Journey mapping for the first 5 months of 2017.
Below is the infographic I created reflecting the memes and icons that each of these specific marches invoked.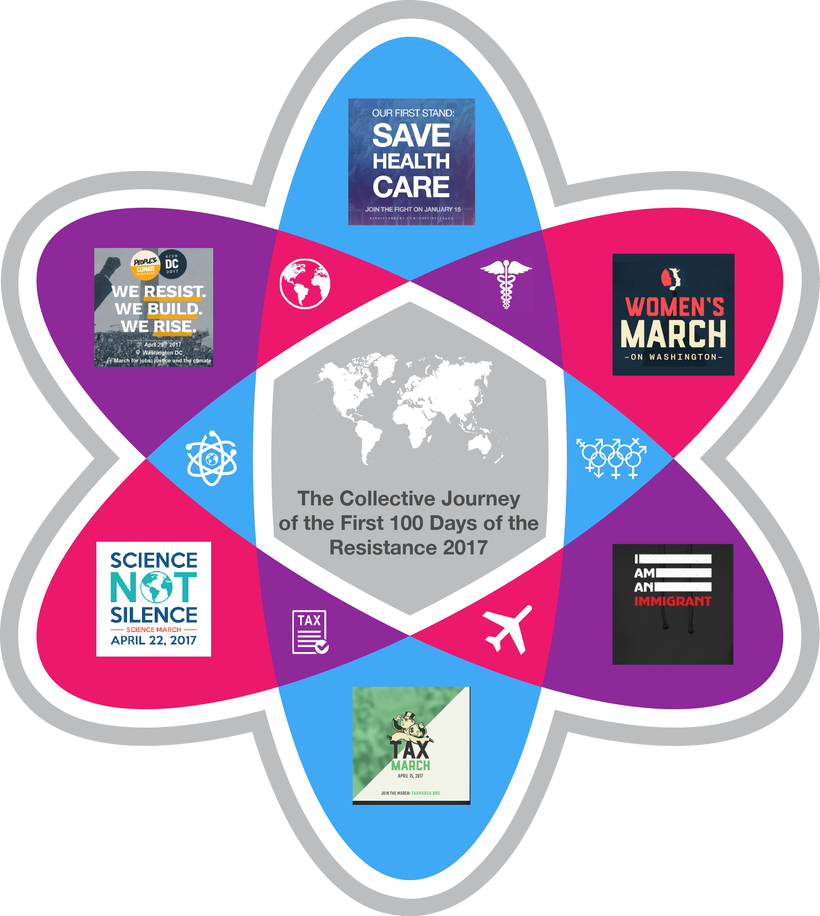 First there was Our first stand - a day of national rallies to Save the Affordable Care Act (ACA). These were the first rallies which were nationwide, on January 15, 6 days before the inauguration. This was my first rally of the year as well, and it was small but invigorating. I joined the rally in San Francisco City Hall and a few hundred people gathered to listen and protest.
On January 21 Women's march: I joined a group of friends in San Francisco, and millions of others across the globe, to march in protest but also to make a stand that the future is women, the future is all colors of the rainbow, the future is humanity. I saw every gender, orientation, age, ethnicity. We marched in pouring rain and everyone was supporting. Something changed that day. The people woke up and found out that they have each other and they have a mighty force. We marched for equality and equity for all. I know this march changed me as it did so many others.
The Airport Rallies started January 29 and came after the Muslim Ban to protect our immigrants and to remind that the people are open and inclusive of others. These were spontaneous marches that grew bigger by the hour and the day. Beyond thousands of people rallying and stopping traffic outside the airports, legions of immigration lawyers, volunteering of their time, were sitting in airports helping the detained with legal help. I didn't go down to the airports but supported friends who did so. I also became a monthly contributing member of the ACLU that weekend. 10 min after I completed my payment, the ACLU announced they reached a temporary block on the ban.
"More than 125,000 people in more than 200 communities around the world marched on April 15th to demand that Donald Trump release his tax returns" from the Tax March website. Beyond the demand for the 45th president to release his tax returns this was also the protest of the people for giving tax break for the 1% of the richest individuals and corporations in the country. I joined that march as well, marching with dear friends and uplifted by the amount of people who continued their protest in San Francisco and all over the country.
March for Science - I was sad to miss this one, but thousands of people in over 600 marches across the country and the world. This march was a huge stand for logic, science and facts. An rare commodity these days.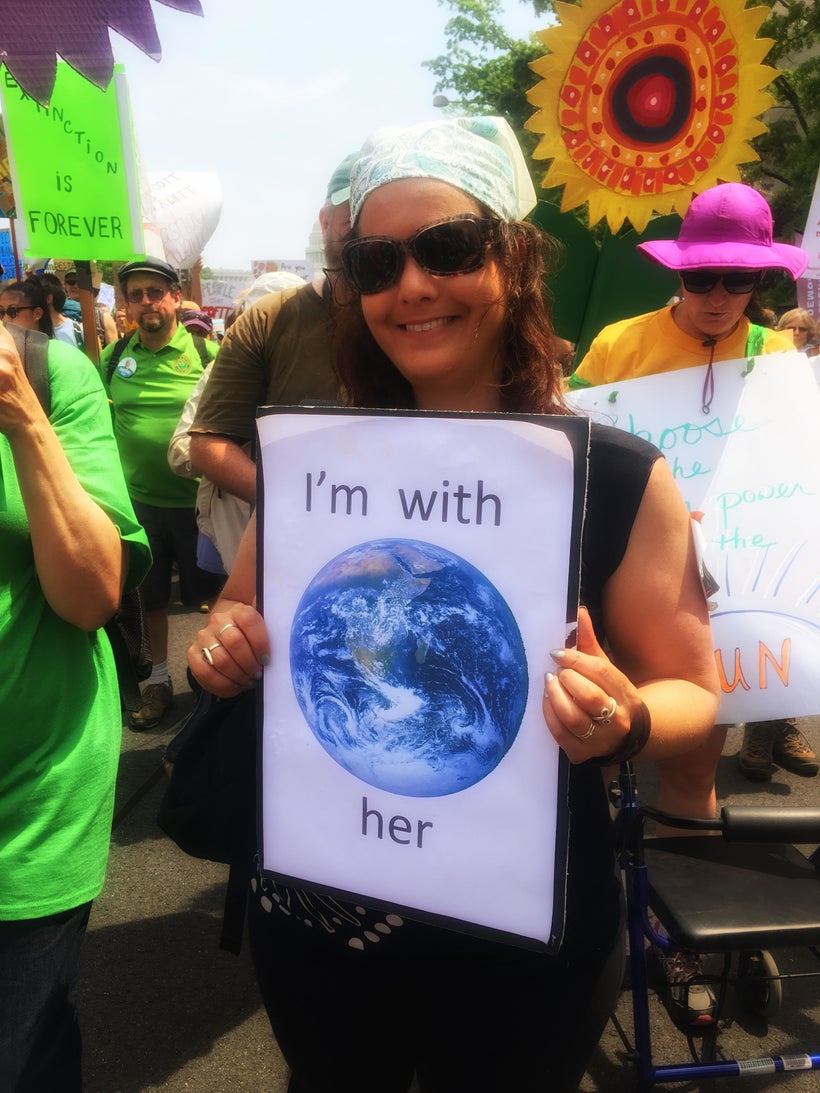 People's Climate March where we came together. More than 200,000 people marched on D.C. and many, many more around the country and the globe. Hundreds of different non profits and organizations joined for this march.
For me this march was an ending and a beginning of a cycle or the endless spiral that our existence and our resistance seem to invoke.
I flew out from San Francisco for this march, with my husband. Even before the march, talking to people I met in D.C. it seemed that everyone was on that same elevated frequency, of doing good, caring for the planet and people. Such a discontent to the hateful rhetoric spewing from the White House. The day of the march was a hot one. 90 degrees fahrenheit which is quite hot for a San Franciscan, used to the mild 72 at best. The air was thick with humidity. We set out to meet new friends, a wonderful family of four who were marching for the first time in their lives. They also just transitioned into being vegan - talk about inspiration for the planet. As we were walking to the mall, we were worried there won't be enough people. Turning into the mall we saw them, we felt them. The magnitude of humanity, marching for their home planet. Everyone was there. Every color, gender, age, walk of life. They were all there, marching, holding signs, wearing costumes, cheering, hugging. The sheer creativity people shared on their signs, the humanity and kindness they showed one another in the heat of the day, the conviction of why we were all marching. Not only marching against the attack, the full on war that is being perpetrated against our environment and our planet. But also marching for: For regenerating our environment, for protecting our wildlife, for a planet that works for all people. It was a march to unite many movements, inspire hearts, and fortify us for a long fight. Like any combat, our friends-in-arms became a new adopted friends-family. A solidarity which occurs when people share in a such a peak experience.

The organizers of the march, were very much aware of the powerful journey they were creating and participating in, as seen in this beautiful narrative arc they created for the march. Each segment was it's own Collective Journey . Each segment brought forward Evolved Archetypes, together marching forward in a Collective Journey marching into the future and creating a metanarrative for humanity.
So what is the big deal? This is not the whole of humanity marching?
I marched in a lot of these marches and other rallies and events.
I believe they serve so many purposes.
First, they are a coming of age of people who have never marched or were never active before. Here they are socialized and learn the power of the marches. They are also a gathering space for activists who have been marching and protesting, some for decades. The marches is a gathering and a place where they connect to their community, get galvanized and empowered to continue their protest. Marches create massive awareness, social and mass media buzz and focal points for the long arc of justice and equality.
"Marches are a dionysian experiences; an orgy of the spirit" says the Depth psychologist Edward Santana.
I am not a prophet; I don't know how this will end, and will these marches manage to truly change the course of history. Many of the past marches did. I can only report what I experienced directly.
What I saw where women, men, children. Old people in wheelchairs, young millennials, white people, black people, brown people, yellow people, straight people, gay people, trans people and all color of the rainbow people. I saw them walking through pouring rains and marching in scorching heat. I saw them being supportive, loving and kind to each other. I saw their bursting creativity in the signs and messages they carried. I saw their conviction to make this country and the world work for everyone.
I saw them care. Care for one another, care for what is right and equitable in this country, care for what kind of world they want to live in and what kind of world they are leaving for future generations.
I saw the kind and caring humanity I wish to belong to.
Calling all HuffPost superfans!
Sign up for membership to become a founding member and help shape HuffPost's next chapter
This post was published on the now-closed HuffPost Contributor platform. Contributors control their own work and posted freely to our site. If you need to flag this entry as abusive,
send us an email
.