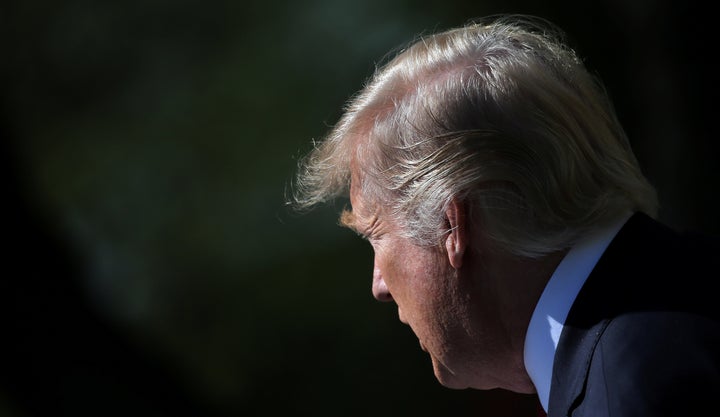 Now that Americans are getting into crunch time with filing their taxes, it's important to remember what's usually supposed to happen in early April. Around this same time of year, presidents customarily release their tax returns to the public. It's been a tradition for decades, but apparently that's not going to happen in 2017.
Before Donald J. Trump was sworn into office, I authored legislation requiring all sitting presidents to release their tax returns, a practice that has been routine for every president since Watergate. It looks like Mr. Trump will choose to keep his returns secret and ignore this very low ethical bar, even though it's clear his "blind trust" isn't blind at all and the separation he promised he'd make from his businesses seems to be nonexistent.
Support for Mr. Trump to release his tax returns has only grown. It's stretched across both sides of the Capitol and has come from both sides of the aisle. Trump's tax returns have become a topic of conversation among more families, friends and communities. It's an issue that's been raised at each and every one of the 23 town halls I've hosted in Oregon this year. And as we approach tax day Americans across the country are turning up the pressure on Trump to release his returns.
Here's why we're demanding Trump release his tax returns:
Self-interests or America's best interests?
Earlier this year I penned an op-ed laying out all the reasons why Americans cared about Trump's tax returns. As I wrote in January, without these returns, Americans cannot know whether Mr. Trump is using the presidency to enrich himself and potentially empower our nation's enemies. Americans won't know whether Mr. Trump's "phenomenal" tax plan will lower the rates for his own personal financial gain or help out teachers, nurses and cops.
Foreign Connections?
As each day without Mr. Trump's tax returns passes, more questions are raised about his ties to foreign governments, shady oligarchs and the ongoing federal investigations into Trump's associates and Russia. If Trump's tax returns were made public we could learn if he has foreign bank accounts—and where. We could learn who is investing in his enterprises—and where. Americans would have more information about where the president's foreign entanglements really are. Given these national security implications, I've asked Senate Finance Committee Chairman Orrin Hatch to use his authority to allow the committee to review Trump's tax returns. I've also urged Senate Intelligence Committee leaders to "follow the money" between the president and his associates' financial connections to Russia.
Has Trump paid taxes at all?
Tax returns give the American people a lot of straightforward, honest answers. It's not just about what rate you pay, it's about whether you even pay taxes. Candidate Trump himself said that not paying any federal income taxes makes him smart. Additionally, the IRS estimates that America has lost more than $400 billion over the past ten years from corporations dodging their tax payments. Between Trump's individual tax return and his business returns we could learn whether the president has been paying any taxes at all, either from his own personal income or from his businesses.
All of these reasons are why I — along with hundreds of thousands of Americans — am committed to pursuing the release of Donald Trump's tax returns. Together we must work to protect the integrity of our government and the security of the American people.
Popular in the Community