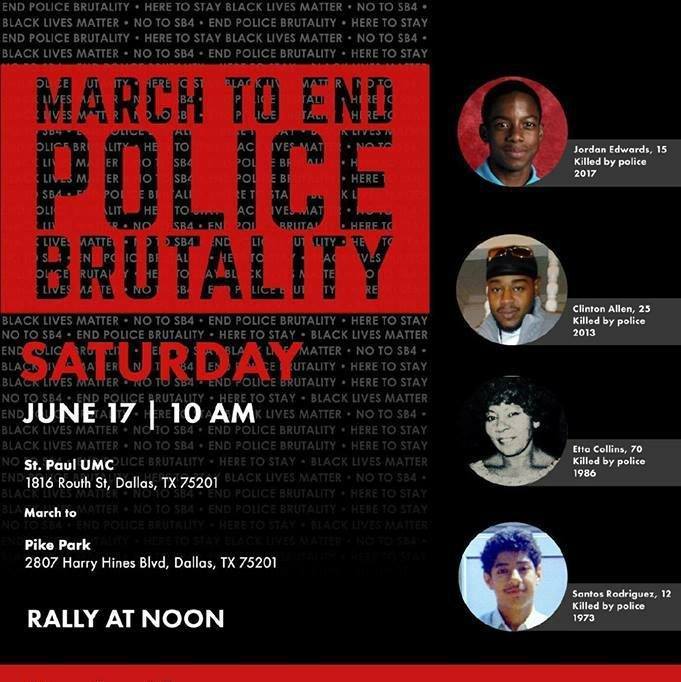 Tomorrow morning, a diverse coalition of North Texans will gather in downtown Dallas at the historic St. Paul United Methodist Church to march. What would compel this body to exchange a lazy Saturday morning for a public demonstration in the streets? For what purpose would they forgo the creature comforts of air-conditioning to assemble under an oppressive summer sun?
The answer may be best expressed in names: Jordan Edwards. Santos Rodriquez. Fred Bradford, Jr. Ahjah Dixon. James Harrison. Clinton Allen. Etta Collins.
The names move well beyond the plane of North Texas and echo forth from cities and municipalities across the nation: Eric Garner. Michael Brown, Jr.. Sandra Bland. Freddie Gray. Alton Sterling. Rekia Boyd. Philando Castile. Terence Crutcher. Walter Scott. Tamir Rice.
And this does not even scratch the service. The beat of police brutality simply goes on and on and on.
To be clear, the March to End Police Brutality is not a march against police. This must be stated directly in this current social and political climate as some find support of police and opposition to police brutality to be mutually exclusive. It is not. Our march is not a march against police but a march against the policing and justice system that continues to find creative ways not to convict certain officers for their callous crimes.
It is an undeniable fact that our policing and justice systems are broken. It is so defunct that even when these crimes against humanity are caught on camera, a conviction is not brought forward. That is, when the actual camera footage is released.
Based upon the constant beat of acquittals seen over the last several weeks locally and nationally, there is no reason not to believe that somehow Roy Oliver will also walk. On April 21st, former Dallas police officer Bryan Burgess was found not guilty in the death of Fred Bradford, Jr. On May 2nd, the United States Department of Justice decided not to pursue federal charges against Baton Rouge police officers Blane Salamoni and Howie Lake II in the death of Alton Sterling. On May 18th, Tulsa police officer Betty Shelby was found not guilty in the death of Terence Crutcher. Yesterday, Jeronimo Yanez was cleared of all charges in the shooting death of Philando Castile. Even the Sandra Bland Bill, signed into law on Thursday by Texas Governor Greg Abbott, while granting measures that mandate "county jails divert people with mental health and substance abuse issues toward treatment, [make] it easier for defendants to receive a personal bond if they have a mental illness or intellectual disability, and [require] that independent law enforcement agencies investigate jail deaths", was completely gutted by the Texas Legislature of the very issue that gave rise to former Texas State Trooper Brian Encinia's infamous encounter with Bland; an officer should not arrest someone for committing a ticket-able offense.
Yes, the beat goes on. And so we march.
We march to magnify the stain of police brutality which thrives when good people remain silent. We march to place pressure upon the policing and judicial system and demonstrate that we refuse to normalize these injustices and that by all peaceful means necessary, we will hold them accountable, be it in the streets or at the ballot box. We march to encourage the endless stream of families who weep daily over the loss of their loved ones that they are not alone.
And we march with the confidence that, as Dr. King espoused, "the arc of the moral universe is long, but it bends towards justice." Though justice has been delayed, it will not forever be denied.
In his seminal text Why We Can't Wait, Dr. King wrote "Where, in the days of slavery, social license and custom placed the unbridled power of the whip in the hands of overseers and masters, today - especially in the southern half of the nation - armies of officials are clothed in uniform, invested with authority, armed with the instruments of violence and death and conditioned to believe that they can intimidate, maim or killed Negroes with the same recklessness that once motivated the slaveowner. If one doubts this conclusion, let him search the records and find how rarely in any southern state a police officer has been punished for abusing a Negro."
Fifty-three years after the publication of this text, the record remains clear. Thousands of names have been added to the fatal rolls of police brutality. More often than not, the culprits have walked free.
And so we march, and we will continue to march, until justice flows like waters, and righteousness, like a mighty stream.