It was 19 years ago that I learned to meditate (Transcendental Meditation) and began a daily meditation practice of 20 minutes twice a day. The first thing I noticed was how much calmer I felt in my daily activity; I had more energy and I felt more creative. A year on, whilst a lot continued to go on around me, I felt an inner calm and significantly more mental clarity. I finally got the phrase "Don't sweat the small stuff."
It was therefore no surprise to me that five years later I had started my own natural skincare company Sodashi, and meditation had become a fundamental part of the business.
In the early days there were only three full-time employees, and two of us would meditate at work each afternoon. One day the third employee came in to my office and said, "I want what you have! I want to know more about this meditation you do, can I learn?"
Over the past 14 years we have financially supported over 40 employees to learn Transcendental Meditation (TM), giving them a tool to remove stress from their physiology. It's now wonderful to reflect on the benefits of this practice both for us as a business and for all these individuals. The meditation practice has been central to creating a creative, collaborative, caring and cohesive work environment at Sodashi, and it has certainly helped staff retention and loyalty along the way.
Now each afternoon at 2:30 p.m. the team gathers in the boardroom to close their eyes and meditate together for 20 minutes. Research on TM states that the practice increases brain wave coherence to boost focus and clarity; essentials for a dynamic and engaged workforce. As well as alleviating stress, TM also helps overcome insomnia and provides some sacred time out each day for the individual to go inwards.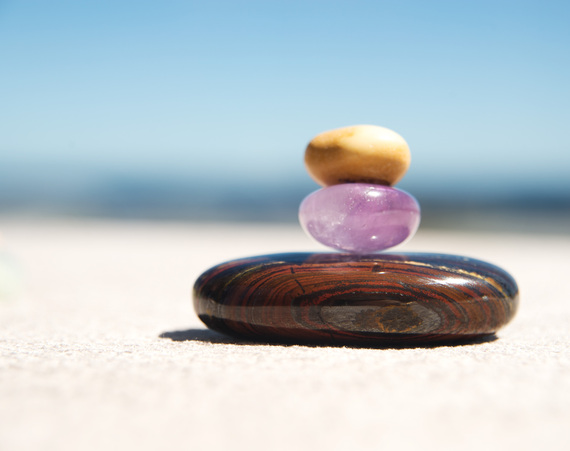 From the very start I have been a proponent of creating a work environment that promoted health, wellbeing and happiness. As well as the meditation, the team receives monthly Bowen Therapy treatments to support their wellbeing. Twice a year the company's Ayurvedic consultant comes in to present Ayurvedic knowledge to the staff, and any staff member who wants an individual Ayurvedic health consultation is given one by the company. And early on I decided that no one should work on his or her birthday; instead, everyone is given this as a paid day off so they can celebrate their special day.
It is such a gift to be able to share these enriching tools with our employees, and it warms my heart we do this at Sodashi.
"After learning to meditate, I feel as though I move through my life with both a greater sense of calm and a greater sense of purpose." -- Amy Mattes-Harris, Sodashi employee
Research on Brain wave coherence:
• Dillbeck M. C. and Bronson E. C. Short-term longitudinal effects of the Transcendental Meditation technique on EEG power and coherence. International Journal of Neuroscience 14: 147-151, 1981.
• Arenander A. and Travis F.T. Brain patterns of Self-awareness. In B Beitman and J Nair, Eds. Self-Awareness Deficits. New York: W.W.Norton, 2004.
• Travis F. Eyes open and TM EEG patterns after one and after eight years of TM practice. Psychophysiology 28 (3a): S58, 1991.
• Orme-Johnson D. W., et al. Meditation in the treatment of chronic pain and insomnia. In National Institutes of Health Technology Assessment Conference on Integration of Behavioral and Relaxation Approaches into the Treatment of Chronic Pain and Insomnia, Bethesda Maryland: National Institutes of Health, 1995
• Alexander C.N., et al. Effects of the Transcendental Meditation program on stress reduction, health, and employee development: A prospective study in two occupational settings. Anxiety, Stress and Coping: An International Journal 6: 245-262, 1993.
• Eppley K.R. et al. Differential effects of relaxation techniques on trait anxiety: A meta-analysis. Journal of Clinical Psychology 45: 957-974, 1989.
• Jevning R., et al. The transcendental meditation technique, adrenocortical activity, and implications for stress. Experientia 34(5):618-9, May 15, 1978.
• Schneider R.H. Altered responses of cortisol, GH, TSH and testosterone to acute stress after four months' practice of Transcendental Meditation (TM). Annals of the New York Academy of Sciences 746:381-384, 1994.
• Sedlmeier, P., Eberth, J., Schwarz, M., Zimmermann, D., & Haarig, F. The psychological effects of meditation: A meta-analysis. Psychological Bulletin, 138(6), 1139-1171, 2012