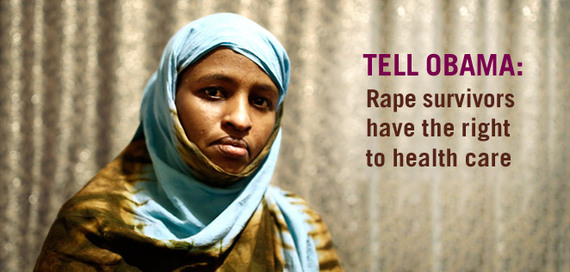 Like many of you, I've been glued to the news from Iraq. As I read headlines of unspeakable crimes and sectarian violence, I notice there's something missing: the voices of Iraqi women. As with most conflicts, rape is used as a weapon of war, a way to control intimidate and humiliate millions of women and girls. Iraq is no exception.
This week, a few of us at Global Fund for Women spoke with our friends and allies in Iraq, including Yanar Mohammand, who has been working for women's rights in Iraq for decades. She told us about young men, armed with assault rifles, who went door to door in Mosul, the second largest city in Iraq, taking "women who are not owned" for "Jihad Nikah" or sex Jihad. Between June 9th and June 12th, women's rights activists documented 13 cases of women who were kidnapped and raped by militants of the Islamic State of Iraq and Syria (ISIS) or DA'ESH, the Arabic shorthand for the group's name. Of the 13 women, four of them committed suicide because they couldn't stand the shame. One woman's brother committed suicide because he could not bear the fact that he was unable to protect his sister.
While the DA'ESH militants were just beginning their offensive at the beginning of this month, U.S. Secretary of State John Kerry and other world leaders were at the largest ever summit on rape in war.
For far too long, the international dialogue has stopped at prevention. Leaders have failed to discuss how to respond to the aftermath of rape. They have failed to address the healthcare needs of survivors. And they have failed to make sure women and girls get the necessary care and support to rebuild their lives.
A little-known, 41-year-old U.S. law is a key reason for these continued and systemic failures. It has proven an enduring barrier to comprehensive post-rape care for women, including access to counseling, support and safe abortion.
The Legacy of Jesse Helms
The Helms amendment restricts the use of U.S. aid for abortions "as a method of family planning or to motivate or coerce any person to practice abortions," but does not prohibit such funding in cases of rape, incest or life endangerment. However, a lack of clarity around the amendment has resulted in its misapplication as a complete ban on funding abortion.
As a result, most organizations that rely on U.S. aid too often turn their backs when pregnant rape survivors ask for help. Those health providers are afraid to lose their funding and therefore avoid abortion services and referrals altogether.
This must end. The long-overdue global conversation about rape in conflict must include the pressing need for women and girls to access comprehensive post-rape care. This was a conversation the world needed decades ago, with wars being waged against women's bodies in places like Bosnia, Rwanda and Burma. It was needed in 2011 when conflict broke out in Libya. It is needed more than ever today.
For every day of inaction, horrific wars worldwide rage on. Nearly 50 women and girls are raped every hour in eastern Congo. Sexual violence is a primary reason women and girls are fleeing Syria, according to the International Rescue Committee. In the aftermath of such unimaginable sexual violence, these women and girls are being denied health care they need, including access to abortion.
Take Action To Support Survivors of Rape
It's time for policymakers to listen to the voices of women and girls who survive rape. Women and girls who, in the midst of bloody civil wars and regional conflicts, are courageously working to heal themselves and others, and stop the vicious cycle of violence.
"I plead for the government of the United States -- a government that is respected and its policies replicated across the globe -- to start investing its money to heal the mind, body, and spirit of women who have been affected by conflict," says Ruth Ojiambo Ochieng, Executive Director of Isis-Women's International Cross Cultural Exchange (Isis-WICCE) in Uganda and longtime Global Fund for Women grantee partner. She has worked for over three decades to address the forgotten healthcare needs of women in conflict and post-conflict settings, organizing medical camps in Uganda, Liberia, South Sudan and refugee camps in Africa.
Global Fund for Women and the Center for Health and Gender Equity (CHANGE) echo this plea. We call on the United States to be bold in its leadership on a global response to sexual violence, and in doing so, to address both prevention and responses to sexual violence.
Now, we need your help.
Join us in calling on Obama to set the record straight: women worldwide should have the right to comprehensive post-rape care, including access to safe abortions in cases of rape, incest, and life endangerment.
With the momentum of the London Summit propelling us forward, now is the time to end the decades of misapplication of the Helms amendment to block post-rape care. Now is the time to listen to the needs of women and girls globally. Take action today.
Popular in the Community