The battle for Mosul is in full swing and civilians are pouring out of the city. Some 77,000 people have already fled their homes, according to the United Nations. A further 1.5 million people are still inside the municipality.
Those fleeing Mosul join a growing multitude of Iraqis who have been forced from their homes and are now displaced within their own country. The wars in Iraq and Syria have added to an unprecedented global humanitarian situation. At the end of last year, there were 65.3 million forcibly displaced people in the world - a level not seen since the aftermath of the Second World War.
It is difficult to imagine the desperation and misery of people pushed from their homes because of violence and conflict. Many flee with little more than they can carry, leaving everything else behind: their homes, possessions, sometimes a loved one. Some people don't survive the journey - sometimes killed by explosive devices as they try to escape. Those who do survive are left traumatized by the experience.
This suffering puts a terrible strain on human lives and nation states too. Lebanon, a small, politically fragile, middle-income country bordering Syria, has absorbed more refugees proportionally than any other country experiencing the effects of the Syrian civil war. For every four Lebanese citizens, there is now one Syrian refugee. This is equivalent to the United States absorbing the entire population of Great Britain - over 64 million people - within a few years.
With so many refugees, the gap between needs and funding has never been greater. It is therefore imperative that the humanitarian sector makes every dollar stretch as far as possible. The challenge is immense but there are things we can do to better address it.
Firstly, we must focus resources on solutions people want. People fleeing violence will always have immediate needs once they reach safety - they require food, water, medical assistance and shelter. Some of this assistance invariably needs to come in the form of goods and services: clean water, tents, medical care and access to education. But the International Rescue Committee (IRC), which has been responding to the world's worst humanitarian crises since 1933 and currently operates in 40 countries, has found that one of the best ways to help refugees is through cash relief.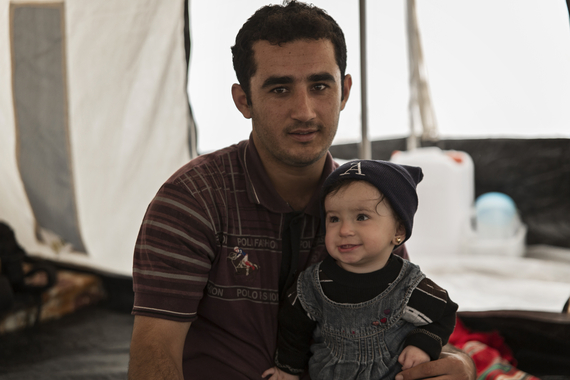 ZELIKAN CAMP; IRAQ: Shaker, 26, with his baby daughter. His family is from Abo Jarbo'a south of Bashiqa, they are moving into the camp today. Their village had been recaptured from ISIS just the day before. Theresa Breuer/IRC
Cash relief allows people to purchase the things they need most urgently. Funds are often transferred onto a debit card or paid out by a bank, allowing refugees the freedom to decide on what to spend the money. Cash relief also affords people the dignity and respect that comes from having the freedom to make choices about their lives and how to support their families in times of enormous stress.
The IRC is one of the lead agencies providing cash relief in the Mosul response. Our teams provide payments of US $400 to 5,000 displaced families - some 30,000 people. This is part of an organizational commitment IRC has to deliver 25% of its worldwide humanitarian assistance through cash relief over the next 5 years, up from 6% in 2015.
Secondly, we need to learn from the cash story that evidence of effectiveness is one of the scarcest resources we have in our work. The speed with which strong evidence inspired IRC and many other agencies to use an intervention that was once seen as unconventional is a testament to both the agility of the sector and the receptivity we have to solutions proven to work. But the scale of crisis demands that we continue to invest in more and better evidence of other interventions that make a measurable impact on people's lives.
With wars raging, and people running for their lives, it might sound like an academic indulgence to spend time building partnerships with researchers and donors similarly interested in effective aid. But too many humanitarian programs are based on what people think will work, or what we've done for years, rather than on what rigorous evidence shows us will work.
Finally, humanitarian organizations need to better understand the cost of everything they do. Few people would buy an apartment without first looking at the cost per square foot, or considering whether the quality of the house was worth the asking price. Similarly, non-profits and donors need detailed information about relative costs, before they decide how best to distribute their limited resources.
The IRC is currently driving through a radical change in the way it gathers and interprets cost data, so our teams can make decisions about what to do based on a real analysis of what it costs to produce results for people. For example, in the case of medical provision, we don't just want to know how much we spent on a basic health program, we also want to know how much each doctor's primary consultation cost. Furthermore, we want to know whether each consultation represented value for money compared to other organizations. And we want to know if this medical provision prevented health problems, and how much it cost to prevent each problem. This data-gathering work is painstaking, but vital if we are to ensure that every dollar we receive is spent in the most efficient manner.
The scale of the challenge the humanitarian sector faces -- from Mosul, to Aleppo, to the Lake Chad region of Africa -- is daunting. Although we often read media reports of suffering, failure and despair, this is not a hopeless cause. Humanitarian organizations can make changes so that when the next crisis strikes, they are in the best possible shape to help.
Calling all HuffPost superfans!
Sign up for membership to become a founding member and help shape HuffPost's next chapter