When I was invited to speak at the opening night of the 11th annual Parent Heart Watch Conference, I could not imagine how my story could relate to parents who lost a child to sudden cardiac arrest.
However, I learned that their mission was to save lives through cardiac screenings and placement of AEDs at schools.  Furthermore, I realized that their work was about coping with an unthinkable tragedy by taking action so others would not experience the same profound loss.
Just after the MC read my introduction, they played the trailer to The Ataxian.
When it finished, I rolled on stage to a standing ovation... Before I even said anything.
I have to give credit to filmmakers Kevin Schlanser and Zack Bennett for capturing our Race Across America journey so effectively in just 1.5 min. I was also beginning to understand how my story relates.
Connection to Others is Essential
I was nervous and apprehensive.
"First of all let me say how honored and humbled I am just to be here with you. I can't pretend to understand how difficult it has been for you, but I recognize the incredible pain."
Immediately, I started feeling some relief. This is something I wanted to say since the moment I set foot in the room and certainly since they played the video right before I went on remembering all the kids they lost to sudden cardiac arrest and all the kids they saved through their incredibly important work.
Parents of most of these kids were in the room.
I told my story and the tension was thick, you could hear a pin drop whenever I hit a pause.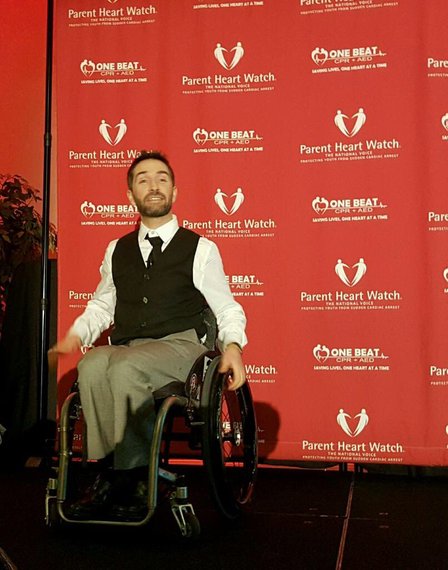 Photo Courtesy of @OneBeatCPR
"At age 17 I was diagnosed with Friedreich's ataxia.
Friedreich's ataxia!? What the heck is that?
Over the next couple years my family and I found out that it would only be a matter of time before I'm in a wheelchair,
it would only be a matter of time before I lose all ability to take care of myself,
and it would only be a matter of time before my heart fails and I suffer a premature death. Something that everyone in this room knows about all too well."
I saw many different looks from all the people in the crowd. Teary eyes, weary faces, and strong mothers and fathers, but each communicated a sense of understanding and connection.
I am a very emotional person.  It is not uncommon for me to have a difficult time controlling my emotion on stage, so I had to concentrate on the words and the mechanics of my talk rather than the meaning in order to stay in control.
Take it as it Comes
At one point, I had a wardrobe malfunction. The microphone that was hooked to my tie slid off. I looked down my vest and could not find it. Sensing my desperation, the MC, Lauren Rowe, kindly came on stage and stuck her hand down my vest to fish it out. The audience appreciated a bit of comic relief as I remarked, "This is a new one."
As I continued, I told two stories from the FA community of people who refused to play the victim and found a way to take action in the face of a devastating diagnosis.
Taking Action For Others Despite Loss
The next day I went to the general session of the conference and the more I learned, the more I understood the importance of this cause.
I learned that sudden cardiac arrest is the leading cause of death on school property. And these deaths could be prevented with screenings to detect heart problems and AEDs onsite to restart a heart that has stopped beating.
I am incredibly inspired by Parent Heart Watch and all it's members who, in the face of unthinkable loss continue to move forward in their mission to save the lives of kids and families who come after them.
Life is About How we React
Human struggle is something we all have in common. We all struggle at some level -- I can't begin to understand the pain of losing a child, but I have profound respect for the people taking action in the wake of such loss. What matters is what we do with our personal struggle... Reach out, connect, take action, and improve the lives of others.
Calling all HuffPost superfans!
Sign up for membership to become a founding member and help shape HuffPost's next chapter