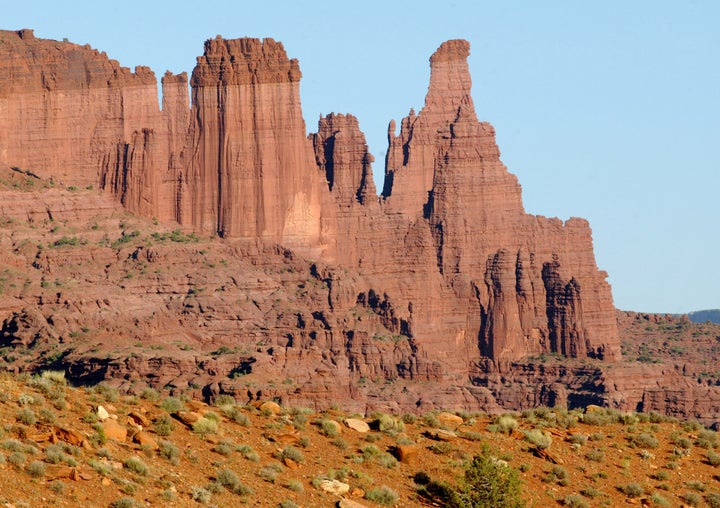 But there is still something I am waiting to see: a bold new vision for preserving America's wilderness.
Why does wilderness matter right now? It matters to me personally because I believe that our last public wilderness areas, with their rugged beauty, uncharted terrain, and ability to test human strength, are essential symbols of the American spirit.
But it also matters legally. According to the Wilderness Act of 1964, once a landscape has been altered by human development--including natural gas pipelines, oil drill heads, or roads for seismic thumper trucks--it can never become a protected wilderness area.
This is exactly the cynical calculus the Bush administration used to convert America's public lands into money-making ventures for a few energy companies.
We lost so much ground during the Bush administration, and we are still feeling the aftershocks: leasing, drilling permits, and off-road vehicle plans continue to be approved and destroy wilderness lands in my beloved Utah and elsewhere (see threatened areas on this map).
Secretary Salazar can change this. He can craft a new vision for preserving and managing the public's wilderness. I am hopeful that Salazar can take this step. He has spoken many times of his commitment to America's "treasured landscapes," but I encourage him to single out and prioritize our wilderness areas.
Because unlike other pieces of our national heritage--monuments such as the Lincoln Memorial or documents like the original Declaration of Independence--America's wilderness is not complete or set in stone. It can be added to, and deciding which landscapes should be preserved for posterity is an ongoing process.
This gives Salazar a great opportunity to expand the public's inheritance, because in fact, neither Salazar nor the Obama administration owns these lands. The American people do, and it is ours to treasure and enjoy.
These are magical places that I have explored with my family. But I have also seen far too many wildlands lost forever. Places I viewed as symbols of this so-called Promised Land have disappeared into clear cuts, drilling fields, and open-pit mines. What do our children inherit from this irretrievable loss? Pictures of how it used to be?
Wallace Stegner wrote that you do not have to travel to a wilderness area to know that it is worth saving--simply knowing such a wild sanctuary exists is enough to create a geography of hope.
We can know, without ever going to the Dark Canyon or Vermilion Cliffs, that fellow Americans had the foresight to protect something wild in our landscape--and maybe in our national character--for generations to come.
We have the responsibility to do the same for our children. And I hope Secretary Salazar will lead the way.
You can encourage him by clicking here and sending him a letter about protecting our remaining wilderness.
Popular in the Community