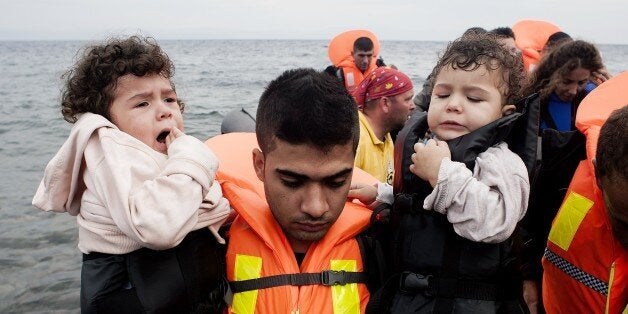 Refugees seeking safety in Europe have captured the world's attention, and appropriately so. The images of families crossing the Mediterranean on rafts are truly horrifying. Desperate people are taking desperate measures to escape violence in their home countries and find a new life. Europe's open border policy is crumbling before our eyes, and its failure to craft a rational policy to deal with the constant stream of refugees has left the continent in disarray and increased human despair and suffering.
Though Europe's refugee debacle has dominated the headlines in recent weeks, it is actually only a relatively small piece of a far larger displacement crisis. Across the globe, nearly 60 million people are currently displaced from their homes by war or human rights violations -- the highest number since World War II. If these displaced people lived in one place, they would comprise the 24th largest country in the world.
Most of the displaced live in countries outside of Europe, including Colombia (6 million), Sudan (3.1 million), the DRC (2.9 million), Pakistan (1.9 million), South Sudan (1.5 million), Somalia (1.2 million), and Nigeria (1.1 million). For the displaced in these and many other countries, the cameras stopped rolling years ago, and their plight has been largely forgotten. Precisely because this situation has arisen over such an expanse of geography and time, political leaders and the broader public has trouble conceiving it as a "crisis" at all.
When world leaders gather at the United Nations this week, they will understandably focus on Europe's fresh refugee crisis. But it would be a mistake to overlook the much larger challenge forced displacement poses for poorer people and poorer governments in Africa, South Asia, and Latin America.
On the agenda for approval by the UN General Assembly are the "Sustainable Development Goals" -- 17 sweeping development goals and 169 associated targets that have been painstakingly drafted over the past five years. Everything from eliminating poverty to promoting health, gender equality, and fighting climate change is on the agenda. Yet the development goals are conspicuously silent about human displacement, even though it arguably poses insurmountable challenges to governments' ability to implement the goals.
People who flee their homes during conflict are generally expected to be able to return soon after. On average, however, conflict-induced displacement lasts 17 years. What begins as a short-term humanitarian crisis often morphs into a long-term development challenge, as the displaced look to a new government or community for basic services such as health care, food, education, and water.
Recognizing the clear link between displacement and development, a target addressing forced displacement was originally included in the draft of the Sustainable Development Goals. In the final stages of the negotiations, however, it was deleted. The leader of the UN Refugee Agency and the UN Emergency Relief Coordinator and the Secretary General's Special Rapporteur on the Rights of Internally Displaced Persons sought to re-include a substantive target on forced displacement, but they did not succeed. It was deemed too politically sensitive by the negotiators. Instead, it was referenced in declaration at the beginning of the Sustainable Development Goals.
Excluding a substantive target on forced displacement from global development goals was a mistake 15 years ago. Today, as 60 million people across the globe are displaced inside their country or as refugees, it verges on criminal. Displacement due to conflict or disasters has occurred on every continent and is a universal challenge. From Syria to the Central African Republic to Afghanistan to the Democratic Republic of Congo, long-term displacement has overwhelmed state capacity. It certainly is a long-term development challenge with political, economic, environmental and security implications.
Forced displacement and its consequences are not issues the world can wish away. When the last global development goals were adopted in 2000, there were 25 million people displaced in their own country. By 2012, there were nearly 29 million. Today, there are 38 million. That's in addition to the 20 million who have crossed a border to become a refugee.
Nor is forced displacement an issue that can be considered the sole writ of the humanitarian community. The humanitarian community does not have the financial resources to respond to the needs of the world's displaced. It does not have the expertise to address long-term state capacity building. And it does not have the power to convince countries to devise solutions for displaced people who may never be able to return home. The development community needs to be engaged from the onset of a crisis to ensure that the development dimensions of displacement are adequately addressed.
At this late date, it is not possible to change the Sustainable Development Goals. But it is not too late for world leaders to pledge - on their own -- to address global displacement as development plans are drawn up over the next 15 years.
Sharon Waxman served as Vice President of Public Policy and Advocacy at the International Rescue Committee through August 2015. She previously served as Deputy to the Under Secretary of State for Civilian Security, Democracy, and Human Rights and Senior National Security Adviser to Sen. Edward M. Kennedy.