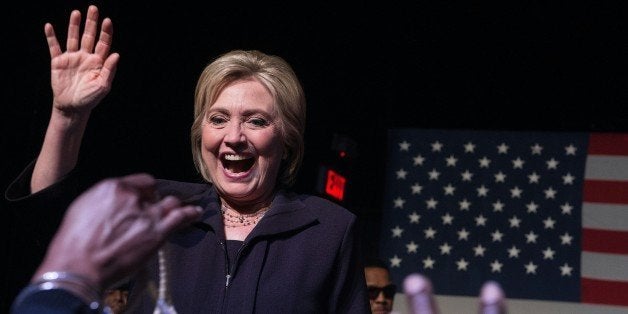 A few days ago, I had the opportunity to listen to Hillary Clinton give a speech in Nevada where she laid out her vision for our country. While there, she reaffirmed what I've been thinking all along: Hillary Clinton has the necessary experience, skills, and conviction to be the next President of The United States.
As First Lady, Hillary Clinton worked with both political parties, Democrats and Republicans, to create a healthcare program for more than 8 million children in the US.
As Senator of New York, Hillary Clinton made sure that after the terrorist attacks of 9/11, those firefighters, cops, and others who sacrificed their lives to save others, had the necessary health coverage.
Over the years, as Secretary of State, Hillary Clinton has showcased the necessary skills and knowledge when it comes to foreign policy issues, a critical trait in order to take on the responsibilities of being President of The United States.
As a Latino, who immigrated to the United States after a being a Congressmen in Venezuela who has witnessed the erosion of my country's democracy, I am well aware of Secretary Clinton's deep understanding of international issues, especially when it comes to Latin America, a region she considers to be key in order to continue developing a strategic alliance and building social economic progress throughout the Americas.
Further, when it comes to economic issues, Secretary Clinton has a realistic agenda that provides the greatest amount of opportunities to the American people and will allow the next generation to have an affordable college education.
Secretary Clinton wants to lower taxes for the middle class and increase the amount of money each family takes home every year. Further, she wants to lower taxes up to $2,500 per college student each year, helping the next generation have greater opportunities.
Hillary Clinton understands that small businesses are the heart of our economy. This is why she has put forward a jobs agenda to extend access to capital, extend tax credits for small businesses and get rid of ineffective government regulations that limit the growth of our economy.
In terms of her education agenda to help college students, Hillary Clinton wants to invest $350 million dollars so that college students do not have to drown in exorbitant amounts of debt in order to pay for their college tuition.
It's true that Senator Sanders offers a college plan that aims to pay for the tuition of all college students that attend a public university, without taking into consideration how much each family takes home. The reality is that this proposal, fiscally and politically, is almost impossible to achieve, and could result in nothing getting done on this important issue.
Now, more than ever, we need a comprehensive college plan that provides real tangible solutions to those students who are facing high amounts of student debt. Under Secretary Clinton's college plan, interest rates would go down and an estimated 25 million students would be able to refinance their debt with lower interest rates. Hillary's plan would also place a cap on monthly payments of a borrower's income.
We have a responsibility to ensure that the next President of The United State, not only continues to build on top of the progress that President Obama has achieved but also to ensure that such person continues to make sure there is a greater amount of opportunities for the next generation.
At the end of the day, this election isn't about the person who has the most ambitious agenda, but rather about the person who has the right experience to actually get things done, and that person is no other than Hillary Clinton.
Popular in the Community