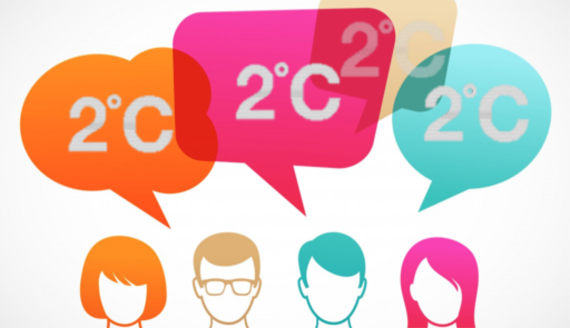 2 Degrees Is Dead, Long Live 2 Degrees
Even before the UN climate negotiations have commenced in Paris the pragmatic and the realists have already started to mourn the loss of the 2 degrees climatic warming target, a threshold agreed in Cancun 2010 to delimit "dangerous levels of planetary warming."
As the Common Futures Under Climate Change science forum wrapped up in Paris last week bold statements were made about the truly radical shifts which would be required to meet 2C with Hans Joachim Schellnhuber, German Government Advisor, saying the fossil fuel industry would need to "implode" to avoid climate disaster.
Even if climate change continues at a steady rate in response to the emissions increase (an uncertainty in itself) the carbon targets or INDCS (Intended Nationally Determined Contributions) submitted by each of the big emitters so far looks set to breach this 2 degrees target. So even if we could still scientifically reach sub 2 degrees with immense transformation, politically it seems unlikely.
Put very simply these emission reduction pledges seek to cut too little carbon in too much time.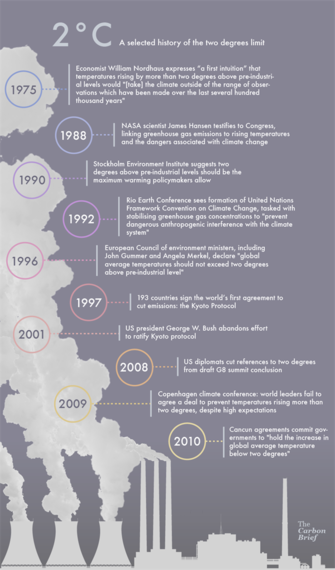 As seen in The Carbon Brief's Timeline above, the 2 degree target has been around for some time but only entered as an official temperature commitment in 2010. Since then there has been much talk about this what a 2 degree warmer world looks like.
This 2 degrees threshold is however an arbitrary limit and it is a threshold considered a death sentence for some small island states who would face severe climate change from 1.5 degrees, and it must be remembered that a 2 degree global average masks amplified warming in some of the worlds most vulnerable places.
In isolation the carbon reduction targets already submitted to the UN ahead of Paris are quite ambitious and will be hard to achieve such as China's 60-65 percent reduction in carbon intensity and investment surge in solar & wind. If met targets like these will bring about transformative shifts in the economies of the most powerful countries while helping developing countries progress onto a low carbon growth agenda but ambitions still fall short of cutting carbon emissions by enough to meet that 2 degree target.
The most optimistic climate observers may comment that these national carbon bids represent a minimum cut and they are likely to get bumped up in the actual negotiations in Paris, and although that is true I remain sceptical that the arm can be twisted enough of the largest emitters to significantly ramp up carbon reduction targets in the deeply bureaucratic negotiations.
Even if an agreement of some sort is reached in Paris is seems likely that 2 Degrees is dead.
Why then why must we still keep talking about it?
2 Degrees, as mentioned, is a threshold considered to demarcate dangerous levels of planetary warming and subsequent climatic change which has the capacity to transform virtually all aspects of our lives; from the risk it poses to established economic systems, global supply chains, health, security, water and more.
Even if are inwardly admitting defeat about it we must not let a higher level of warming to become acceptable.
3 degrees cannot be allowed to be the new 2 degrees in terms of what counts as 'acceptable levels' of warming as 2 degrees will already cause radical shifts in climate patterns which will cause a host of societal stresses resulting from physical environmental changes.
We must keep aiming for 2 degrees, in the same way that organizations aim for zero waste targets or zero workplace accidents as this reinforces that results above these thresholds are unacceptable and can be improved.
The terminology of 2 degrees cannot be allowed to die with whatever agreement comes out of Paris but rather it should be target that should be etched in the memory of these negotiations to keep reminding us of our failure to adequately reduce emissions.
If 2 degrees is however considered politically unrealistic this raises the important question of what counts as a success from the upcoming Paris negotiations?
What Does Success Look Like?
COP21 in Paris this year represent so much more than a binding quantifiable agreement for emissions reduction, it can act as a symbol to reject a business as usual stance and set out a heading for a sustainable future and folding of climate change into the broader development agenda with links forged to the UN Sustainable Development Goals also coming into force this year.
Beyond the headlines of the 2 degree emission reduction target Paris must also seek to adequately support developing countries in sustainable growth and the issue of climate finance and loss and damage mechanisms must be addressed.
Businesses have a keen eye set on Paris, not just in terms of how any agreements will affect them but also as an indicator of trends.
The sustainability scales are tipping to favour green investment and any strong consensus reached in Paris, even if it looks to fall short of 2 degrees, should be considered a success as it lays out a firm message to business and governments that the world is united and committed to climate action.
A ratchet mechanism, to review and increase emission reduction targets over the coming years if they look too weak, would also be a significant success from Paris. This ratchet was one of the biggest topics of conversation at Bonn last month, the conference which precedes Paris and lays out the foundations for the UN negotiations. This ratchet would help to consolidate that level of commitment that the Paris deal represents a baseline for emission reduction and that we will hopefully see change ramped up at progress reviews.
Although Paris will likely represent the funeral for 2 Degrees, we must look to what else these negotiations can help achieve and 2 degrees is a target which must not be forgotten and must continue to shape our relationship with our climate from beyond the grave.
Calling all HuffPost superfans!
Sign up for membership to become a founding member and help shape HuffPost's next chapter