In a few days, more than 12,000 people will arrive in Houston to attend the 2015 Grace Hopper Celebration for Women in Computing. The conference is the world's largest gathering of technical women, and is often the first time attendees are exposed to so many other female technologists who have the same interests and share the same struggles.
The conference is especially impactful for the GHC Scholarship Grant winners, who are selected each year to come to GHC with all expenses paid by generous industry sponsors, the Association for Computing Machinery, the Thelma Estrin Foundation, a National Science Foundation Grant, and individual donors. The winners, who demonstrate true passion for technology and changing the ratio for women in tech, often find inspiration and encounter a launching pad for their careers at GHC.
And as their careers progress, many of these scholars return to GHC as professionals representing some of the top companies in the technology space.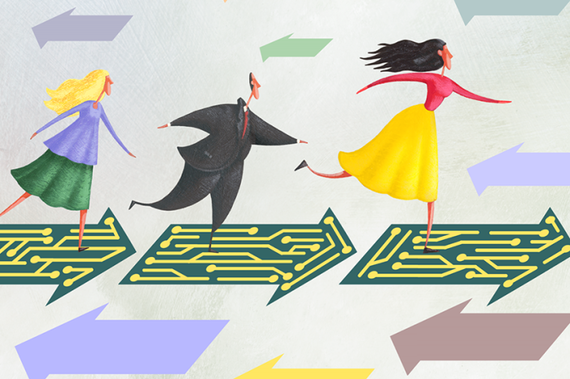 Paulina Ramos, a software engineer at UBER, attended her first Grace Hopper Celebration last year as a computer science student at UC Berkeley.
"When I first got to GHC, I was blown away by how many women were there," Paulina recalls. "I was thinking, 'Where have you all come from!?' I didn't realize there was such a vibrant and lively community of women in technology. I felt that I belonged and that this was my community."
Since GHC 2014, Paulina graduated and landed her dream job at the rapidly growing ridesharing company, where she has immersed herself in women in tech initiatives.
"I was so hungry to find the kind of community and network that I'd been exposed to at GHC," Paulina says. "I sought out every kind of employee resource group for women engineers and got involved any way I could."
She's been a vocal advocate for UBER's participation at GHC, and this year she will be returning to the conference to recruit potential candidates and conduct on-site interviews on behalf of the company. She will also be participating in a media panel called "The GHC Effect: How to Become a Badass."
"I want to be able to have UBER's voice heard and show what efforts are being made internally to drive a more diverse and inclusive environment," says Paulina. "It's important that this message comes from the very women who actually work at UBER."
She continues, "Now that I'm not an undergrad and have some industry experience and know what women in tech are experiencing, I'm eager to pass on this knowledge to the incoming group of women. It's important to lend an ear and lend a hand -- it creates a cycle of learning."
For Clara Shih, that cycle of learning is coming full circle this year as she returns to GHC more than a decade after first attending in 2004 as a scholar. Back then, Clara was a graduate in the computer science department at Stanford. Today, she is the founder and CEO of Hearsay Social, a social media marketing management firm.
"I remember feeling a tremendous sense of community, possibility and confidence-building," Clara recalls. "Being the only woman in the room can be lonely at times, and I appreciated the incredible camaraderie and friendship at GHC 2004."
This year, Clara will return to the celebration as a plenary speaker to share her journey to becoming a leader in technology with other women who aspire to leadership roles. Thirty percent of Hearsay Social's engineering staff is female, and Clara has worked hard to promote a diverse and supportive work environment at her company and the industry as a whole.

"It's an honor to return to GHC this year as a speaker and to speak to so many women who are where I was a decade ago," Clara says. "GHC represents exactly the kind of community, mentorship and skill-building that we need to change the numbers for women in tech."
This unprecedented feeling of community is what stands out to Rose-Gaëlle Belinga as well, who attended her first ever GHC in 2010 thanks to a scholarship. Today, she is a software engineer at Morgan Stanley in New York City.
"The age range and diversity of attendees was really impressive. I finally felt, 'hey, I'm not alone.' There are other people here who have walked in my shoes,"
Rose-Gaëlle says.
Rose-Gaëlle made lasting connections at GHC 2010 -- she remains good friends with her hotel roommate from the conference.
"She and her husband have now hosted me twice in Philadelphia," she says. "They've thrown me a party."
It's these kinds of lasting connections that help women feel more welcome and supported in the tech industry, where many women can feel isolated and frustrated at the lack of visible role models to look up to. This is especially true for Rose-Gaëlle, who is in a technology role in yet another male-dominated field, finance.
Rose-Gaëlle, who will join Paulina in the GHC Effect media panel, says that perhaps the most important lesson she took away from GHC is to have confidence in her skills and herself as a woman engineer.
"It's so important to remember to be yourself," she says. "When you work in a corporate environment, it can be easy to only focus on fitting in and lose who you really are. But it's really important to stay true to yourself, keep dreaming and stay inspired by what you are really interested in."
Grace Hopper Celebration 2015 is October 14- 16 in Houston, TX. Follow our community on Twitter @ghc and through the hashtag #OurTimeToLead. Be sure to look out for the link to the lifestream this year, so you can be there with us!
Calling all HuffPost superfans!
Sign up for membership to become a founding member and help shape HuffPost's next chapter