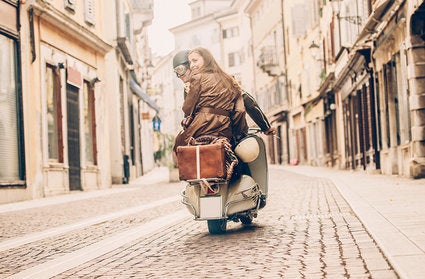 William Wyler's Roman Holiday is one of those great classics. His portrayal of the Italian way of life - as Greg Peck and Audrey Hepburn meander on a Vespa through the busy, cafe laden piazzas of the Eternal City - is on the face of it, give or take a little romanticism, as accurate as it gets.
Italians do have long lunches outside, towns and cities are full of opportunistic moped drivers, and aperitivo time really is a thing. But one thing that struck me recently during a visit to see family in Italy, is the connection between way of life and longevity. And I don't just mean diet. It's no secret that the Mediterranean diet is a key component to a long and happy life, but it's our continental cousins' other daily habits that could be deeply beneficial to our health long-term.
These seemingly effortless cultural rituals are most certainly ones we can, and ought to, adopt.
Coffee is pretty much life to Italians and although I'd always assumed it was an aid for digestion, the benefits to your body go beyond simply the satisfying conclusion to a meal.
Scientists from the University of Naples have found that drinking coffee can massively reduce the risk of developing preventable fatty liver disease. The disease usually associated with big drinkers, is on the rise due to our increasingly sedentary lifestyles and poor diet.
It's estimated that the number of people in the early stages of liver disease - which is completely preventable with the right diet and regular exercise - is increasing. Whilst a coffee can't solve this alone, it can certainly help combat the risk of it developing later on.
Studies have also shown that regular coffee consumption may also reduce the risk of developing multiple sclerosis, heart disease and type two diabetes. However, drinking no more than three strong cups of coffee a day is recommended and without the extra sugar and sinful trimmings.
Literally translated as 'sweet doing nothing', Italians are nonchalant when it comes to idleness. They don't necessarily see momentary periods of doing nothing as a negative, rather a necessity. The fact is that sometimes, the 'sweet life' can be attained in moments of nothingness.
Such moments create a sense of inner calm and wellbeing which is good for the body, mind and soul and our increasingly busy lives mean that there has never been more of a need. Taking time to do nothing, is said to maintain and even improve overall mental health and focus.
Although telling your boss that you're off to do sweet nothing in the staff kitchenette isn't advised, you can practice il dolce far niente at home by making small changes daily, such as switching off the TV for an hour or so in the evening, or committing to a ritual of daily meditation.
3. Eating local and fresh
"Why is food so important to you in Italy?" I posed recently to a table full of hungry Sicilians. I've always been fascinated by this question, because I believe the answer lies far deeper than because food is love - although this is true for some.
The response to my question was really rather lovely. Italians have the most wonderful relationship with the land because it produces such bountiful yields. They respect it hugely, and in return it gives and gives in abundance.The diversity of the terrain, coupled with variances in climate from North to South also mean most ingredients can be found in Italy.
Furthermore, Italians lead the way in the 'slow food' movement, championing local and sustainable - ultimately reaping the full health benefits from what the land has to offer during each season.
There have been many times during my visits where an impromptu family dinner has sent Nonnas into a frenzied production line whilst the emergency (or garden) chairs are assembled. However comical the scene, there's something so sweet and heartwarming about those timeless, unplanned moments where everyone mucks in, tucks in and share stories well into the evening.
This habitual bringing together of friends and loved ones is absolutely essential to health and wellbeing and something other countries regularly overlook. Consistent, close human connections are not only precious, but also vital for survival. They can help us deal with - even counter - the physical and painful effects of stress which can lead to serious chronic diseases.
We've all heard the saying 'a glass of red wine a day keeps the doctor away'. Or is it apples? Either way, I've probably taken the above advice more often than I'd care to admit. But could the red tipple actually be good for us? Absolutely, in moderation.
Although the sales of wine have recently taken a dip in Italy, wine consumption is still one of the highest in the world per capita. It's the go-to liquid accompaniment to dinner. This little and often wine quaffing, particularly with food, counters the negative effects of wine's alcohol content, whilst maximising its benefits.
Studies suggest the moderate consumption of red wine can lower heart disease and the risk of a heart attack. The flavonoids present in the fermented skins of the grapes stimulate the production of good cholesterol so are responsible for keeping your heart healthy.
Italy is the country of the sagra, where even the most remote towns and villages come together in a celebration of all things food. A sagra is essentially an outdoor food festival with lots of music, dancing and sporting events. It's a fairly cost effective way to get out and about and celebrate what's good in the locale and events such as these, help people feel more connected to their community.
Socialising has been known to create a vast impact on mental health. A massive 41% of mental illnesses are reported among people who are isolated and don't connect with their outer world. There's also a reported correlation between loneliness and immune deficiencies. Since Italy has a significantly lower rate of reported mental health issues than the UK and the US respectively, socialising could be one of the factors behind its lower numbers.
Italy is a huge outdoor playground - for kids and big kids alike. Whether it's skiing in the Dolomites, rafting in Alcantara or simply picnicking in Italy's vast open spaces, the outdoors is always luring. The landscape is beautifully diverse, leaving choice in outdoor activities plentiful, and in summer most parts of the land of sole consistently hit temperatures in the high 20s.
But don't let bad weather be an excuse for you not to get outside. When most of us are settling down to a night in front of the telly, lots of Italians - even in the winter, in sub zero temperatures - are out and about taking a walk or passeggiata, letting food digest properly whilst getting a little exercise. Simply wrap up.
REAL LIFE. REAL NEWS. REAL VOICES.
Help us tell more of the stories that matter from voices that too often remain unheard.
This post was published on the now-closed HuffPost Contributor platform. Contributors control their own work and posted freely to our site. If you need to flag this entry as abusive,
send us an email
.