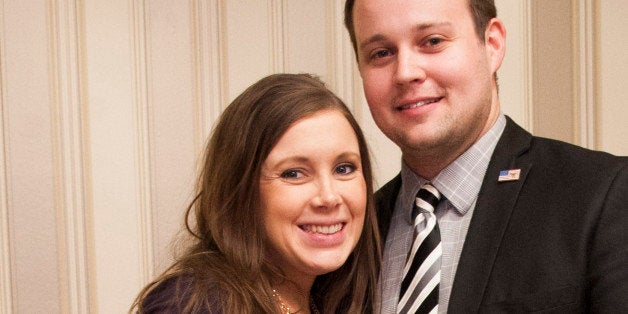 This was enough to get their TLC show 19 Kids and Counting off the air, while creating a host of negative publicity for the family and their community. Now, just after the scandal stopped appearing in headlines, the Ashley Madison hackers revealed that Josh had turned to the internet to cheat on his wife.
While the media has investigated Josh's affairs and shaky morals, there's one Duggar we should really be talking about: Anna.
Anna's family "encouraged" -- to put it lightly -- her to marry someone she hardly knew, and then trapped her into the marriage by condemning divorce and pressuring her to have as many children as humanly possible.
Even if Anna had rebelled against the insanely strict marital and dating regulations of her community, she still would have had no way to find a proper education or her own independence. Women, to the Duggars, are just child-bearers and wives.
So when news of Josh's "sins" were released, Anna had no option. She couldn't divorce her husband; she couldn't run off with her four kids when she had no means by which to support them; she couldn't even speak out against her husband because of the voiceless, dependent presence that women in her community are told to maintain.
A report from People even revealed that Anna isn't allowed to get mad, because "it's ungodly" for a woman to show anger.
The treatment of Anna and the rest of the women in her community is twisted and unacceptable, and what makes matters worse is that the Duggars don't blame their skewed morals on their religion.
Jim Bob and Michelle continue to rely on pastors and the Bible to help them with Josh's "failures" when they should be going to the police or to trained medical professionals. Every time they discuss Josh's pedophilia or infidelity, it's about forgiveness, while LGBT discussions center around judgment.
The idea that all of this is reaching such a large audience is disgusting. While we can't enforce modern beliefs on people who wish to pull society back to the morals of the early 1800s, we can still refuse to give them platforms.
In media responses to the Duggars and in the rest of their publicity, we need to start talking about the immense harm they cause for the women in their family. When we broadcast their hate speech and sub-par clean-up of Josh's mistakes, we should focus on the real victim here: Anna.