WASHINGTON -- It takes a long time to get anything done in Washington. So in January 2014, when the Senate held its first hearing in nearly 25 years on a crude oil export ban put in place during the 1970s, a path toward repeal appeared far out of reach.
Since then, Sen. Lisa Murkowski (R-Alaska), chairwoman of the Senate Energy and Natural Resources Committee and the first senator to wholeheartedly support lifting the ban, has spent her time bringing attention to the issue. A key ally, Sen. Heidi Heitkamp (D-N.D.), joined Murkowski's push in the summer of 2014, and has worked hard to warm Senate Democrats to the idea.
Established in response to the Arab oil embargo of 1973, the ban was aimed at shoring up domestic oil reserves and averting foreign imports. Now, 40 years later, the U.S. has surpassed Saudi Arabia and Russia as the world's largest oil and gas producer, making the embargo more meaningless, lawmakers say.
What once seemed impossible is now very real. If lifted, the move would be seen as one of the biggest policy changes for U.S. energy in modern history. It would flood the world market with American oil -- a big win for the industry -- and likely cause the country to lose some ground in its quest to become energy independent. Oil prices are expected to rise, probably along with those fickle gas prices, but the recent squeeze on production felt all the way down to the worker in the oil field would scale back.
As it stands, Congress is closing in on a massive year-end deal with the crude oil export ban at its center. Sen. Ron Wyden (D-Ore.) said Wednesday morning there are three packages being discussed now. "You have omnibus, extenders and this whole question of whether or not you would lift the oil export ban," he said.
Republicans are eager to lift the embargo. In hasty negotiations over a large omnibus spending bill and robust tax extenders package -- meant to permanently renew tax breaks that wed GOP business priorities with Democrats' priorities for working families -- crude oil exports may hitch a ride if Democrats can be convinced.
Wyden added that lifting the export ban has been a "big focus" of the ongoing discussions. And as Congress faces limited time, crude exports are playing a much larger role than ever anticipated.
"The good news is there is no one saying 'absolutely no,' and there is a range of belief systems in terms of what you would need in order to accomplish the lifting of the ban," Heitkamp said Tuesday. "We believe we're at a spot where we could actually get a deal."
In exchange for putting a measure to lift the ban on a big end-of-the-year deal, Heitkamp said the tax package will need to be solid, not a small two-year set of extensions, which leadership has said they may fall back on if a bigger deal can't be agreed upon before the holiday break.
""They'll need to make big environ[ment] concessions to Democrats"
"The best thing we can do is provide certainty," she said. "I don't think a two-year extender package solves the problem that we have with the inefficiency of the tax structure that we have today with renewables."
Under the bill, production tax credits and investment tax credits for renewable energy like wind and solar would be permanently renewed. And it's something Democrats won't concede if Republicans want oil exports.
According to one Senate Democratic aide, Republicans "really want" the export ban repealed, and the details over a trade-off between the two parties now rest at the leadership level.
"They'll need to make big environ[ment] concessions to Democrats to make that happen," the aide said. "It's all at the leaders' level at this point, so [Senate Majority Leader Mitch] McConnell and [House Speaker Paul] Ryan."
It's becoming more likely that the tax extenders package and the omnibus spending bill will move together on one vehicle, the aide said. It makes sense given how interconnected the two negotiations are at this point.
Another ask Democrats have floated is a lengthy renewal of the Land Water Conservation Fund, which Congress let expire in October. While it's normally a noncontroversial issue, Republicans in the Senate and House have battled within their own ranks over it in the past few months, leaving officials at national parks and local recreation areas like baseball parks and playgrounds left wondering when they will get their next check.
"They want the sun and the moon," said Senate Majority Whip John Cornyn (R-Texas), when asked about Democrats' wants. "It's a negotiation."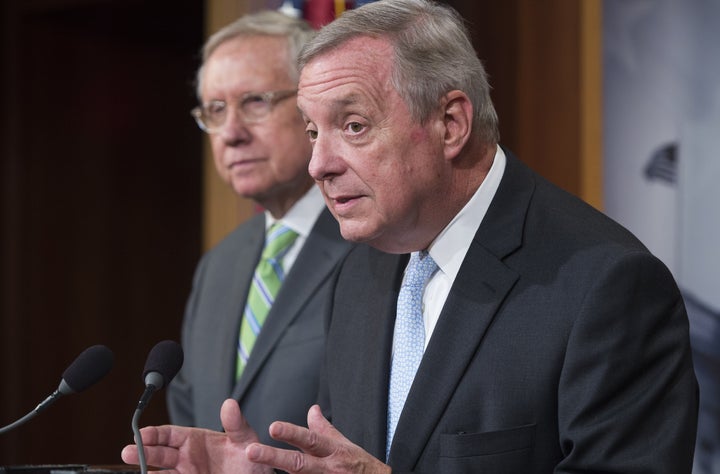 Cornyn's Democratic counterpart, Minority Whip Dick Durbin (D-Ill.), put it differently.
"It clearly is an item that Sen. McConnell and Republicans are salivating over," Durbin said of repealing the crude oil export ban. "It would be a windfall to the industry. We don't know how much some have estimated -- $20, $30 billion a year in profits if they are allowed to do this."
Durbin also noted the impact lifting the ban would have on refineries, which have benefited from the embargo. In order for a majority of crude, a rudimentary form of oil, to be exported, it currently must go through refineries to be turned into gasoline, diesel and other refined fuels. Refiners like San Antonio-based Valero oppose a repeal, saying it would lead to higher prices at home for consumers. Sen. Tom Carper (D-Del.) is reportedly crafting a measure that would protect Northeastern refiners from the losses they'd have to swallow if the ban were lifted.
On top of renewal of the Land Water Conservation fund, Durbin said he's "heard a long list of things" Democrats would want in exchange.
"There have been suggestions that there are things that the oil industry, if they're going to make all this money, that they should be willing to help us pay for in this country," Durbin said, indicating a lift in fossil fuel subsidies could be another idea floating around.
Either way, Democrats are also going to want to take GOP-proposed environmental riders going after the administration's regulations on power plant emissions taken off the table.
While the asks may be steep, both sides are playing ball as the clock winds down on the calendar year. Tethering crude oil exports to the tax extenders, the omnibus, or one large vehicle carrying both is likely proponents' best chance of seeing this through. In October, the House passed legislation fully lifting the ban, but in the Senate a similar stand-alone bill would face bigger hurdles.
With climate talks going on in Paris, environmentalists are looking to Congress, worried that while the U.S. works to secure its image as an international leader on climate change, lawmakers will undercut it.
Green groups contend a repeal of the ban would lead to an increase in production and, subsequently, the release of more greenhouse gas emissions.
Lifting the ban, producers argue, could balance out market distortions, create jobs, and spur more U.S. oil production, which has hit somewhat of a glut with falling oil prices. A repeal could also secure higher oil prices for companies -- something they haven't seen since the summer of 2014 when prices were double what they are now.
As for the White House, it is not happy about lawmakers pursuing their own route to lift the ban, arguing that it should be left to the federal departments with jurisdiction. Within the past year, the administration has allowed lifts on certain types of crude oil for several companies, leading many in Congress to think the president might have more of an appetite for repealing the ban outright.
In a press conference on Tuesday, White House press secretary Josh Earnest reiterated the administration's position, but wouldn't threaten a veto of the omnibus or tax extenders package if a provision lifting the decades-old ban on crude oil was tucked inside.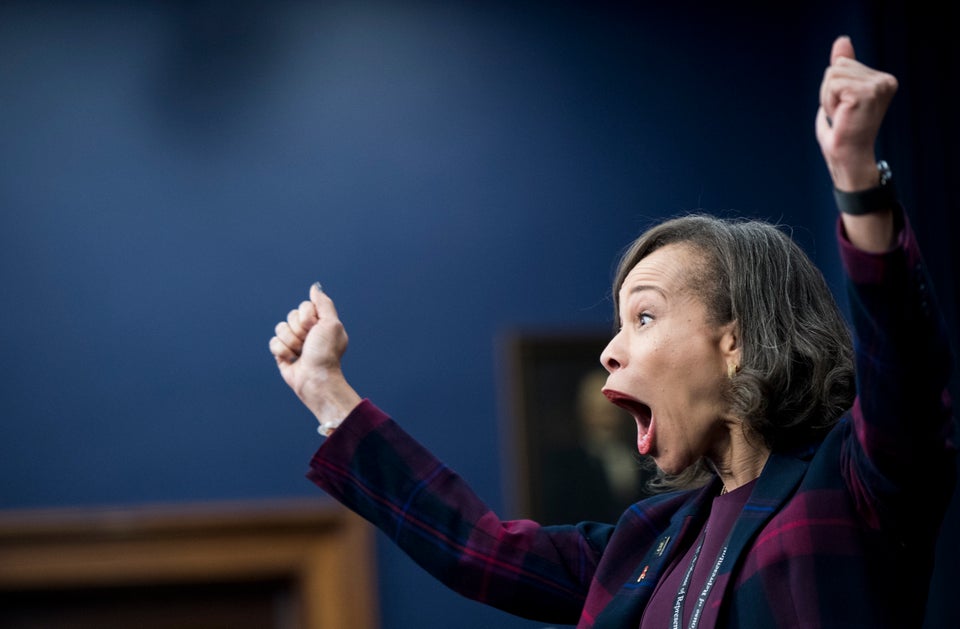 Scenes From 114th Congress And Capitol Hill
Popular in the Community