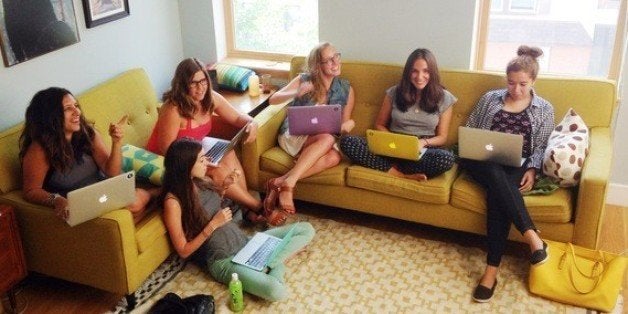 Back in June 2013, Bustle had more couches than editors. With only four women on our editorial team, we spent our days in our little house in Williamsburg brainstorming ideas about DOMA and laughing about the mere existence of a child named North West, each of us sprawled out on our own individual sofa. Our personal space was vast, but everything else about Bustle was small: We had fewer than 1,000 daily visitors. We produced only a couple dozen stories per day. And most of our 50 or so Facebook followers shared our editors' last names.
But we had big goals. We wanted to create a site where no topic was off-limits. Where as many young women as possible felt comfortable and excited to write about the issues they care most about, whether that's Game of Thrones, helping victims of sexual assault find justice or the force for good that is Ruth Bader Ginsburg. And where many more young women who were equally passionate about those issues could read about them and join the conversation themselves via Twitter and Facebook.
Yes, in creating Bustle, we thought big. We wanted to create the largest platform for women's voices on the Web. But, honestly, we also wanted to build a successful media company and share in that success.
Bustle affords its editors an unusual opportunity. Though we all have spent our careers working long hours at various outlets both big and small, this is the first chance any of us have had to profit from our efforts -- every member of Bustle's editorial team is a stake-holder in the company. When we joined Bustle, we were driven by our goal to create the Internet's biggest, most inclusive site for women, and prove that we could make that a profitable endeavor. We planned to work days, nights and weekends demonstrating that when you mentor the next generation of young writers and publish content that means something to millions of young women, investors and advertisers want to be in on it.
Now, success feels within our grasp, but a year ago, there were still a lot of unknowns. We needed to convince talented editors from prestigious publications to leave their posts for a site that didn't even yet have a name. We needed to aggressively recruit writers and interns and persuade them to take a chance on us. We needed to determine how our writers would cover topics spanning from news to fashion in a unique voice that was fun, feminist and useful to our readers. And since we had raised a solid series A round, the pressure to prove ourselves was on.
The pressure was also on our CEO, Bryan Goldberg, who realized quickly how much he had to learn about women's media. We've enjoyed explaining a few things to him over the past year. In return, Bryan has given us a crash course in building a company, providing us access to facets of the business we hadn't been privy to in our previous posts. In a year, we've gained more insight into what investors are looking for, both from Bryan and from the V.C.s we're working with, like Time Warner's Allison Goldberg (no relation to Bryan). We've learned the value of pacing our growth and funding. We've proven an idea we believed from the outset: that bringing together a talented team will yield success -- and that it's okay to want that success.
Editorially, we've probably learned the most from our contributors. For starters, we've discovered that some of tomorrow's most prominent and talented writers have yet to walk at graduation. We've been impressed with the way our overseas contributors have immersed themselves in important international stories, letting our readers know what it's like to be literally in the center of the news. We're constantly inspired by the courage, commitment and patience of our transgender writers as they teach the world what acceptance really is, and we're proud of the work our writers have done to continue increasing the visibility of plus-size women. And we've learned that there is an army of young women (and some fantastically caring, articulate young men) who have had it with street harassment and sexual assault and misogyny and the idea that feminism is anything other than the belief in equality.
Today Bustle looks a lot different from the way it did when we published our first article on June 18, 2013. In that same little house in Williamsburg, we write this squeezed three to a couch. Our editorial team has grown from four to 15, made up of women from a diverse range of publications, from Seventeen to The Daily Beast. The number of people visiting Bustle at any given second has grown from 20 people to over 2,000, and there are very few stories we want to cover that we can't get to, immediately. We've experienced stunning and exponential growth across all of our verticals -- News, Entertainment, Fashion & Beauty, Lifestyle and Books.
So where do we go from here? We're excited to keep expanding, because that gives us an opportunity to invite more women to become Bustle stake-holders and profit from their hard work. It also means we'll have more voices to hatch the ideas and write the stories we haven't thought of yet. In the meantime, our sales team is actively bringing Bustle to market. The engineering team is continuing to experiment with ways to bring content to our readers faster. Personally, we're working to expand our vision, grow as managers, and make Bustle a little better every day.
And we believe that we're accomplishing that, especially as we watch our editorial team grow closer than ever before. We and the other editors tend to linger on the roof together at the end of each day, winding up our work and reflecting on the exhausting amount we've accomplished since our morning coffee. No matter how big we get, we hope Bustle always feels like this.
Image credit: Meredith Turits (Pictured, left to right: Alex Finkel, Editorial Operations; Jennifer Hollander, Senior News Editor; Kelsea Stahler, Associate Entertainment Editor; Kara McGrath, Fashion & Beauty Editor; Julie Alvin, Senior Lifestyle Editor; Lia Beck, Associate Entertainment Editor
Support HuffPost
The Stakes Have Never Been Higher
Related
Popular in the Community