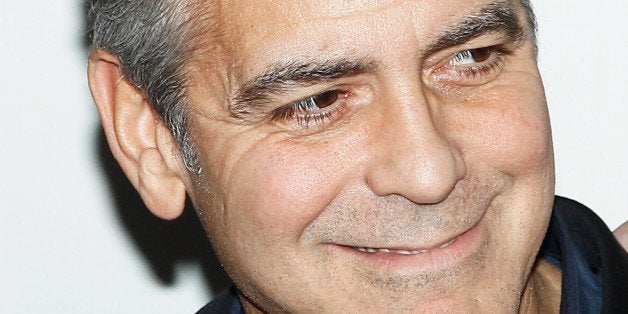 You may have heard the news from over the weekend... George Clooney celebrated his engagement to his beautiful, new fiancée, Amal Alamuddin, at a star-studded party in Malibu.
Amal, what a man you've chosen! George is one gorgeous hunk, isn't he? Being associated with him makes you feel so cool and alive. Everyone envies you, wishing they were in your shoes.
The jet set lifestyle alone is such fun and so thrilling as the two of you travel in private jets back and forth between California, his private home in Italy and George's latest movie set.
On a whim, George sends you 10 dozen white roses just to impress you. He wines and dines you at the best restaurants in the world with the best food and the best tables.
Life with George is full of extremes. He's not only extremely wealthy, he's also extremely fast in whatever he does. He's quite exciting and often very self-indulgent.
He shares with you tales of his antics with friends Brad (as in Pitt) and Matt (as in Damon) and Julia (as in Roberts).
He brings tears to your eyes... telling you stories about his beloved pet pig, Max, who died in a few years back, but still misses.
You have a lot of fun with George and life is always thrilling, even if it is mostly about George and even if the world sees you as just one more in a line of many women who've tried to capture his heart. It must be different than it was with Stacy Keibler and Elisabetta Canalis and all of the others who have been spotted on his arm, right?
A few months go by and the thrill of your engagement wears off... You have a rough day at the office and you go home looking to George to comfort you. Instead, he kisses you on the head, and says I'm sorry, then goes back to his latest movie set. You excuse him for not really being there for you, justifying his behavior and telling yourself how good life is with him.
Then more months go by -- maybe you even make it down the aisle -- but one day... George comes home and tells you he's done with the relationship. He breaks your heart as he ships you out of his life.
Bad boys like George mean well, but they can't make a commitment to anyone for very long. They love the falling in love part. It's fun and it's sexy but a bad boy quickly tires of a woman once the chase is over. That's when he goes back to his own life and starts looking for someone or something he thinks might be a better fit for him in the moment.
He doesn't mean to, but in the end, he'll shatter a woman's heart. Sometimes, he'll come back to do it again between relationships by wooing her once more, sharing what she means to him and how much he has missed her.
She'll hope this will be the time he'll stay with her. But he won't. His history proves that it's only a matter of time -- count on three years or less -- before he moves on.
Ladies, there are lots of Georges out there and if you choose someone like him to spend time with, consider just making him a friend. Bad boys are great friends because no commitment of any kind is involved. You'll have lots of fun.
Bad boy types are the fun men. But as a woman over 50, when you look to your future for a committed relationship, do you want a playful George who is all about George, or do want a kind, compassionate quality man, who is all about pleasing and loving you?
Although he may not be as sexy as George, the quality man really is the one you want for the long haul. He's the man who will try and make you happy every way he can. He's the one who will massage your back when it hurts or hug you when you're sad. He's the man who will make sure his actions match his words.
So if it's a quality man you want in your life, pay attention to this next sentence... Don't count out the guy you think is a little boring on a first date. Give him a second chance and even a third.
He might not be as exciting as George, but excitement comes at a price.
I'd love to hear what you think in the comments.
Lisa Copeland is the Dating Coach who makes over 50's dating fun and easy. Find out more about mature dating at www.FindAQualityMan.com.
Calling all HuffPost superfans!
Sign up for membership to become a founding member and help shape HuffPost's next chapter