I read an article online in the Wall Street Journal today that caught my eye. It was about the study called "Red and Romantic Behavior in Viewing Women" from the European Journal of Social Psychology.
The article, "The Color of Love" reinforced something I have always believed in--the significance of wearing red on a first date.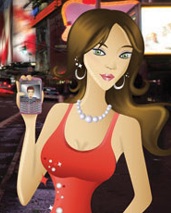 As a single woman and dating coach with a closetful of red dresses, I have been recommending that women wear red on their first dates with men for many years. My online dating profile always had a photo of me wearing red. The man who proposed to me, who I met on JDate, affectionately called me "The Lady in Red."
Red might not be your favorite color, but wearing red when going to singles events and meeting men for the first time will capture the attention of the men in the room. I feel so strongly about the color red, that cover of my book, "The Perils of Cyber-Dating" shows a girl wearing a red dress getting ready for a date. We know that men are visual and are likely to remember what you wore on your first date, so why not wear red to make your first impression?
My married friends are amused by my wardrobe status and signature color of red. But is it really funny or is it strategic? For me, it was just my female intuition at first. Then I noticed comments from men specifically complimenting the red dress when meeting me for the first time. Now that research backs up my intuition to fact, I'll be emailing the Wall Street Journal article en masse today.
Here are some further thoughts on the color red:
* Red is the color of love.
* Red is sexy.
* Red is captivating.
* Red stimulates the heart to beat faster.
* Red is a powerful color for women both in the boardroom and the bedroom.
* Red is memorable.
* Red is the signature color for Valentine's Day.
Wearing red to attract men is so powerful, that the Jewish Journal came to my home in March to shoot a video with some of my expert online dating tips. Where did they start? In my closet of course. They wanted me to talk about the red dresses that were worn on many first dates. Men and women everywhere are backing up the research from the experts in the recent study on the color of red.
In the above mentioned study, male undergraduates were shown photographs of young adult women with some wearing the color red and others wearing the color green. As they were looking at photos alone, the study showed similar behaviors to those who would view women in an online dating site. The men appeared to ask more forward questions to the women in red as compared to the generic questions asked of the women wearing green.
Does that mean I think you should toss out your favorite green shirt? No. But since first impressions do matter and men are looking at hundreds of photos every time they log online looking for love, perhaps wearing red isn't such a bad idea at all. You have a split second to make an impression online and having a profile photo and catchy screen name to draw a man in, is important. Men are, and always will be visual. Once you get past the color test, it's time to be the authentic you and have a conversation that will be meaningful to take your relationship to the next step.
I always say, when in doubt, wear red.
*"Red and Romantic Behavior in Men Viewing Women," Daniela Niesta Kayser, Andrew J. Elliot, Roger Feltman, European Journal of Social Psychology (October)