I'd like to think that someday MTV's Faking It will be acknowledged as one of those rare shows that really did stand above much of the TV pack in spite of never drawing a big audience.
We often hear that said, as a sort of consolation prize, after a low-rated show has been cancelled. For a small handful, it's true. My So-Called Life. I'll Fly Away.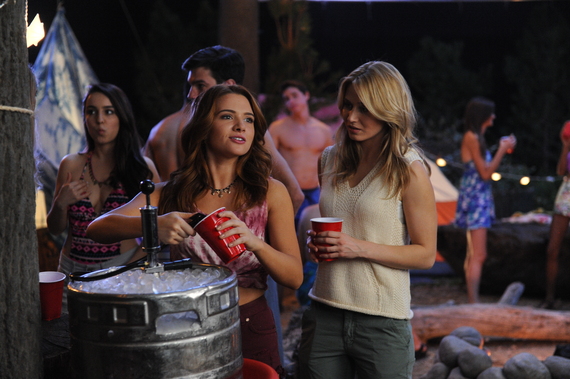 Faking It comes to an end - for its loyal core of fans, an abrupt and premature end - this Tuesday night (10:30 ET).
It will have run just 38 episodes, and showrunner/writer Carter Covington has admitted he won't be able to wrap up all the storylines.
In fact, right up to last Tuesday he was creating new ones, like the awkward hesitation in a budding romance between Shane Harvey (Michael Willett) and Noah (Elliot Fletcher), the show's first transgender.
One episode also won't resolve all the show's major ongoing dramas, like Amy (Rita Volk) sorting out her sexuality or her best friend Karma (Katie Stevens) sorting out her behavior toward Amy.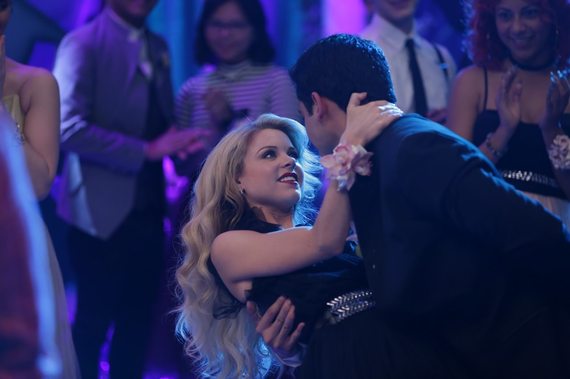 Sadly, we will have to be content with Lauren (Bailey De Young) (above) simply being the first intersex character on a prime-time drama. She's a great character and it would have been interesting to see her get an extended romantic storyline so she could drop some of her self-protecting walls.
We also won't get much more information about Karma's ex-boyfriend Liam (Gregg Sulkin), who has gotten more interesting, or Felix (Parker Mack), who's been an intriguing wild card.
That's what happens, of course, when a show is cancelled. With rare exceptions, threads will dangle in all the places where the showrunner had hoped to weave future stories.
In Covington's case, he said before this season began that in a perfect world, he'd like to run about seven seasons and wrap up with a time jump where we could see all these characters in their mid-20s.
That's an excellent idea. It would have even made the actors age-appropriate. But Covington admitted he didn't expect it would happen, since Faking It has always had a modest audience. Which shrunk a little further this season.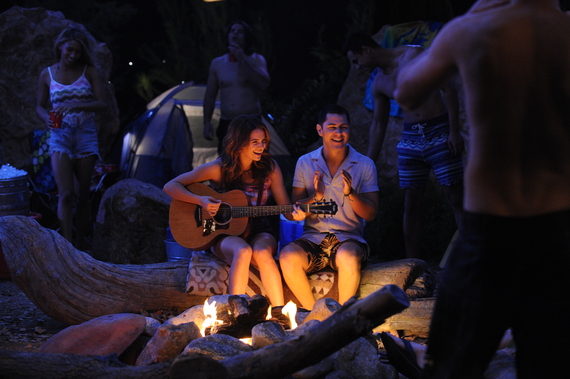 He told The Hollywood Reporter after the cancellation that he also didn't think Faking It would be a likely candidate for resurrection by another network, a streaming service or a digital-only operation.
Realistically, he said, it would just be too expensive for the potential audience it could bring.
But that doesn't mean it won't leave a legacy.
Covington called "the first post-gay show," and there's a lot of truth in that.

Faking It created the fictional Hester High School in Texas, and right there at the heart of "traditional values America" reversed the whole grim high school social order.
The most popular boy at Hester wasn't the football team captain. It was the openly and sometimes flamboyantly gay Shane. He ruled.
Our introduction to Amy and Karma, whose friendship formed the core of the show, was that to become popular in the Hester world, they pretended to be lesbians.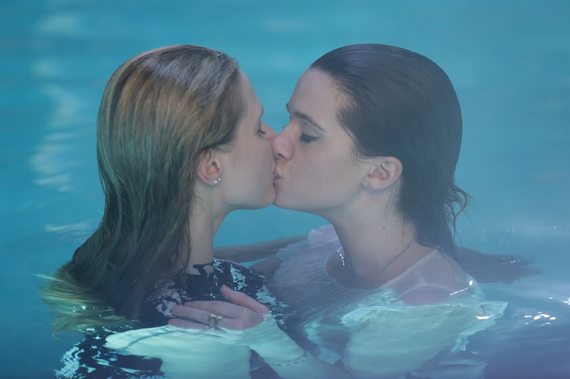 Things spun out from there, particularly when Amy realized their faking-it kiss turned her on. So did another kiss later (above), when Karma got a little tipsy.
But the point was that at Hester, sexuality was incidental. It was whatever. You're gay, you're straight, you're intersex, so what. You have the same feelings, instincts, delights and doubts as everyone else.
One of the most encouraging generalizations about real-life millennials is that they can look at something like sexual orientation and say, "You want what you want, it doesn't affect me, cool. Why are we even discussing this?"
Faking It took that approach. It wasn't "look, she's a lesbian." It was "look, she's a person."
Covington hasn't offered any spoilers for Tuesday night's finale, beyond saying he didn't want to leave the audience entirely twisting in the wind.
"It will be New Year's Eve," he told The Hollywood Reporter, "and everybody will be kissing somebody at midnight."
If that's what happens, it may seem oddly familiar to some viewers, because that's precisely the scenario with which Downton Abbey finished back in March.
You don't often find Faking It and Downton Abbey in the same thought. But in one critical sense we can.
Whether we're British aristocrats of the 1920s or Texas high school students a century later, we're all just trying to get from one day to the next without faking it.