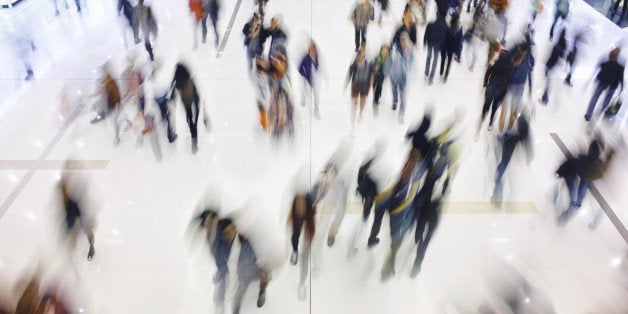 A few years ago there was a NY Times article about how busy we all are. The author wrote an accurate indictment of how we so value booking ourselves up that we're all complaining, but really bragging, about how we don't have time to do anything anymore: We've booked ourselves and our kids up through the rest of our lives.
The article really struck a chord with me, and I vowed to try not to elevate the mundanities of my life into a boastful complaint. But it didn't take long before I felt overwhelmed by how busy I was, again, and not talking about it hadn't seemed to free up anytime. And seeing as everyone else I knew seemed overwhelmed with how busy they were too, I started to wonder if maybe the reason wasn't that we were choosing to be busy. Maybe life has come to ask too much from us.
Maybe the reason we're all failing at life comes down to the fundamental question of what it means to be alive today. As science and technology and medicine have advanced, there are more and more things that a person, and especially a woman, is "supposed" to do. All I want to do is what I'm supposed to do, no more, no less. But the long list of what a woman is supposed to do has gotten out of control. For instance, I complain to my girlfriends that my nails break easily, so one friend says to take a calcium supplement, one friend says to get manicures more often, one friend says to use a nail bonding agent, and I'm thinking to myself, You know what? Maybe I'll just fail at having strong nails because really who has time to do all this? But then I see my friend's nails and feel bad about how mine usually look like the nails of a teenager and resolve to "take better care of myself" because everyone can agree that we're all supposed to be doing everything we should be doing to take good care of ourselves, right?
But it just feels like there really isn't enough time in our calendar to just do the minimum of what I'm supposed to be doing to take care of myself. So I tried to put the actual list together of what I'm supposed to do -- the things people tell us we should be doing for our skin, our hygiene, our health, our well-being, all of it. Because nobody seems to be adding it all up. People just keep telling me to do more -- my dentist wants me to use a mouth rinse in addition to flossing, my dermatologist wants me to exfoliate, my yoga teacher tells me to do cardio, etc. And I don't even have any kids yet, so lord knows what my schedule will look like then. But I had to start somewhere, so I wondered what a baseline list would look like, of what we all should be doing -- a list of how to be alive today, if you will.
So here's my list of what a woman is supposed to do minus the basics; I assume to be alive, we all brush our teeth, use deodorant and women wear maybe mascara and maybe concealer, do the laundry, the obvious unmentionables, etc. So I'm not including any of that -- just the extra things we might not be doing already that someone tells us to do at some point. And then I guessed how much time it would all take to gauge how much of my fleeting life is being consumed by just maintenance of what a woman is supposed to do to be alive.
This is a list of what a female human being is "supposed" to do just to be alive:
Call my Grandmothers weekly (I'm terrible about this, sorry Grandmas) = in an ideal world 10 minutes a week.
Call my parents weekly (even though my mother would probably want me to call daily) = 10 minutes a week.
Text people who text me because apparently they all expect an immediate response back which allows for interruptions in my work which probably puts me back about 15 minutes a week.
Say hi to your neighbors - because you're not a jerk = 2 minutes a week.
Talk to your partner - you're supposed to have time to connect every day and that means more than just sitting next to each other watching tv together. This can include the oft repeated say something nice to your partner every day = 5 minutes a day = 35 minutes a week.
Touch your partner every day - it's an easy one to forget when you get super busy but it creates tenderness and intimacy so quickly and touching someone can also help reduce stress = 2 minutes a day = 15 minutes a week.
Being grateful - Neuroscience suggests you can increase your own happiness by simply showing gratitude for the people in your live = 2 minutes a day = 15 minutes a week.
Have sex - Happily married couples seem to have sex about twice a week and for a minimum of about 30 minutes a session. = 1 hour a week
Kiss your partner - before he goes to work. It reduces stress and on average he might even live five years longer = 1 minute a week.
Massage your partner - Cheap and easy way to connect and it's medically beneficial to your body = 30 minutes a week (15 for him, 15 for you).
So You Don't Die or Get Sick
Don't leave dirty clothes/shoes on your floor - it's an earthquake/fire hazard to have messy floors = 5 minutes a week.
Clean off your cell phone - It's shockingly dirty so try to clean it at least once a week = 2 minutes a week.
Clean your lap top - it's also very dirty and could benefit from a good cleaning = 5 minutes a week.
Wash your hands - more often and do it better than you're doing it = 15 minutes a week.
Use only 1 paper towel to dry hands - because it could save the planet but this requires shaking your hands out first = 5 minutes a week.
Use a Nedi Pot - to keep your sinuses clear and prevent yourself from getting sick = 10 minutes a week.
Clean jewelry once a week - This used to not matter till I got engaged but ideally I'd be taking care of my jewelry once a week = 5 minutes a week.
Sometimes extras (Not going to count these in my total time calculations because they don't happen enough but some of them definitely suck your time at some point)
When your clothes tell you to hand wash them - Really?! Who has time to hand wash your clothes on a washboard - maybe when I get my next job as a waternymph!
Teeth whitening - If you're vain or have a wedding coming up.
Not overspending - Getting a good deal takes time. You know you could get something you need on Amazon, but you wonder if Target has it for cheaper or if you should search on Google shopping or if someone has a promo code for 10 percent off or freeshipping. Even paying attention to prices at the grocery store. Spending less money takes time.
Car wash - If you wait for a layer of filth to develop on your car before you wash, you can strip away your paint.
Come to a complete stop before shifting because it's ruining your car.
Wash pillows - because of dust mites once a week.
Back up your files because we've all lost something that was preventable.
See your Dr, dentist, gyno yearly or biyearly.
Have emergency supplies (in my case it's an earthquake kit, in yours it's probably for a hurricane or tornado - either way, it's doubtful you've gotten to it)
Heal your injuries (I sprained my ankle this year so I had exercises I was supposed to be doing to strengthen it.)
RICE - rest, ice, compression, elevate for when you get injured
So not including the last section of extras and not including sleep time, the total time it takes to do what you're supposed to do is 1291 minutes per week which means 21 and a half hours per week spent just taking basic care of your body and mind. So how much time is that really? The average work week is 47 hours and assuming we're getting 56 hours of time for sleeping (eight hours x seven days a week), we spend 103 hours of the week on just sleep and work. There are 168 hours in the week which means that you only get 65 hours a week of free time for everything else -- errands, restaurants, watching TV, getting drinks, movies, hobbies, seeing friends. So if 21.5 hours are spent on basic life maintenance, that's 1/3 of your free time (not at work and not sleeping) gone to life's little annoyances. That means when I'm planning my schedule for life, I really have 1/3 less time for everything I'd like to be spending time on. And since I'm loathe to budget a third of my life to stupid things I should be doing, I guess I'm doomed to fail. My only consolation is you probably are, too.
Popular in the Community