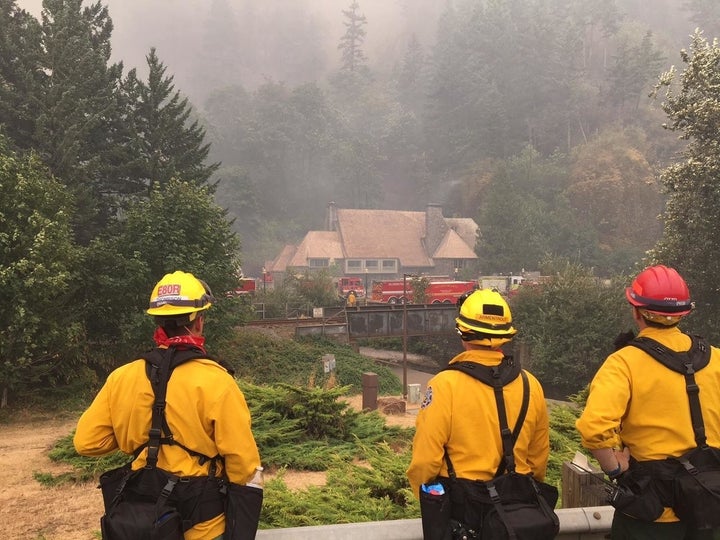 In the rural West, wildfires strain government budgets. A coalition of organizations and a bipartisan group of legislators have identified a possible fix.
As the South and Southeastern states focus on rebuilding after storm and flood damage from Hurricanes Harvey and Irma, many in the West are struggling to deal with a large number of wildfires burning in the region's vast public forests and grasslands.
There's the Eagle Creek fire that's burning in the Columbia River Gorge, the La Tuna Fire threatening the Los Angeles suburbs, fires damaging and threatening many historic structures within Glacier National Park.
"Just last week, 72 people lost their homes in the Helena fire here in Trinity County," said Nick Goulette, executive director of the Watershed Center in Hayfork, California.
Goulette's organization helps communities that are surrounded by forests to prevent and manage risks for wildfires. Communities can lessen the risk of wildfire on both public and private lands through management tools like controlled burns and thinning overgrown forests to reduce the fuel that leads to catastrophic fires, Goulette said.
"But still," said Goulette, "fire is a serious risk, particularly when they're human caused. They can flare up so fast."
The money that pays for the firefighters and their equipment largely comes from the U.S. Forest Service and U. S. Department of Interior budgets. The portion of the budget that goes to fight fires is calculated from an 10-year average of fire suppression spending. As wildfire costs have risen in the past decade, the wildfire budget eats up a growing share. This leaves efforts for fire suppression underfunded and decreases funding for programs that might prevent fires in the first place. 
As wildfire costs have risen in the past decade, the wildfire budget eats up a growing share.
Rural leaders in the West have argued for years that the nation needs a comprehensive fire fix that stabilizes funding, allows access to disaster funding and prevents transfers of dollars out of other land management and prevention budgets.
"The endless cycle of fire borrowing and continued erosion of agency budgets is the greatest barrier to improving the health of our nation's forests and our rural communities," said Karen Hardigg, director of the Rural Voices for Conservation Coalition. "We need a comprehensive solution that will support the well-being of rural communities, sustain capacity for wildfire response, and allow federal agencies to get more work done on the ground."
In 1995, fire management accounted for 16% of the USFS budget; today it is more than half. At the current rate, it is expected to make up two-thirds of the agency's budget by 2025.
USFS and DOI have run short on fire-fighting funding twelve times since 2002.
USFS transferred ten times since 2002; $700 million in September, 2015.
2015 was one of the costliest seasons on record, amounting to $2.6 billion.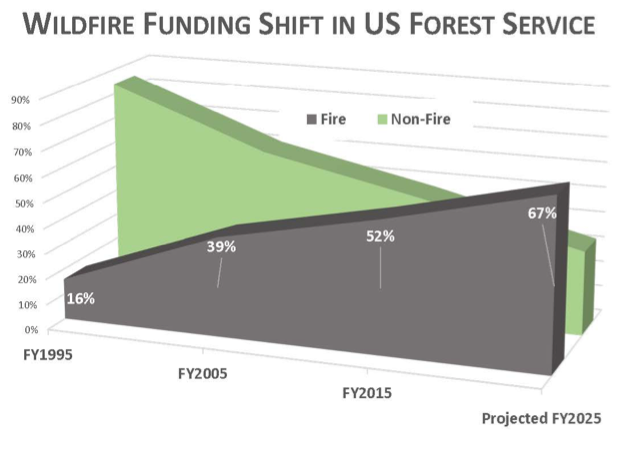 For the U. S. Forest Service's part, Secretary of Agriculture Sonny Perdue announced his support for a similar budget fix in comments he made at the swearing in of new Forest Service Chief Tony Took.
"Every year, when we have to take, in the Forest Service, and hoard our appropriated dollars in order to have money to fight the fires, where we know they are going to be insufficient, that's wrong," Perdue said. "We need with all of our heart and strength and mind, Tony, to appeal to the appropriators in Congress, and the law writers, to fix the fire borrowing problem once and for all."
Bipartisan legislation has been proposed in the House of Representatives to address wildfire reform. H. R. 2862, the "Wildfire Disaster Funding Act," is currently awaiting hearings in House Agriculture and Natural Resource subcommittees. H.R. 2862 is sponsored by Representative Simpson (R-ID), and has 64 co-sponsors from both parties.
"There are certainly ways that rural communities can prepare for the risks of wildfire, to make better plans for how to handle fire when it breaks out," said Jay McLaughlin, executive director of Mt. Adams Resource Stewards in southern Washington. "We can re-introduce prescribed fire as a tool for managing fuel loads. We can utilize thinning of small diameter trees as a forest product that supports economic activity and reduces fire risk. It can be tedious, slow work at times to manage the forest for health and fire resilience, but it can also be quite gratifying when you see the positive impacts of better management."
McLaughlin supports a comprehensive fire fix and expanded fire-prevention funding. "These are incredibly complex issues we're dealing with in the forests of the West," he said. "It's seasons like this when you realize it's hard to imagine what's coming in the future."
Besides reforming the way the federal government funds fighting fires versus fire prevention and preparedness, "so much of the West is covered with forests that are public land," said the Watershed Center's Goulette. "The management of those lands is dictated by federal management plans that dictate how fire is handled. It's one of the failures of the last generation of plans that public resources are committed to fighting wildfires at all costs. Here in the Shasta-Trinity Area, the management plans dictate that we put out every fire as aggressively as possible."
The plans need to be more flexible and responsive, he said. "Reforming these management plans, restoring a frequent fire regimen in the places that's needed, creating zones in the forests for allowing fires that will decrease problematic fuel loads, that would be an improvement," Goulette said. "Having those zones, the 'spatial fire management plan' on paper when fires break out, that's the tool we need to change fire management."
REAL LIFE. REAL NEWS. REAL VOICES.
Help us tell more of the stories that matter from voices that too often remain unheard.