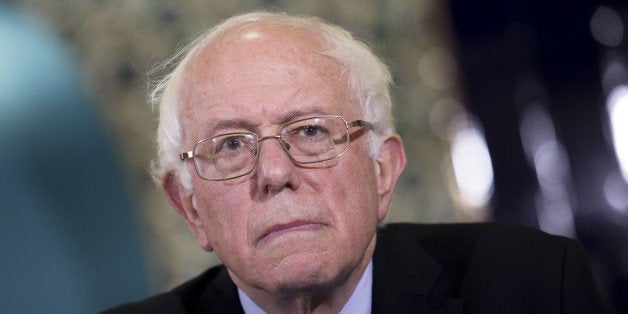 If the polls are gospel, then it's only logical to actually read the polling data, as opposed to simply a headline stating Clinton leads Sanders by an overwhelming margin. In reality, when these polls are analyzed from a critical perspective, it's apparent that Bernie Sanders is well positioned to win the Democratic nomination. Democrats had a chance to elect Clinton in 2008, with the same polls extolling a wide lead over Obama, but chose to elect the more trustworthy candidate. Like Gallup reported in 2008, despite the dominance of Clinton in prior polls, there existed a Perceived Honesty Gap for Clinton Versus Obama, McCain.
So much emphasis is placed upon poll numbers as accurate assessments of public opinion that they've turned into public relations tools. Like all elements of public relations, it's natural that supporters of the Clinton campaign would only want to emphasize the positive, while ignoring the negative or inconvenient truth behind the numbers.
Quinnipiac University, when asking respondents to think of a word that correlates to Hillary Clinton, found the following results:

Clinton tops the Democrats' "no way" list with 11 percent.

"Liar" is the first word that comes to mind more than others in an open-ended question when voters think of Clinton.

"Arrogant" is the word for Trump and voters say "Bush" when they think of Bush...

Trump and Clinton have the worst scores among top candidates on honesty:

Clinton is not honest and trustworthy, voters say 61 - 34 percent, her lowest score ever;

Trump is not honest and trustworthy, voters say 54 - 38 percent.
For various reasons, encompassing endless evolution on key topics to an ongoing FBI investigation of emails, voters correlated the word "liar" to Hillary Clinton. Also, 61% of voters find Clinton "not honest and trustworthy"; even a racist xenophobe like Donald Trump had a better trustworthiness rating.

Therefore, why would Democrats vote overwhelming for a candidate whom voters correlate with the word "liar"?

They didn't in 2008, why would they do so in 2016, with an ongoing FBI investigation and further questions about honesty?
In November, Quinnipiac found the same results, citing Clinton's issues with favorability and honesty among voters:
Clinton has the lowest rating for honesty as American voters say 60 - 36 percent she is not honest and trustworthy. Trump is not honest and trustworthy, voters say 58 - 38 percent.

Subsequent polls also found a similar results, with voters saying they'll vote overwhelmingly for Clinton, but also saying they don't trust the former Secretary of State.
In contrast, Bernie Sanders is the only candidate to ever get two million individual donors.

When voters drive to the polls, honesty and integrity will be the biggest issues in 2016; media and pundits have almost completely ignored this fact. Quinnipiac found in a September poll that voters find Sanders more honest, as explained in a report titled Sanders 41 To Clinton 40 In Iowa Democratic Caucus, Quinnipiac University Poll Finds; Dems Say Sanders Is More Honest And Caring:
Sanders gets a 78 - 6 percent favorability rating and likely Democratic Caucus-goers say 86 - 4 percent that he is honest and trustworthy, and 85 - 5 percent that he cares about their needs and problems. Voters say 76 - 9 percent that he has strong leadership qualities and 65 - 15 percent that he has the right temperament and personality to handle an international crisis.

Bernie Sanders has much higher favorability ratings than Clinton, which has allowed him to go from relative unknown to serious challenger in a matter of months. Clinton spent an entire career garnering power and support and now still has to contend with the Sanders campaign. The primary reason is the discrepancy in favorability ratings, as was the case with Obama in 2008. I explain why Hillary Clinton is unelectable due to negative favorability ratings in this YouTube segment.
Finally, from opposing gay marriage to supporting Keystone XL and ground troops to fight ISIS, Clinton's perpetual evolution on key topics is perhaps another reason Quinnipiac found voters correlated Clinton to the word "liar." In addition to prison lobbyist donors, Clinton also has oil and gas donations, despite not being able to remember them. The latest news regarding donors is explained in a Huffington Post article titled Hillary Clinton Says She's Unaware Of Receiving $150,000 In Oil & Gas Contributions:
"Have I? OK, well, I'll check on that."

At a campaign stop in Iowa on Wednesday, Democratic presidential front-runner Hillary Clinton claimed to be unaware that she'd ever received campaign contributions from the fossil fuel industry -- even though she has received over $150,000 from oil and gas representatives during the 2016 cycle alone...

But Clinton's ties to top fossil fuel donors have raised questions about her commitment to other environmental policies in the past. One of her top "Hillblazer" bundlers -- people who have assembled over $100,000 for Clinton -- is Gordon Giffin, a former lobbyist for TransCanada, the company that spent years urging the U.S. to build the Keystone XL pipeline.

As HuffPost has previously reported, Giffin serves on the board of the Canadian Imperial Bank of Commerce, which invested in the pipeline and paid Clinton $990,000 for speeches in the months before she announced her presidential run.

In light of this latest revelation in Iowa, as well as her initial support of Keystone XL, I don't trust Clinton to veto Keystone legislation if she becomes president.
I do, however, have complete faith that Bernie Sanders will veto Keystone XL legislation, like Obama, and also address the structural issues of Wall Street greed, perpetual war, and climate change. Only Sanders wants to break up the banks and reinstate Glass Steagall. Only Sanders demands Saudi Arabia and other send ground troops to fight ISIS. I trust Bernie Sanders, I don't trust Clinton or Trump, and I state why in this YouTube segment.
The reality is that polls today contradict the belief that Clinton will run away with the nomination. Democrats won't vote for a candidate they don't trust, no matter how many poll say Sanders is behind Clinton. Ultimately, Bernie Sanders will win the Democratic nomination because he's more trustworthy than Clinton, and few people can dispute this fact. You'll get to evaluate the character and integrity of both candidates during the next Democratic debate this Saturday, December 19, at 8 p.m. ET.
Popular in the Community