I suppose I am a member of the demographic that the Clinton Campaign has identified as the "loyal mature women" supporters. This came as a surprise to me, this sudden turn toward Hillary Clinton as the best possible candidate for president -- first WOMAN President -- of the United States of America. You see, I am a proud, registered independent. Last year, I watched cautiously as the dozen or so Democratic candidates started to amass. I listened to all of the debates carefully. And although the idea of a woman actually having a crack at this major-of-all-major jobs was intriguing to me; when asked, I told my friends (mostly women friends) that I had never been a big "Hillary-fan".
Then I met Hillary Clinton.
I met her at one of her million fundraisers. It was a beautiful Fall day. There were crowds of well-dressed people scattered in tents on a perfectly green lawn. As I looked around, admiring the spectacular setting, looking for familiar faces, I noticed that there were not a lot of men.
One of the event organizers, a pretty woman in stilettos, ushered those of us lucky enough to have green badges out of the tents and into a well-hidden Italian home, surrounded by lush shrubbery and rhododendrens. We walked into a large "holding area" -- more like someone's living room -- to line up and wait for Hillary to arrive. I had never been to an event like this before. Certainly never had the opportunity to pitch a presidential candidate on the cause most important to me: autism. I had my informational packet clutched tightly in my hand; the documentary I had produced about children recovering from autism was front and center. This was my chance to let Hillary know that there was so much more we could do to help all of our kids to get better. I crossed my fingers and waited.
A well-dressed woman swept into the room and informed the 40 or so of us who were destined to meet with Hillary that "she" was very close and we should line-up properly now. She took me graciously by the arm and said "Let's have you go first." Wow! Divine intervention! My heart started pounding a little. I spent the next few minutes going over my super-short speech in my head.
Then two young women in crisp white shirts opened a side door, and there she was: Hillary Clinton. I was surprised by how fresh and together she looked. This must be her tenth appointment of the day, I thought. And then, as she approached me, I instantly realized that this was a woman who was living her passion. She absolutely LOVES what she is doing. And she really wants this job!
"Hello," she said as she came directly to me, Ms. first-in-line. I shook her hand; I gave her my packet; I breezed through my speech. "I have heard about your film," she said. "I need to know more about this." This is amazing, I was thinking. She is honestly interested in what I am saying. She is concerned about autism. She wants to do something to help us when so many have not.
Then, we had our picture taken. And my role in this drama was done.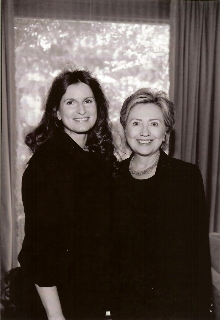 After I had gone away from this magical afternoon, I began to doubt that Hillary Clinton would take the time to watch the film I had spent 8 years making. I understand, I thought. But maybe a staffer, maybe one of those incredibly efficient, designer-clad women will watch it and let her know that this is an issue worth caring about. I crossed my fingers again.
One week later something miraculous happened. I got a letter from Hillary Clinton! A letter written on her personal letterhead, signed by her in her signature blue felt-tip pen.
In the note, she commented specifically about the film, and parts of the film, and some of the children in the film. I was floored!
That letter is now one of my prized possessions. It tells me many things that I don't want to forget. It tells me that Hillary Clinton just may do something about the autism epidemic if she becomes president. It tells me that she is compassionate enough to let someone like me know that she appreciates the hard work so many of us do to make the world better. It also tells me that she has an enviable infrastructure of capable, intelligent, ambitious women around her who will always make sure that she is well-briefed, well-dressed and that she follows up in a timely manner on all of those things that are of utmost importance to people like me.
I call those women Hillary's "high-heeled militia", and I guess I am one of them. We are a formidable group, indeed, and perhaps Hillary's best hope.
Calling all HuffPost superfans!
Sign up for membership to become a founding member and help shape HuffPost's next chapter