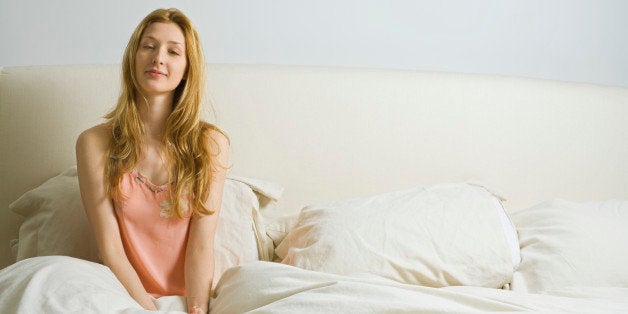 The kitchen counters are clean. You're ready for bed. Maybe you floss. You have chipped away at your daily checklist, but your dream list remains untouched. You pull up the covers, exhale and sink into a moment of comfort. But as tired as you feel, you lie blinking and thinking. You review what didn't get done. Your mind goes back to that great idea that takes more energy than you have and you wonder how it will ever fit into your life.
I am one of more than 30 percent of women in the United States who experience symptoms of insomnia. Exhaustion has been my constant companion from an intense 10-year career with a global management consulting company and then the demands of motherhood. Each passing year I became more fatigued and more self-critical of my inability to hold it all together, until I found myself with barely enough energy to get my daughters to school. I finally discovered that I had an undiagnosed autoimmune condition.
Having this illness was a huge wake up call for me. I had unfairly and unkindly pushed my body beyond its limits, driven by my own inability to stop. My daily medication was not going to fix the situation. I realized that for my body to heal, I needed to fundamentally shift my relationship with myself. My medication continues to serve as a daily reminder to stay connected to my physical well-being, to be gentle with myself, and to mindfully find ease in a world that doesn't necessarily hand it out freely.
I see my story reflected back in so many women. They work hard and manage so much, often becoming physically depleted, and all the while, being very hard on themselves.
The end of the day is when we are often the most critical of ourselves. The sleepless midnight hours fill our heads and hearts with stories. Unlike the playful books we read to children, women's bedtime stories tend to be full of self-judgment. I Should, I Need to Be, and I Wish replace the chapters from childhood books that used to transport us to new places of possibility, let us try on different hats or wings, find a little magic, slay a dragon or two, and drift off to sleep.
I decided it was time for a new bedtime story for women -- one that would allow women to tuck themselves in with self-care and compassion at the end of the day.
During my interview for a mini-documentary series produced by Elizabeth Arden called Her Story, I was asked, "What makes a woman beautiful?" I remember formulating my own answer. I immediately smiled as I started to mentally gather all the deeply beautiful women in my life. As my collage of beautiful women grew, I struggled to whittle down the bounty of amazing qualities I saw into a single answer. In the end, I did find one common trait. For me, a woman's beauty grows as she discovers what in life makes her feel most alive, and then carves out time in her life to nurture that part of herself. You feel her energy. It draws you to her. Being in her company inspires you to work a little more at your own fulfillment.
It was then that I realized it is difficult to feel beautiful and critical of yourself at the same time. I wrote Knowing Beautiful from a deep desire to give every woman the same opportunity to ask the powerful question, "What makes me beautiful?" and to hear her own answer, feel the beauty within her, and know how her beauty touches the world.
No matter what is on your nightstand, or whether you're a woman or a man, it is important to become aware of how you connect with yourself each night. The words you choose for your bedtime story will shape not just your dreams, but also your path forward.
How would you like your new chapter to start?
Related