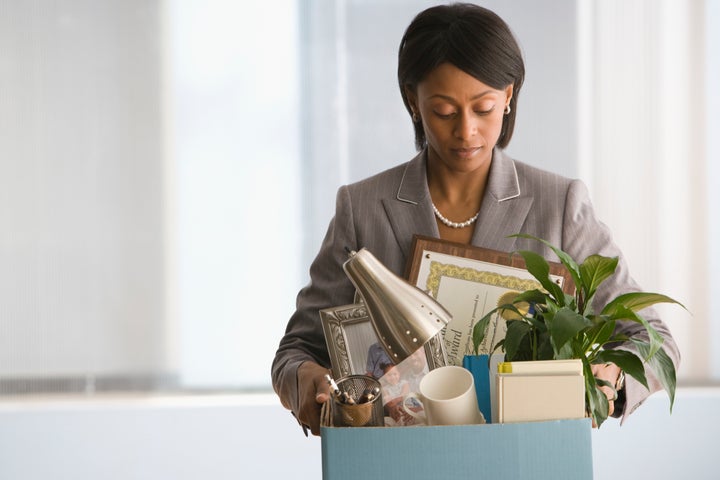 Why do women in their 30s quit their jobs? It turns out, they mainly leave for the same reason men do: money.
The No. 1 reason women around the age of 30 quit their jobs is because they found a new one that paid better, according to new research that surveyed executives and female employees that were five to 10 years out of university at seven different companies.
The research serves as a strong corrective to notions about women and work. It's not motherhood necessarily that drives women away from their employers. There was no significant difference between the reasons women in their 20s leave their jobs versus women in their 30s, according to the study, first reported in Harvard Business Review.
While their bosses thought women were leaving because of work-life pressures, the women surveyed didn't agree. Indeed, the reasons women were quitting these companies look a lot like the reasons men quit: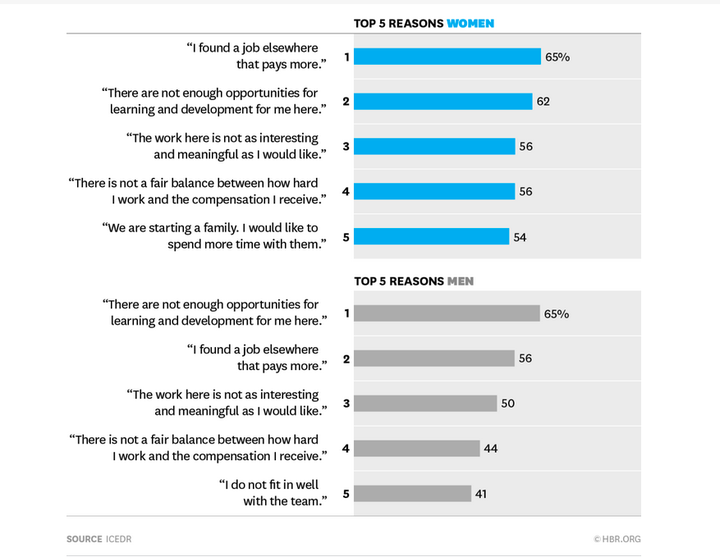 The research doesn't totally evaporate the reality that women do leave work to start families. As you can see in the chart above, starting a family is the No. 5 reason women leave work. It is entirely absent from the men's top five list of reasons.
Still, by emphasizing the importance of pay, the survey offers up yet another reason for companies to focus more attention on the gender pay gaps within their organization.
While we know that in the U.S. generally there is a wide and unmoving pay gap between men and women -- for every dollar a guy earns, a women gets 78 cents -- very little is known about how specific companies pay.
A few companies are changing that. Gap, Salesforce and Intel have all recently gone public with pay audit information. In Salesforce's case, the software company learned there was a gap between male and female salaries, ultimately spending $3 million to fix it. Intel and Gap both said they did not have pay gaps.
The Obama administration has proposed that companies be required to report salary information by gender and ethnicity.
Conventional wisdom would tell you women leave jobs because of work-life issues. As women launch into adulthood, they marry and have kids and they need to scale back at work. They quit. You start to see fewer of them advance to upper levels of management.
This study offers an important reminder, though. The primary reason most of us work is for money. If your employer messes that up, no amount of job flexibility or "work-life balance" is going to matter.
"Motherhood is not the primary reason women around 30 are leaving organizations," the authors of the report write. "Focus on what matters most: Pay women fairly, challenge them with learning and development opportunities, and provide them with meaningful work."
Calling all HuffPost superfans!
Sign up for membership to become a founding member and help shape HuffPost's next chapter