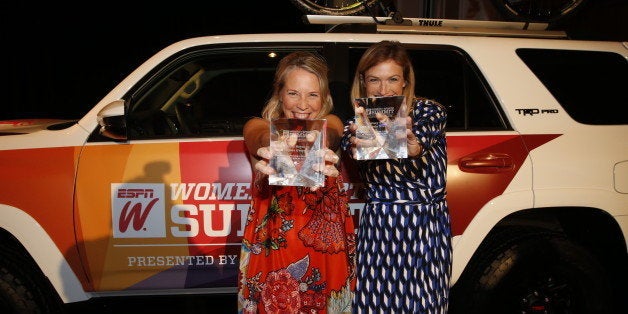 I am not an athlete - well, that is, if you don't count my two years on the girls' basketball team in middle school.
Coach recruited me because, at age 12, I towered over my peers at a full five feet, eight inches. I was tall, awkward and clueless about basketball, but I was amenable to authority and most importantly, good at snatching up rebounds under the basket. Coach made me Co-Captain of the team despite my lack of understanding of the game. A reality that became clear to both of us when she had to tell me I had fouled out of a game -- I had no idea I had even committed the first foul.
Needless to say, I didn't take my b-ball career to high school. And anyway, women's basketball wasn't cool in the U.S. South at the time -- no Lisa Leslie or Sheryl Swoopes on the scene yet, making basketball careers a real possibility for girls.
But after attending the espnW Summit, and hearing from Olympic Gold winners, national champions and even members of the U.S. Women's National Soccer team about the power of girls and sports, I found myself traveling back in time in my mind and wishing that I could have imagined the powerful aftereffects of a girlhood spent deeply involved in the enfolds of a team.
Why Girl Athletes Kick Butt
Did you know, for instance, that 80 percent of Fortune 500 female execs played a sport growing up? Or that the number jumps dramatically to 94 percent when you look at women in the C-suite (CEOs, CFOs, CTOs, etc.) of corporate America?
The study shows that women athletes are more likely to develop strong work ethics, determination and team spirit. Plus, they thrive on competition.
Julie Foudy, National Soccer Hall of Famer, based on her best success advice to the audience, agrees: "Be cocky. Don't think negatively. Just do it and get better at being yourself."
I hung on every word and totally drank the Kool-Aid.
I mean, seeing Abby Wambach and Carli Lloyd, starting members of the U.S. Women's National Soccer team, up-close and personal, sharing the details of how they won a World Cup... or Beth Brooke-Marciniak, the 98th most powerful woman in the world according to Forbes and the first woman to receive a basketball scholarship at Purdue... or 20-year-old boxing up-and-comer Claressa Shields, who started boxing after being bullied at school and who has a Gold medal now... or even Toyota's Everyday Hero Heidi Boynton, who founded a running club for over 3500 girls around the world... all unafraid, bold and powerful.
It touched me. Each woman attributed her participation in sports with elevating her confidence, deepening her sense of self-esteem and pushing her to be and strive for more in her life.
But Isn't Competition Bad?
Look at Nene vs. Kenya, Donald vs. Hillary, Uber vs. Lyft. Sometimes the rivalries in our world get ugly, and some of the biggest and loudest competitors condone winning at all costs.
But this event promoted healthy competition, the kind of competition that helps you be a better you and that pushes you beyond what you think is possible for yourself.
I guess that is the beauty of sports. At its best, sports competitions encourage you to work with others toward a common goal -- rather than to laud your win over others -- and to dig in and surprise yourself.
Okay, I think I need to recast my time as a basketball player.
Even though I didn't understand the game completely, I wanted my team to win. And so I worked harder than anyone else on the court to get rebounds. I was often the highest rebounder in our games. I also tried to learn how to dribble so that I could keep the ball away from those sneaky little point guards. And even though I wasn't a great shot, I practiced often and improved my skills enough that on one game, I actually made the winning shot. It was a half turn, over the shoulder, off balanced, wobbly rim shot, but it went in and won us the game.
I was a part of a team. And even if I did not play for my entire youth, I learned something about performance and achievement during those two years.
And you know, I do have confidence, and I am a leader. While I don't run a Fortune 500 company, I am the CEO of my own nonprofit, and I am focused and clear and working hand-in-hand with my team on a mission to empower women and girl social entrepreneurs around the world.
So I AM an athlete. And I DO count my two years on the girls' basketball team. Thank you very much.
This post is part of an ongoing series of the many women that Toyota has honored. From Mothers of Invention to Everyday Heroes, these are women who have demonstrated entrepreneurial spirit, and innovative and inspiring concepts to positively impact the lives of others, whether in their own communities or on a global scale.
REAL LIFE. REAL NEWS. REAL VOICES.
Help us tell more of the stories that matter from voices that too often remain unheard.