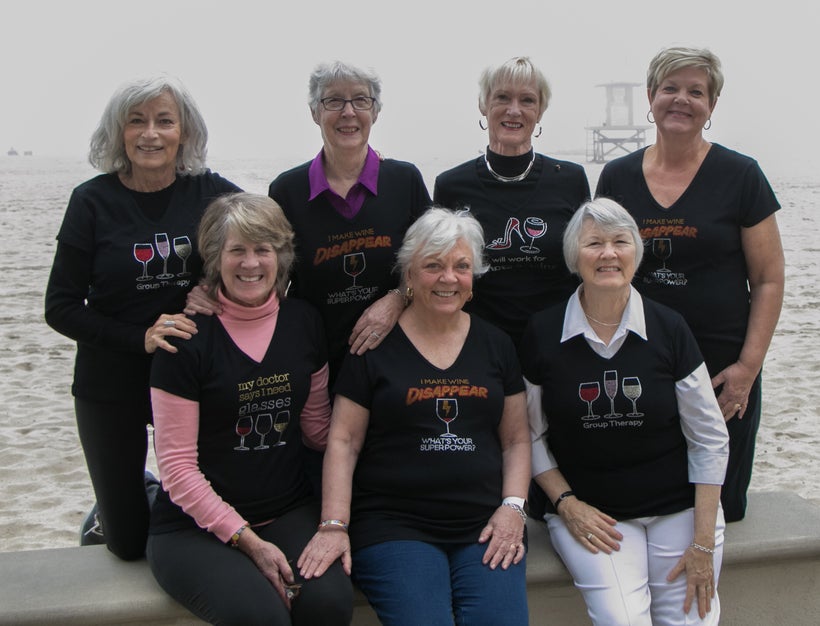 For a moment there it seemed that the 38th reunion of our women's group wasn't going to happen. MLK weekend is on all eight of our calendars for Carpinteria , CA every year. But this year, Carpinteria was in crisis and the roads were all closed.
Friend Kristi lives in Santa Barbara, and she insisted we go ahead and find another place, even though she couldn't get out. I had already flown into Southern California from Tucson, and friend Ricki was locked into a flight from Portland.
After wrestling with options on the internet, we found a house to rent right on the water in Newport Beach. Carting voluminous groceries, excessive wine and an incredible collection of DVD's, we settled in for four days.
Male readers might be asking what we were going to do, given our propensity to never leave the rental house except for walks on the beach. Without fishing or outings or bar hopping, don't we get bored?
Eight women in their 60's and 70's who have known each other for 40 years have a lot to talk about. We unravel the new stories about our lives and families. Even though we don't see each others' children and grandchildren and communities, we know them. We've lived each others' stories.
Two divorces. Two cancer journeys. Already one widow. Job losses, financial setbacks, relationship roadblocks. And, there are victories and blessings. Weddings, graduations, births, promotions, new ventures, retirements and birthdays. Life flowing through us, and around us.
We talk politics and religion. We met at All Saints Episcopal Church in Pasadena, where we were mentored and influenced by the progressive and eloquent rector, George Regas, who led us through every social justice issue from the 70's into the new century. Our common values are a warp thread in the tapestry we've woven.
Maybe each of us wouldn't choose every other one as her close friend if we were starting today, but our history is a powerful bond. We have each others' backs. We have our families' backs. Our children may not even know how supported they are by our little tribe.
And so, we don't have to disclose or explain anything. We can dive into seeing seven movies, taking daily walks, offering many toasts, and cooking great food. Raucous laughter and a few tears. It all gets more precious in the autumn of life.
If you are a woman and don't have a women's group, start one. If you're young and busy, don't use that as an excuse to wait. This is an investment.
If you're a man and don't have a men's group, consider taking a page from the feminine book of powers. As one of "our men" observed, this is a gathering of goddesses. A sacred community. Nothing like close, loyal, enduring relationships to make for a good life.
For all of 2017 I thought about how we can navigate accelerated changes, like aging, political turmoil and planetary events like the fires and mudslides in CA. How do we find constancy in an unpredictable world? How do we embrace the true and beautiful in a time when they seem to be discarded? Where is our solid ground when we can't even trust the soil beneath the foundation of our homes?
Love has always been the prescription; every faith tradition proclaims it. And women know how to love. Just ask one. Or better yet, rent a house and retreat with some. It just might become a habit.
"The best defense against the rampant sexism in our culture is the support, friendship, and sisterhood that women can offer each other. "Friendship is the sacrament of possibility," Joan Chittester
Calling all HuffPost superfans!
Sign up for membership to become a founding member and help shape HuffPost's next chapter
This post was published on the now-closed HuffPost Contributor platform. Contributors control their own work and posted freely to our site. If you need to flag this entry as abusive,
send us an email
.