As I kiss my sleeping daughter on the cheek, I notice how she's changing. Tucked up in her bed, she is no longer the baby I cradled or the toddler that I pushed on the swing. She is a young girl with a big voice and thankfully, she's not afraid to use it.
She uses it to tell me when I'm wrong.
She uses it to tell me when she feels uneasy.
She uses it to tell me what she needs.
She has a voice and so she uses it. Simple, no?
And while my five year old seems to have it all figured out, it would seem that many grown women have been quietened over the years...taught to accept the status quo and not to ruffle too many feathers.
Yet election season is upon us and this year is the first in history that there is a chance that a woman will be voted in as the leader of the free world.
In itself, that concept is a huge deal...symbolic, even. And therein lies a common rhetoric against Hillary Clinton: to vote for a woman simply because she is a woman is surely the antithesis of feminism?
Yet regardless of the political battlefield of the last few months, I'd go so far as saying that Hillary - though far from perfect - is more than just a symbol for women. Instead, she is a politician with a history of supporting women's rights, particularly across three specific areas:
Reproductive Rights: Hillary has stated that, as President, she would "defend against attacks on reproductive health care, and protect access to affordable contraception and safe and legal abortion across the country." It seems fitting then that she's made reproductive rights the centerpiece of her policy plans and with this in mind, both Planned Parenthood and NARAL Pro-Choice America chose to endorse her as the Democratic candidate earlier this year.
Equal Pay: Hillary is not ignorant to the fact that lower-wage jobs are disproportionately held by women and she's spoken out against this inequality in her speeches. Yet past actions sometimes speak louder than promises for the future. While she was a senator, she sponsored the Lily Ledbetter Fair Pay Act; an Act signed into law by President Obama that aims to achieve equal pay for women in the workplace by making it much easier to challenge wage discrimination in court.
Family Leave: Hillary has proposed giving $1 billion in grants to states that enact paid family leave laws. The senator has also said that she would support requiring employers to provide workers with seven days of annual paid sick leave.
Let's face it, this election season has been particularly unsavory. Yet there are flags, bumper stickers, banners, spoof campaigns and even huge cookies...all of which are attempting to sweeten this rather bitter process. Inadvertently, they're also encouraging us to speak up loudly about our hopes for the future of America.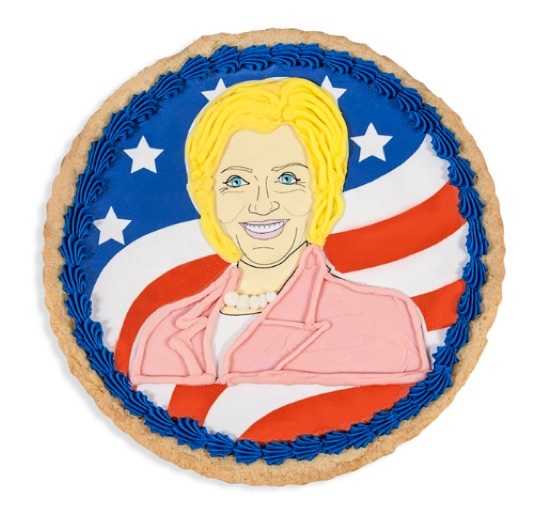 Source: Presidential Cookie Campaign, via Gourmet Gift Baskets
Isn't it time to speak out?
Isn't it time to raise our daughters to embrace their voices and not sacrifice their volume?
For my daughter, I will use my voice. And in doing so, I will show her that it's ok for her to use hers. More than that; it is necessary.
Because by speaking up and out and doing so with conviction, we can build upon the placeholders that are already being put into place. We can cement a better future for our daughters and that, for me, is worth voting for.
Calling all HuffPost superfans!
Sign up for membership to become a founding member and help shape HuffPost's next chapter