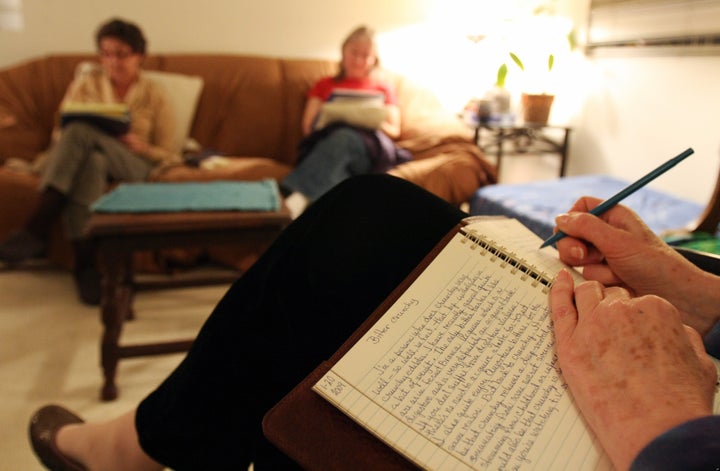 Agents attend conferences because they're looking for new projects; authors attend because they're looking for an agent - what's wrong with scheduling time for them to sit down face to face?
From talking to authors and agents, and from observing how pitch sessions are handled at other writers conferences, Backspace believes that formal pitch sessions are not a productive way for authors and agents to connect.
At the Backspace Writers conferences, small-group workshops provide aspiring authors multiple opportunities to have their work reviewed and critiqued by top literary agents who are actively seeking material in their genre. We accomplish this goal in two ways:
Writers are broken up into small-groups of no more than 15 (typically ten to 12 writers) based on their genre. Each group consists of two literary agents actively seeking material in that genre. The writers take turns reading their query letters (morning) and opening pages (afternoon) and the literary agents respond in turn, providing honest, objective feedback, critiques and/or reviews of each writer's work. Should any writer's query or opening pages catch the interest of an agent, they either ask to see more, or the writer is encouraged to arrange to send more material to the agent(s).
Writers read their queries in the morning to two literary agents in each group, and their opening pages in the afternoon to two different agents in each group.
Through our informative and educational agent panels:
The goal of our Backspace Conferences is to educate writers on the realities of publishing, and who better to do that than the literary agents who will ultimately represent those authors and sell their work? We bring together anywhere from four to six top literary agents for an hour of questions and answers ranging anywhere from personal genre likes and dislikes to important information you need to succeed in publishing. Each panel has a theme (example: What Agents Are Looking For Today, or The WOW! Factor: What It Is & How To Get It), and opens up to questions from the audience. We leave up to 15 minutes between sessions and encourage audience members to introduce themselves to the agents on each panel - it may even be a perfect opportunity to pitch an agent who is not in your small-group workshop, but also represents what you write!
Plus, we build plenty of time into the program to give writers an opportunity to network with one another, to speak with literary agents who may not be in their small-groups, and to learn from the critiques and feedback received by their peers during the workshops.
Instead of a tense, angst-filled pitch session where it's difficult for all but the most confident authors to put their best foot forward, an interesting, relaxed, enjoyable conversation leaves a much more positive impression. And even if authors don't get the chance to mention their project, the pleasant conversation gives the author a point of reference when sending a formal query letter to the agent's office after the conference is over.
Agents have a wealth of knowledge about the industry. When agents are on the faculty in teaching positions, authors can benefit from their experience. Specifics about how the business works and what agents are looking for in a query help writers by giving them the knowledge they need to succeed.

Support HuffPost
The Stakes Have Never Been Higher
Related
Popular in the Community