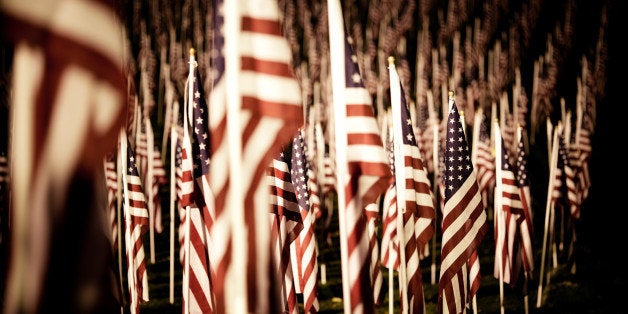 The women present were both veterans and still in active military service. One came in uniform, with her tween daughter.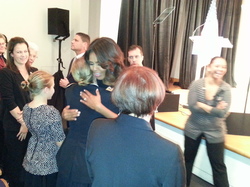 On my last day in Washington D.C., I met with a woman in the Women's Health Services section at the headquarters of the Department of Veteran Affairs; she had also attended the forum. I shared a story from the event that brought her to tears. Our conversation helped me realize something I truly didn't understand before - yet paradoxically, I'm realizing that it's the thing that motivates my work as a woman veteran and entrepreneur every day. In writing about this epiphany, it's my hope that more Americans will understand why there are women who served in our armed forces who do NOT openly identify themselves as veterans.
First, a recap - the event, detailed in the program here was all about the sisterhood - the gathering of hundreds of women who are on active duty status in our military or have served in past years. It was organized by the Business and Professional Women's (BPW) Foundation and Redbook as part of the Joining Forces Mentoring Plus initiative "for women veterans of all ranks and eras, military/veteran spouses, caregivers of wounded warriors, and survivors of fallen soldiers, to help them successfully identify, outline, and pursue civilian careers."
I was blessed to play several roles at the event in service to my military sisters. I was there as a NBWW award recipient for various professional career experiences I've enjoyed since leaving the Air Force KC-135 cockpit. These include corporate marketing management for a European multinational tech giant, North American marketing manager with an Israeli startup in the renewable energy sector and currently as a business owner/publisher, an "entreprenauthor" of the award-winning bilingual children's book Good Night Captain Mama/Buenas Noches Capitán Mamá among others. Event sponsor Oracle generously sponsored copies as gifts for attendees.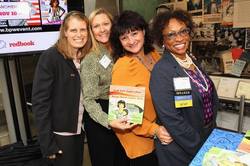 Most importantly, I was invited to be a speaker on the
with Alison Dorsey, Social Impact Manager at LinkedIn and Nikki Gordon, Director of Talent Acquisition, G4S Secure Solutions (USA) Inc.
As the only veteran on the panel, I was asked to share my experience, tips and personal branding expertise as someone who successfully transitioned from the military cockpit of a refueling tanker into a wildly different role as product marketing manager in the telecommunications industry 14 years ago. I shared details of my smooth, months-long career transition that resulted in a professional challenge that utilized my various skills sets.
I shared my secrets: I was deeply networked into the local business community outside Fairchild Air Force base in Spokane, Washington and, I was continuously mentored by a powerful group of professional women every step of the way. I did not try to make that intimidating leap on my own as many veterans attempt today; on the contrary I was surrounded by giving mentors who wanted to see me successfully employed after my nine years of military service. They helped me learn a variety of civilian business lingo. They coached me on the "how-to" steps then immediately set me up to conduct informational interviews BEFORE leaving the active service. They very importantly coached me into doing a personal assessment to identify and quantify my passions. They coached me in how to talk about and present the collaborative team skills used in the military cockpit into language that would be meaningful and compelling to civilian employers.
From the stage, I shared that passions evolve and change through time. My passion today is public speaking and growing an award-winning, multicultural publishing firm that creates unique literature that showcases the positive contributions of Latino Americans, including veterans, in the USA. I was there to provide a very visible example to my fellow women veterans of the types of careers and successes that are possible if only you wear your military service proudly, share your service stories, skills and accomplishments with the world.
I addressed a common challenge faced by most military women - the reluctance to talk about ourselves and our accomplishments. It's the last thing on our minds when we're serving - a skill that is completely lacking. Being asked to emphasize our accomplishments in writing and in person is very uncomfortable for women who are trained to do specific missions, with technical precision, to manage weapons, assets, budgets and lead people. I know firsthand. I was extremely uncomfortable with those actions when I first began my exit from the military. It was something I had to first acknowledge I had been told my entire life not to do (by my Catholic, Mexican parents and community culture that emphasizes being humble and not narcissistic). I actively had to work on this critical business skill. It took a while to learn to do it my own way and be comfortable with doing it effectively. I sought out assistance in developing this skill after starting in my civilian profession and found the help I needed.
I quoted Chief Justice of the Supreme Court Sonya Sotomayor: "Virtue in obscurity is rewarded only in heaven. To be successful in this life, you must be known to other people." [pg. 218 My Beloved World] It's her way of giving all women permission to communicate their accomplishments and uniquely valuable attributes. She's saying we have an obligation to do so to be successful. It's powerful stuff that I find quite inspiring. I love those eloquent words and often recite that passage to motivate others into action.
I shared specific actions women can take to begin to build their personal brand to position themselves as THE must-have candidate that the hiring manager MUST interview. As someone proud of having worn the Air Force uniform and flight suit, so happy to have served as an Air Force officer/navigator and instructor, I didn't know until a few years ago that there are women who do NOT identify themselves as veterans. Perhaps I was simply naïve. Perhaps it was timing (I left the active duty force almost two years before the terrorist attacks of 2001.) Honestly, I was incredulous when I first heard that many women don't admit they valiantly served; I didn't understand it. From the stage during the panel, I shared this and I asked the attendees to help me understand why, if they don't publicly self-identify, they chose that option.
One young lady approached me later as I signed books and said, "I want to tell you why I don't tell people I served."
She shared a story of an embarrassing operational event that happened on the ship she was assigned to while on active duty. The ship experienced an accident. I asked her if the accident was directly caused by her actions or by her team. She replied "No, but I feel terrible about it and I don't want anyone to know I was there. So I don't mention that I ever served."
Clearly, she's been made to feel extremely ashamed of having been there during that bad day. The way she talked about it though, one would think she had been the captain of the ship because she feels so guilty. But what I heard was a young lady so devoted to her mission, to her team, that when something went terribly wrong, it scarred her.
I assured her that she can develop a way to speak about her service in a positive light, to ignore the negative and put it behind her. I assured her that a civilian employer is not going to do an investigation into her military history and discover this one incident. I told her to instead impress with other positive stories of service. I asked her to please get help releasing this useless shame immediately - she's suffered it way too long. I implored her to please begin to think positively and discuss the highlights of her service, find meaningful employment worthy of her considerable technical skills and begin the next chapter in her life where she's employed, happy, unashamed and writing new life chapters. I gave her these things: a big hug and thank you for sharing this deeply personal experience with me and my business card so she can stay in touch and inform me of her progress. We military women like accountability.
When I relayed that story at the VA headquarters to my host, she was choked up because she was reminded of something too similar. She has spoken to women who are WWII veterans who tell stories of being shamed not by an operational incident in the service, but instead by society after the war. Instead of being held up as heroic women who wore the uniform during the second World War, women who served in the U.S., Europe and Asia, they instead tell stories of being shamed with comments like "What kind of woman goes into the military?" and "Are you a lesbian?" and everyone's favorite "She must be a loose woman." Erroneous, negative, hateful stereotypes sucked in the 1940s and they still suck now.
The source of shame for many of today's women vets is different - more insidious. It's the never-ending media stories of MST (military sexual trauma) and PTSD (post-traumatic stress disorder) which continuously paint veterans and especially women veterans, as victims. In the minds of millions of news-consuming Americans, there's a strong association between the words "military veteran woman" and the words "trauma" and "damage."
Guess what America? The VAST majority of women veterans cannot relate to MST and PTSD topics because they suffered none of it. Yet, when they go forth as job seekers with valuable technical, leadership and language skill sets, having had their problem-solving skills tested under the most arduous circumstances, they often encounter young HR screeners, hiring managers, potential employers who already have in their minds that veterans might not be worth the trouble (despite the generous tax breaks) because they're perceived as damaged. I've heard these sentiments expressed by misinformed civilians and have had to educate them on their bad information. It's a real obstacle placed between, potential employer and the veteran by incessant and negative media images. It has got to stop.
The unemployment rate today of women veterans who served when I did is only 2.1 percent - I bet you haven't heard that number reported. We've survived and thrived through all previous economic cycles, thank you very much. Therefore, I see no acceptable reason for the unemployment rate of today's post - 9/11 women veterans to be 11.2 percent - five points higher than that of male veterans and more than twice the national unemployment rate! It's a number the First Lady highlighted during her keynote speech. I find it totally unacceptable and frankly, disgusting that our nation is missing out on the tremendous talent and productivity veterans bring to any organization lucky enough to employ these excellent problem solvers. I'm saddened that they struggle without a paycheck for as long as they do. I know they suffer the despair that comes from feeding resumes to servers on job boards and getting no response (because they weren't informed that only 3% of job seekers connect with employment that way - the rest do it by NETWORKING with humans.) This is how self-esteem and the sense of self-worth of talented military women (and men) get eroded, little by little each depressing day when nobody responds to their resume uploads, when they navigate the transition journey without the help of a mentor.
Yes, there are other obstacles to overcome, like leaving the service with only the inadequate Transition Assistance Program as guidance (a program that in my opinion needs a total reset.) It's time for a new TAP curriculum built around connecting to real people, to giving professional network contacts to service members LONG before they exit the service. Many women veterans who are entrepreneurs are ready to partner with the Pentagon's TAP Program Management team as soon as they ask us to lend our expertise. Professional networking is still THE number one way civilians hear of job openings that results in getting hired - nothing substitutes for a warm, personal introduction between a veteran and a hiring manager known to another veteran. That's why during personal branding workshops and webinars I lead for veterans I provide attendees the name, number and email of a contact who is either actively hiring or can set up an informational interview with the veteran to inform them of an unfamiliar industry and the opportunities within it.
But while we prepare our service members to hang up their uniforms and to enter the civilian workforce, we must stop the media vomit of stories that position military women as victims because the truth is the exact opposite of that. We are triumphant, we are highly-trainable and skilled. We are service-minded team members. We are tested and proven team LEADERS. Organizations who have hired military women veterans already know this - we must now do the work to get more hiring managers across the nation to know this. The First Lady lending her influence to the cause is an excellent jolt in the right direction.
This need is also why eight women veterans came together to create the National Women Veterans Speakers Bureau - the first speaker bureau comprised entirely of women veterans who are published authors. We women veterans need to spark and force a new national and media narrative that shows who we actually are. We need a new storyline that causes women vets to be super proud of their service, to want to exclaim it from the rooftops that they raised their hand and swore to "defend the Constitution of the United States against all enemies foreign and domestic..." We will push for a new association between "military veteran woman" and "skilled, effective leader" and "dependable problem solver and team member." It's time to stop the large-scale, insidious media-assisted shaming of military women. It's different than what happened after WWII but just as damaging because it causes women to hide something they actually feel pride in having done - it creates an unnecessary internal conflict within each woman who hesitates to claim her valuable veteran status.
From now on, women veterans must proudly decide to "Own it, claim it, CELEBRATE it." I said to the attendees, "It's time to let out your awesomeness! Be seen as the leaders that you ARE and WILL be in new organizations who NEED you there."
The new narrative about military women veterans starts with each of us deciding to step up and proudly tell our service stories - to counter the media narrative that too often encourages more shaming and dissociation with military service. I'm telling my story through a unique contribution to children's literature. I'll continue to do so as we develop the Captain Mama book series and share video and other positive images during speaking engagements. I hope many more women veterans will follow the powerful examples seen in the National Women Veterans Speakers Bureau and create even more positive images in our collective national consciousness that women and mommies are proud veterans too! We must decide we will not let media imagery and stories define who we are - WE will define ourselves - beginning right now.
What can YOU do? Here are four actions you can take:
1. If you know a woman who served, please share this article with its many resources and ideas with her.
2. Have her forever memorialize her military service by registering online at the living Women in Military Service for America Memorial located at the entrance to Arlington National Cemetery. She may not even know there is such a memorial created to honor courageous women like her.
4. Share with her that all five women veterans featured in the November issue of Redbook did exactly that after their summer visit with the First Lady; working with their mentors, four of the five women have since become employed in professional positions worthy of their skills and experience. Mentoring works beautifully.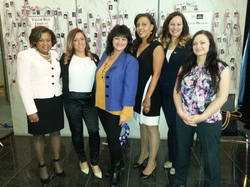 As we wind down the month we celebrate veterans, the best way to "honor" our military veterans is to make sure someone hires them NOW into meaningful, well-paying positions so they can continue to serve in their communities. Let's do this! #HireWomenVets
Calling all HuffPost superfans!
Sign up for membership to become a founding member and help shape HuffPost's next chapter