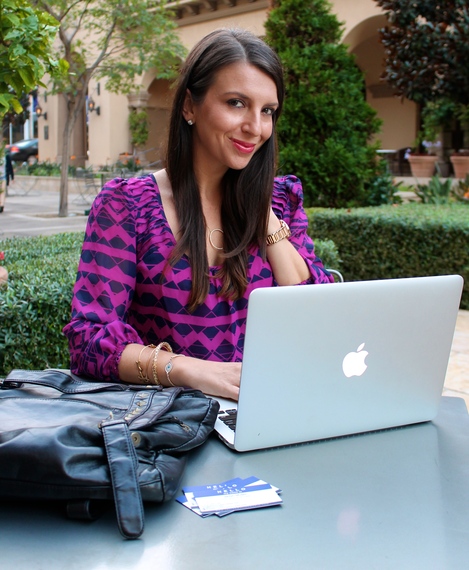 It's not every day that I get to interview a performing artist turned entrepreneur, and Jaclyn Mullen's story was one of the best examples of why you don't need to have an MBA (or any degree for that matter) to launch your entrepreneurial endeavor.
Why do you say you don't need an MBA to have a DBA?
I came from a family of entrepreneurs. My grandparents immigrated to the U.S. in the 1960's and at the time, were just trying to do better for themselves as Armenians from Romania. They left Romania to escape Communism, they couldn't speak any English and obviously they had no technology back then at all.

My grandfather was a watchmaker, my grandmother a seamstress, but together they were unstoppable. They landed in New York City without any money, and thanks to their strong work ethic, ability to save and belief in themselves, opened their first jewelry store in Long Island, New York within 4-5 years of being in the U.S.

That's why I say you don't need an MBA degree to run a profitable business. You don't need an MBA to run a scalable business. What you need is a mixture of ambition, passion, strategic planning and execution, knowing your customer and a willingness to face fear.

Personally, I have a Bachelors of Music Degree, and I attended music and business school simultaneously. When I mentor new and aspiring entrepreneurs, some will say, "Oh I didn't study this (entrepreneurship), or didn't set out to have this business, so therefore I am unqualified or incapable." This can also lead to second guessing one's intuition or stalling to be decisive and accept that, from time to time, learning from mistakes, much less making them, will be par for the course. No business is flawless, nor should it be. The best way to learn anything, besides reading, is actual hands on experience and application!

That said, you have a lot of entrepreneurial resources beyond college if you have a willingness to learn. I have graduated from stand up comedy school, as well as the Tory Burch Goldman Sachs 10,000 Small Businesses program. Both have been equally impactful and important to my life. That also said, there is nothing wrong with MBA degrees either--they just aren't a prerequisite for running your own endeavor.
I've had my own business for almost 5 years now. For the past 2, my business has been transitioning from a digital marketing+content creation agency to an e-learning+media and, fingers crossed, future media company with online courses, e-books, in person events+workshops, web content and other projects in the works. I love to create, teach and mentor. I teach offline for General Assembly in LA and mentor some private clients. I also write for Entrepreneur, HuffingtonPost.com and StilettosOnTheGlassCeiling.com

In LA, I'm widely known for having a knack for creative, strategic digital marketing ideas and for being able to create some killer content. I love to story tell, write and speak. I also LOVE connecting people using social media and have set up some pretty cool strategic alliances and cross promotional partnerships.

What advice do you have for entrepreneurs starting out?
I meet so many entrepreneurs who have thought of everything except marketing and sales. All of a sudden they launch a website, but they don't have any customer leads or website traffic because marketing and connecting with their customers wasn't at the forefront of their mind.

You don't have to figure everything out right away, but you do need to embrace marketing as soon as possible. Marketing is your best friend, good marketing is art and it helps your customer find you, feel comfortable with you and help you spread the word. You really have to understand your customer, and why they need or want your product and services. You need to create marketing campaigns that tell stories (genuine ones) and engage and excite your customer! And, this is especially important, you can't assume that you and your customer want to be marketed to in the same way. Try, track, analyze then try again to gather more information on what marketing approaches work for you.

How do you advise your clients to get their first customers?
Customers are people and people love special attention. Go and find where your customers are instead of waiting for them to find you--especially in a day and age where there's a lot of automation. Make sure you are "speaking with them." Hashtags make it really easy to find conversations on Instagram, Pinterest, Twitter so start with answering questions, sharing and trying to genuinely be a resource first!

Also, we need to understand that people you connect with may not become customers right away so it's about building trust and a relationship. Give yourself a good 30 to 60 or 90 days of building "1 to many" relationships to reach that conversion tipping point of acquiring a customer. Of course, this may vary from business to business, e-commerce businesses may be able to generate sales right away. But it's something to keep in mind. Lastly, be sure to have an integrated marketing approach. My first customers came from offline efforts, don't put ALL of your eggs in one "marketing channel" basket. Diversify to create word of mouth and referrals online and offline.

What do you recommend entrepreneurs do instead of getting an MBA?
Read a new book every month. Give yourself the goal of every year, getting a certification in your field or applying for an incubator, that's what a lot of people don't leverage. You have to be willing to educate yourself and push your limits year after year. There's a lot of various online learning opportunities and programs from financial literacy to web development to marketing, creative writing, video production, you name it.

The other thing topic that is super important to learn and receive support on: accounting and bookkeeping. Whether you take a weekend workshop or leverage a bookkeeping software, you need to keep an eye on cash flow, operating expenses, income and NET profit. I use Freshbooks to help me however, I had to take accounting coursework in undergrad and have benefited from that requirement tremendously. Don't skim over this! Your money and your marketing are critical to your success.
How can we get in contact with you?
Calling all HuffPost superfans!
Sign up for membership to become a founding member and help shape HuffPost's next chapter