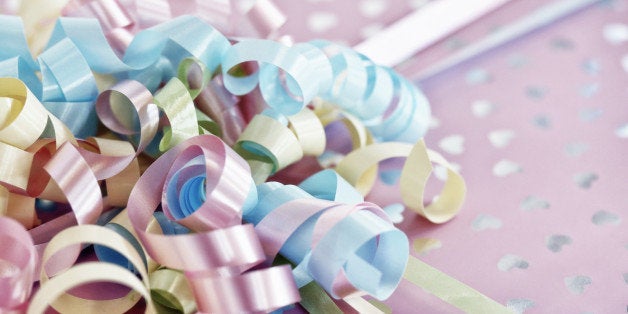 So I'm sitting at lunch and two women at the table next to me are talking about baby registries. One woman is pregnant; the other, I sense, is not even a mom yet.
"I'm registered at Target for everything," the pregnant one says.
"Is this registry just for your friends or your family, too?"
"It's for everyone. There are really only two places to register: Target and Buy Buy Baby."
"Like I can't imagine your mom buying something from Target," the friend says.
"It's all the same baby sh*t. Like pack-n-plays and bouncy seats and stuff, like you can get anything from a wash cloth to a breast pump there," says the mommy-to-be.
And so it goes like this for at least 20 minutes and instead of enjoying my glass of Sauvignon Blanc and chicken sandwich, I'm screaming inside.
It takes every ounce of will power not to say, "Excuse me, I just happened to overhear you talking about baby registries. Can I give you some advice?"
This is what I want to say, but I don't because I remember what it's like to be pregnant and excited about changing pads and socks that can fit on your thumbs. But really, I want to give this woman all of my old baby stuff: the boxes and boxes of clothes, the bibs, the bottles, the Bumbo, the breast pump, the bouncy seat, the Baby Bjorn, the board books, the Boppy -- all of it! We think we want it all -- until we don't.
"Excuse me, but do you want my used stuff?" Something tells me that even this advice would not go over well. I can also imagine the look of honor on the new mom's face when my old high chair arrives full of caked-on yogurt that won't come off no matter how much I scrub it.
So, as I said, I remain quiet. But, really, why does everything at our baby showers have to be new? Why do we do this to each other? We sit through baby showers and watch as the mother-to-be opens, let's say, a brand new pack-and-play; meanwhile, I have four at home she could have.
A shower of just diapers and wipes (OK, and maybe Target gift cards) would be the most practical. Here's an idea: How about instead of a new gift, we each bring a gently-used item? For one of my showers (because it's also normal to have several these days!), everyone brought a book for my little one, which was wonderful and, honestly, I now wish it was the only shower I had.
I'm 38 years old with two sons. I've been to more baby showers than I care to count. I know we all want new pretty stuff for our babies, but do we really? One year down the road, two, five, 10... does it matter? Do we care about the the new package of onesies -- or would we be OK with five hand-me-downs?
New is appealing. But from someone who's been there, done that, maybe just think about what items you buy new versus what items you could get from a friend or a garage sale or a thrift shop. Maybe look through your baby registry one last time and take off some items that you could get elsewhere. Trust me: It's as easy as changing your Facebook status to "Anyone have a bouncy seat you want to get rid of?" and you'll have four delivered to your door tomorrow!
I know I sound cynical. But I get it; I really do. When I walk through Babies"R"Us and notice all the new baby stuff that's even more amazing and cute and practical than anything I ever had for my kids, I understand why new moms get caught up in it. And those Pottery Barn catalogs filled with cute animal sheets? They almost make me want another baby. Almost.
Popular in the Community