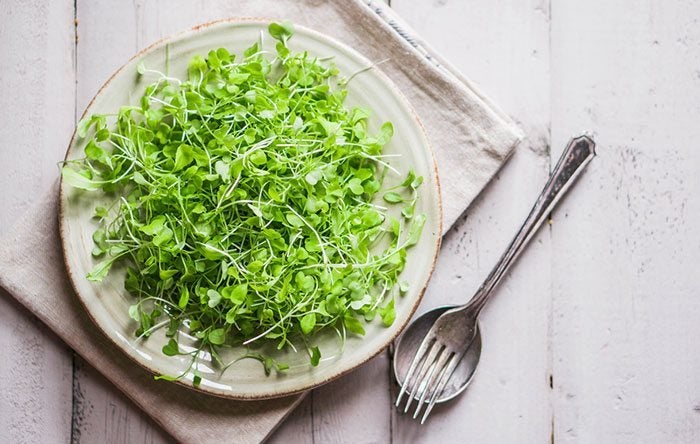 In the nutrition world, sometimes less is more. That adage is certainly true when it comes to microgreens.
Microgreens are tiny versions of vegetables and herbs – items like radish, kale and red cabbage that have not yet hit maturity. These plants have reached "microgreen" status when they have two unfurled seed leaves called cotyledons. (They're different from sprouts, which are germinated seeds that have cracked open and grown what look like white tails.)
What's so great about microgreens? They're the ultimate two-for-one deal: Big on flavor and huge on nutrition.
Research shows that microgreens are more concentrated in important nutrients including vitamin C, beta-carotene and vitamin K than their grown-up counterparts. Why? Since they're harvested before hitting maturity, they still have the abundance 0f nutrients and antioxidants they need to finish growing into full-blown plants.
If you're picturing a bowl of microgreens as the base of your salad, now's the time to let you know that all that good nutrition and flavor comes at a premium price. So they're best used as a garnish. Lyon brightens up dishes like seared scallops, tomato soup, and salads with his favorite microgreens, which are basil, cilantro, onion, and beet. You also can use microgreens to dress up everything from tacos and grilled cheese to scrambled eggs.
More of the latest healthy recipes, tips and nutrition news:
Connect With Us
Related
Popular in the Community