It's been two weeks since I had my first experience under the electric sky and the only question I have in mind is what took me so long to attend the ultimate party?
The Electric Daisy Carnival is one of the biggest electronic music festivals on the planet. The event made it's east coast debut in 2012 and there has been no looking back for one of the most anticipated gatherings celebrated by ravers worldwide. As soon as I entered the front gates of the Citi Field parking lot on May 14th, I knew I was going to leave EDC with memories that would last me a lifetime. Over the course of a weekend, people were fully allowed to express themselves with a wide variety of eye-catching outfits. I saw trolls, wizards and fairy kings. Birds that talked. Fish that sang. I pretty much got to see the opening credits of David the Gnome in human form. It was a true childhood dream come true.
Forget Six Flags. You haven't lived until you ride an enormous Ferris Wheel while Dada Life's "Last Night on Earth" is blasting in the background only to see thousands of people bopping up and down while waving colorful flags and exchanging kandi bracelets. This is what life is about my friends.
How about dancing your butt off to Afrojack's "Ten Feet Tall" while a gigantic freaking owl watches over your every Melbourne Shuffle? Talk about an adrenaline rush. I still can't get the image of that enormous owl out of my head. While the promoters of EDC refer to the fans as the headliners of the party, I am committed to the idea that the owl was the real MVP.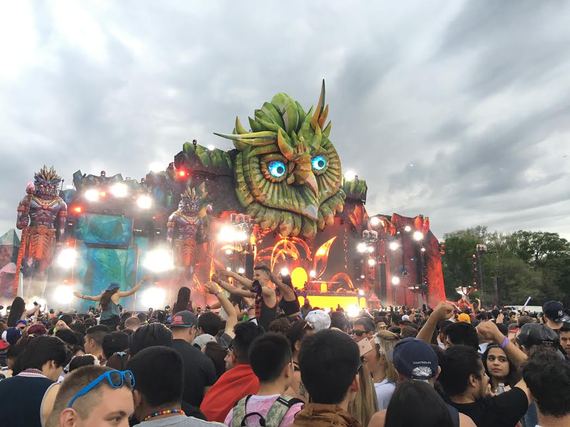 There wasn't a greater feeling on Earth than yelling 'FREE KESHA' on the top of my lungs with a can of Blue Moon in hand while Zedd played his latest mix of "True Colors" featuring the animal queen herself. It was one of the many highlights I had throughout the course of my stay at the most lit carnival to ever grace NYC.
Where else can you mingle and shoot the breeze with some of your favorite DJs without a single care in the world? I had the pleasure of chatting with the legendary Paul Oakenfold after he rocked the tent in the circuitGROUNDS area. I thanked him for making my high school years tolerable. He responded by saying that I had a great heart. I'm still trying to figure out if he was talking about the one inside my body or the one I wore on a chain. Either way, it was a high compliment from a guy that was voted the best DJ in the world in 1998 and 1999 by DJ Magazine.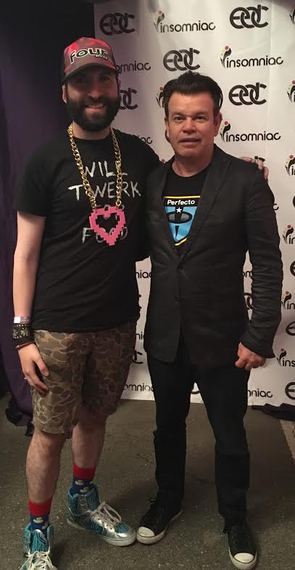 I am a believer that a person should never live a life with regret. I honestly feel that if you do not go to EDC at least once in your lifetime you are missing out on the opportunity to feel something unlike anything you have ever felt before. I encourage you to be brave and possibly step outside your comfort zone. The EDM culture cannot be explained. You can only understand it by immersing yourself with the positive vibes of people who are seeking the same things you are looking for. And if your heart is true, then you will find them too.
Those are all the David the Gnome references I have for now. If you are feeling like a free spirit and want to take a sweet escape, EDC comes to Las Vegas for three consecutive days starting June 17th. I wanna runaway (just U & I.) Who's with me?
Calling all HuffPost superfans!
Sign up for membership to become a founding member and help shape HuffPost's next chapter